Pace pack
The current IPL season has revealed an enviable speed battery on the Indian bench. The Telegraph rejoices the prospects and spells out what it will require to sustain the trend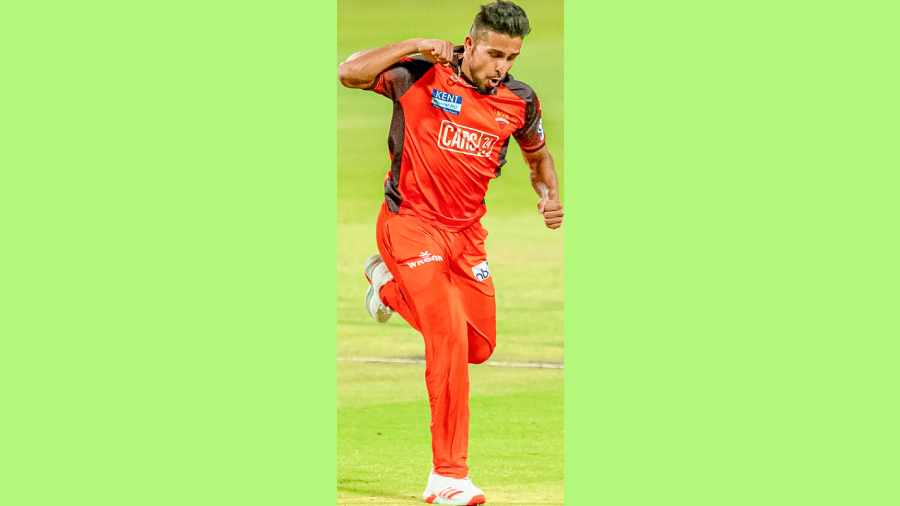 SPEED STAR: Umran Malik of Jammu and Sunrisers Hyderabad.
PTI
---
Published 22.05.22, 02:45 AM
|
---
Sheedhi Chowk in Gujjar Nagar is located slightly away from the whirl of activity in a corner of Jammu. Primarily a retail precinct, it is also home to India's newest fast bowling sensation Umran Malik.
His father Abdul Rashid and uncle Nasir run a vegetable and fruit shop nearby. But life has changed for the Malik household since Umran began breaking barriers with the speed gun in this IPL.
By late afternoon the Maliks wind up their stall to be present before the TV and watch Umran in action for Sunrisers Hyderabad. Until the last season, he was not a regular with the franchise but this time the "sabse tez gendbaaz" (fastest bowler) sobriquet has made them believe that a cricketer from a nondescript corner of India can also play for India.
Id came a bit too early for the inhabitants of the area once Umran clocked the fastest ball against Delhi Capitals at 156.9 kmph. Fiery pace always makes heads turn and take notice.
Having learnt the tricks of the trade with Cosco (tennis) balls at the Tawi ground along the banks of the river, fast bowling came naturally to him during the night tournaments. He was nicknamed Ghajini, from the Aamir Khan film, for his cropped hair and sizzling pace.
"His tryst with the leather ball started when he appeared for the U-19 state trials. Irfan Pathan worked on his run-up as J&K coach and it helped," says Raman Thaploo, his state teammate.
By consistently breaching the 150 kmph hurdle and picking wickets, Umran, 22, has bolstered calls for his inclusion in the national team. From Sunil Gavaskar to Kevin Pietersen, everyone wants to see him in the squad for the England tour in July.
So enthused was Gavaskar with the youngster's raw pace and toe-crushing yorkers during his five-wicket haul against Gujarat Titans that the legendary opener celebrated by punching the ceiling and screaming in the commentary box.
No less important has been Sunrisers bowling coach Dale Steyn's role in Umran's speed spiral. The former South African fast bowling spearhead remains confident that Umran will deliver. "He bowls at 150 kmph consistently, and nobody else is doing that in the world right now," Steyn has maintained. But how India nurtures him could decide his future. "Stick to what works best for him," has been Steyn's message.
Sunrisers head coach Tom Moody has already likened Umran to a Ferrari. For a generation fed on mostly spin bowling till the last century, the emergence of this current crop of speedsters speaks volumes of a silent revolution in Indian cricket.
Gone are the days when pacers were picked to take the shine off the ball so that the spinners could exploit tailor-made home conditions. Remember the time when Bishen Singh Bedi would be thrown the new ball? Today, the Jasprit Bumrahs and Mohammed Shamis can induce fear in the minds of the batters on foreign shores. The trickle effect has been felt across the country.
Not just Umran, the IPL has thrown up a rich, robust and versatile crop of fast men — Avesh Khan, Mohsin Khan, Kuldeep Sen, Yash Dayal and Mukesh Choudhary have made their presence felt with sizzling pace, variation and impeccable control. Punjab Kings' Arshdeep Singh can't be far behind because of his economy while Prasidh Krishna has also grabbed notice.
Indore's Avesh has already made his India debut in the shortest format and is being seen as a thinking bowler, the sort who can plot a dismissal. Rajasthan Royals' Kuldeep Sen's case is more intriguing. None gave him a chance when the Royals picked the right-arm pacer from Madhya Pradesh's Rewa for Rs 20 lakh at the auction.
He announced his arrival by successfully defending 15 runs in the final over in his maiden match against Lucknow Super Giants. Son of a barber, Sen can consistently bowl at over 140 kmph.
Mohsin was slightly lucky. He practised with Shami at the latter's Amroha farmhouse during the lockdown and learnt the art of landing the ball on its seam. Shami, India's pace spearhead with Bumrah, wants Umran to be given time to develop his game and "be accurate at high pace", while Mohsin should "focus on game plans".
T. Natarajan has been continuing his dream spell since the final Test in Brisbane. The left-arm pacer missed the bulk of last season with injury and Covid-19 but has bounced back strongly this time. Hailing from a remote village in Tamil Nadu's Salem, he was included for the tour of Australia as a net bowler but made an instant impact when he got to play the final Test because of injuries to the regulars.
The money-spinning IPL has proved to be a game changer. Domestic limited overs tournaments may not attract attention but have acted as a boon for talent scouters of different franchises. The success of the Bumrahs along with better infrastructure has encouraged the new crop to work hard and take up fast bowling.
As India captain, Sourav Ganguly would talk of winning a Test series overseas with his fast bowling might. He came close in 2003-04 in Australia with an attack comprising Zaheer Khan, Irfan Pathan, Ajit Agarkar and Ashish Nehra. But India never had the bench strength to provide support.
The biggest challenge now will be managing the workload of these promising youngsters to keep the trend alive. Data monitoring in sync with strength and conditioning will also be the key aspects in keeping track of how they fare. More importantly, there has to be proper co-ordination between the team management and the National Cricket Academy (NCA) in Bangalore. That way, every bowler will get the necessary rest to survive the onerous burden of all three formats of cricket.
Socio-economic upheavals were largely responsible for the decline of the West Indies' pace brigade since the 1990s while successful application of biomechanics and state-of-the-art infrastructure at the Bupa National Cricket Centre in Brisbane contributed to Australia's emergence as a force.
The NCA has been remodelled keeping in mind the Australian facility to provide world-class training to national and emerging cricketers. Troy Cooley, considered one of the best in world cricket, has recently been appointed fast bowling coach at the NCA to help the speed merchants.
There are already calls for Umran to move out of J&K and play for Karnataka to access the facilities at the NCA. Shifting to Bangalore could also provide him with access to some of India's best cricket brains.
"India soon," Umran has the words penned in his social media status. So fasten seat belts as India's NextGen of fast men are rearing to play some chin music for batters across the globe.