Hardik Pandya can make team solely as batter: Ashish Nehra
Former left-arm pacer doesn't wish to speculate as to when the all-rounder can bowl his full quota of overs in the 50-over format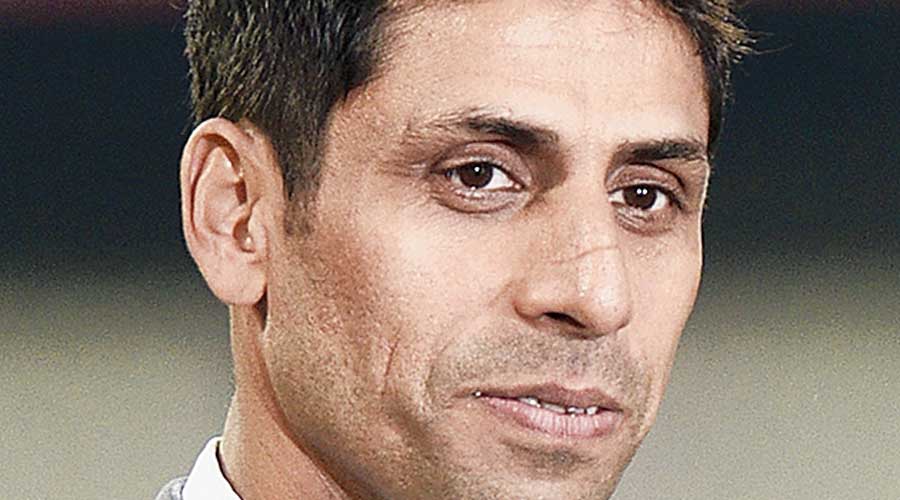 ---
Calcutta
|
Published 14.07.22, 03:46 AM
|
---
Ashish Nehra worked closely with Hardik Pandya as part of the IPL-winning Gujarat Titans' think-tank in their debut season. The Titans' head coach has been impressed with the all-rounder's performance since his comeback to international cricket. The former India left-arm pacer, however, doesn't wish to speculate as to when Pandya can bowl his full quota of overs in the 50-over format.
"Even Hardik won't be able to answer that since you can plan but things don't always fall into place. But so far so good. Hardik can be in any white ball team solely as a batter. On top of that, if he bowls it will be a bonus. But you can't keep him as your fifth bowler in T20 or 50 overs. He can only be your sixth bowler," Nehra, who is on the Sony Sports commentary panel, said during an interaction on Wednesday. "But looking at his fitness, you have build it up slowly. He will not be going to the West Indies for ODIs which is good in a way. When you are an out-and-out fast bowler you don't have a choice. You have to bowl, you have to be fit... But it's not the case with Hardik. He has been doing well during the last 2-3 months.
"He can bowl 10 overs also in 50-over cricket. But even if he gives 5-6 overs, it's a huge bonus. Yesterday (Tuesday) you had four bowlers besides Ravindra Jadeja and Hardik. You are only going to struggle when you look at Hardik as your fifth bowler," Nehra explained. Jasprit Bumrah's consistency across formats has impressed Nehra the most though he is pinning hopes on young Arshdeep Singh.
"In the last 3/4 years Bumrah has been bowling consistently in all formats. He always keeps learning and brings something new to the table. Bumrah and (Mohammed) Shami have been brilliant all through. The way Bumrah has tackled the workload has been exemplary in all conditions. Bumrah has been meeting expectations which is good for the team. "His confidence will increase (following his career-best 6 for 19 at The Oval on Tuesday)...And if it involves someone of Bumrah's calibre, the opposition will be under pressure.
"The IPL has been a good platform. There's Umran Malik, even Arshdeep is good. Hope he gets to play in the West Indies. Competition is good. As a left-arm pacer, he is the closest to getting a break. Who knows he could be a regular in T20s. Earlier Natarajan and Khaleel (Ahmed) were there but they have been out with injuries. "A left-arm pacer is always an asset because of the angle he creates. Every team wants a left-armer for variety. Arshdeep has to be patient and wait for his turn. Let's hope he keeps doing well," Nehra said.
Nehra doesn't endorse the view that Umran has to sacrifice pace to master control and variation. "Not at all. Especially since Umran is at a very important stage of his career where he can bowl flat and go all out. He is young and slowly will understand his body since bowling consistently at 145-150kmph is not easy. You have to be physically very strong which he is... "But he shouldn't cut down on pace. He will learn with time and experience to bowl with discipline without getting slower," Nehra said. Nehra backed Virat Kohli saying he deserves extra chances based on his past reputation and that he should stay away from "outside voices".
He also felt that a monthlong break from the West Indies tour before the Asia Cup would rejuvenate Kohli. "There will be discussions even if you're not a player of Kohli's calibre. When you are playing, you try to focus on your game and not listen to so-called outside voices. It's important how your teammates, management and selectors are backing you... but we are talking about a guy like Virat," said Nehra.
"Yes, it's not written anywhere that he will keep playing for India even if he doesn't score runs. But when you have done so much in the past, you will always get extra chances. Let's hope we see a different Virat after the West Indies series."