Baron Botham begins Lords innings
Brexit-backer cricket legend introduced as peer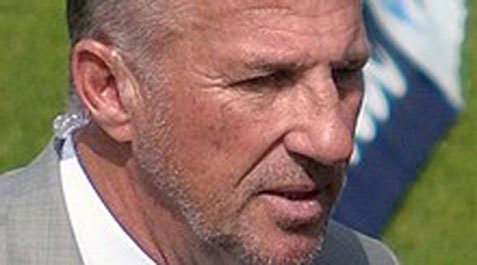 ---
|
London
|
Published 07.10.20, 02:52 AM
---
Ian Botham, one of cricket's legendary all rounders who is best remembered for single-handedly turning round an Ashes Test against Australia at Headingley in 1981 after England had been forced to follow on — this has gone down as "Botham's Test" — was inducted into the House of Lords on Monday as "Baron Botham of Ravensworth in the county of North Yorkshire".
Botham, now 64 and slightly stooping as he came into the chamber wearing the traditional scarlet and ermine-trimmed robe for the brief formal introduction ceremony, was rewarded with a peerage in August by Prime Minister Boris Johnson for supporting the Brexit campaign to leave the European Union.
He will, however, sit as an independent crossbench peer.
As proceedings were slightly delayed by a technical hitch, the speaker, Lord Fowler, could not resist joking: "I think rain has stopped play just for the moment."
The former cricketing hero was introduced on behalf of the Queen as "our trusted and well beloved Sir Ian Terence Botham, Knight, Officer of the Most Excellent Order of the British Empire".
The man, who showed no fears when facing the demon Australian and West Indian fast bowlers of his generation, now looked distinctly nervous and his hands and his voice shook as he swore the customary oath of allegiance: "I, Ian Lord Botham, do swear by almighty God that I will be faithful and bear true allegiance to Her Majesty Queen Elizabeth, her heirs and her successors, according to the law. So help me God."
Newspaper coverage caught the spirit of "Beefy's transition to Baron". The Daily Telegraph put a photograph of the newly ennobled Botham on the front page, while the Mail quipped: "Ex-cricketer Ian Botham makes first appearance at different kind of Lords as he is formally introduced as a peer."
The Express noted that "Brexit-backing Baron Botham is more used to the surroundings of Lord's Cricket Ground".
It was recalled that he began his career by joining the ground staff at Lord's aged just 16. His cricket career took off when he played for Somerset and then for England, scoring 5,200 runs and taking 383 wickets in 102 Tests.
In retirement he became a commentator. He has been involved in many controversies, including a court clash with Imran Khan. But Botham has redeemed himself by walking thousands of miles for charitable causes, including treatment of leukaemia in children.