ATK Mohun Bagan party as SC East Bengal defence sleeps
The losing team's defence had gone AWOL right from the kick-off yielding space to Manvir Singh, Liston Coalco Hugo Boumous and Joni Kauko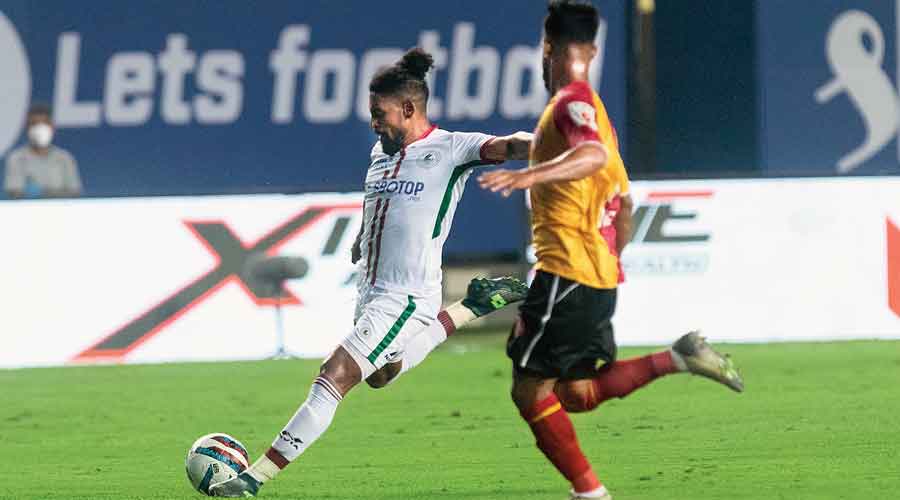 ---
Calcutta
|
Published 28.11.21, 02:48 AM
|
---
Three-nil inside 23 minutes and the ISL VIII Derby became a no-contest. When is the last time this happened? Well in 1969's IFA Shield final, Mohun Bagan were leading 3-0 at half-time and eventually won 3-1. From 1969 till Saturday, Mohun Bagan never had a 3-0 lead before half-time.
What the ATK Mohun Bagan fans witnessed in Vasco's Tilak Maidan Stadium was mind blowing and for their rivals it was a nightmare. A pathetic, shoddy and insipid SC East Bengal bowed to their eternal rivals without putting up even a semblance of resistance. In the end the scoreline remained 3-0 but it could have been 7-0 or 8-0.
SC East Bengal were lucky that Manvir Singh suddenly forgot how to score. Had he been a bit industrious in front of the goal, ATK Mohun Bagan could have piled on more misery on their hapless rivals.
"I am very happy with the performance. We could have scored more, but best part is we kept a clean slate," ATK Mohun Bagan coach Antonio Lopez Habas said later.
All those pre-match talk of SC East Bengal coach Jose Manuel Diaz — maintaining shape, playing to their strengths, underdogs tag sit easy on the team — fell flat as ATK Mohun Bagan ran amok in a 11-minute blitzkrieg. Every time Antonio Lopez Habas' men scored, the perimeter board flashed 'Joy East Bengal'. That rubbed more salt into the 'home' team's wounds and looked hilarious on television. "We were up against a very good team," Diaz was candid.
The SC East Bengal defence had gone AWOL right from the kick-off yielding acres of space to Roy Krishna, Manvir Singh, Liston Coalco Hugo Boumous and Joni Kauko. These are the players who poach a mile when you give an inch. That obviously SC East Bengal did not know.
Habas gave Kauko, later rightly adjudged man of the match, a more attacking role and he did a wonderful job linking up with Krishna and Boumous. The Finnish international was very unlucky not to get his name on the score sheet when his right-footer on a half-turn missed the target by a whisker.
Boumous was at his usual best taunting and teasing the SC East Bengal players. Once his Zinedine Zidane-like Marseille turn made a fool of Amarjit Singh Kiyam.
Goal, goal, goal
The first came in the 12th minute with a delightful build-up. Manvir sent Pritam Kotal wide on the right flank and the ATK Mohun Bagan captain took one and picked out Krishna to finish with a bang. Surprisingly, the Fijian marksman was left unmarked.
The second was two minutes later. Kauko sent a fine through to Manvir, whose right footer at the near post did not give SC East Bengal goalkeeper Arindam Bhattacharya any chance. The third came in the 23rd minute. Boumous' pass sent Liston Colaco, on the run. Arindam rushed out, dived and failed to gather the ball. An empty net in front, the Derby debutant kept his calm to roll it over to the far corner.
Three-nil, ATK Mohun Bagan fans were already talking about revenge of the 1975 IFA Shield final. East Bengal's 5-0 win over their arch-rivals is part of Indian football's folklore.
Goalkeeper Arindam, who also seemed to have picked up an injury during the third-goal bungle, went out of the field after a few minutes and was replaced by Subham Sen.
In the second half, ATK Mohun Bagan kept on pressing for more but Manvir was guilty of missing chances galore. David Williams, who came in for Boumous mid-way through the second half, also flunked. SC East Bengal heaved a sigh of relief when referee Rahul Kumar Gupta blew the final whistle.
It was a hat-trick of Derby victories for ATK Mohun Bagan and the chances of the fourth one is very much in the offing early next year.
SC East Bengal coach Diaz was spot-on when he said: "At this point in time there is a huge difference between ATK Mohun Bagan and SC East Bengal."
True and his team will take some time to recover from the battering they got on Saturday.