Ashwin evolves with time, grabs chance with diligence
Washington Sundar's injury may have opened a window of opportunity for the ace spinner but he has pounced on it with the hunger and dedication of a wily craftsman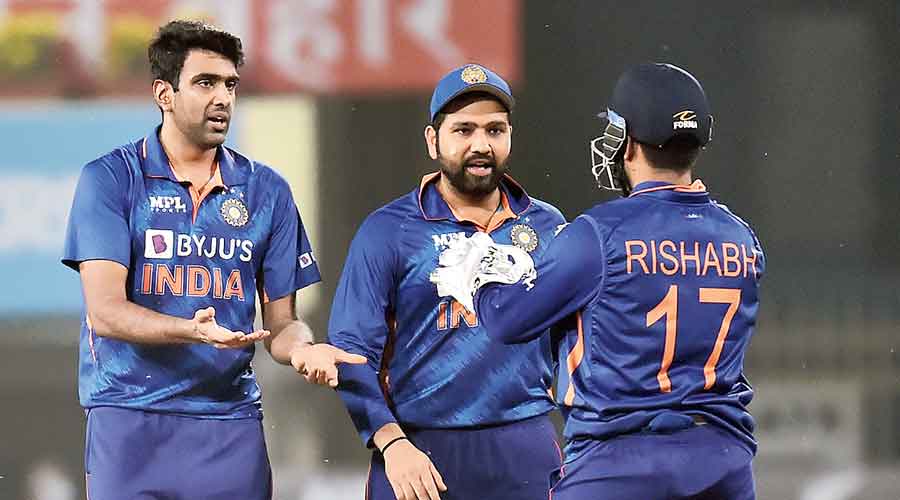 ---
Calcutta
|
Published 21.11.21, 03:11 AM
|
---
If there has been one positive for Team India since the T20 World Cup debacle, it has got to be the rebirth of Ravichandran Ashwin in white ball cricket.
Considered the world's best spinner because of his wicket-taking abilities, he found himself out of India's limited overs squad after the 2017 Champions Trophy because of the team management's fetish for wrist spinners. But the arrival of Rahul Dravid as head coach and Rohit Sharma as T20I captain changed certain perceptions.
Washington Sundar's injury may have opened a window of opportunity for Ashwin but he has pounced on it with the diligence and dedication of a wily craftsman. The winds of change blowing through the dressing room has already seen him evolve as a player.
Since his comeback into the XI in Dubai, he has bowled 20 overs in five matches and taken nine wickets at an economy of 5.25. It's tricky bowling in the game's shortest format but Ashwin has been scintillating after a near four-year hiatus. In the last four editions of the IPL, Ashwin has 45 wickets at an economy of 7.60.
In Ashwin's own words, "it's about varying the pace and knowing when to vary it. It's important to take each of the 24 balls as an event, and look at each ball in isolation and as an opportunity".
Former chief selector MSK Prasad, who was a party to the decision to keep Ashwin out of the side, hasn't been surprised at his recent success. "I haven't been one bit surprised by Ashwin's performance. For someone who has more than 400 wickets in Test cricket,
adjusting to the new facets
of the game is not tough. He has shown that he can be an asset in this format as well," Prasad told The Telegraph on Saturday.
But why was Ashwin benched after the 2017 Champions Trophy? "At that time we were looking forward to the 2019 World Cup and felt wrist spinners would be more helpful in the middle overs. Both (Yuzvendra) Chahal and Kuldeep (Yadav) performed well during those two years.
"If you look at the records, you will see that 60 per cent of the wickets were taken by them. They were hugely successful and there was no reason to go back to Ashwin. That is why his services was limited to Test cricket only."
Prasad doesn't think it was a wrong decision on their part. "Since Chahal and Kuldeep were doing well, how could you have kept them out of the team? We wanted to try them out and they delivered. There was nothing wrong with it," the former India stumper said.
"I am very happy for Ashwin. There was never any doubt about his class and he has shown it. His success is also a tribute to his wealth of experience. He has shown a lot of courage in this format."
Ashwin's impact is sure to be felt for a considerable amount of time and it's almost a given that he will be a part of India's plans for the T20 World Cup in Australia. Ashwin's ability to develop deliveries with his deep thinking will only help him evolve as a master tactician in this format.