Athletes flee Kabul on hush-hush flight
Overnight, 650 more people were evacuated from Kabul on four Australian flights and one New Zealand flight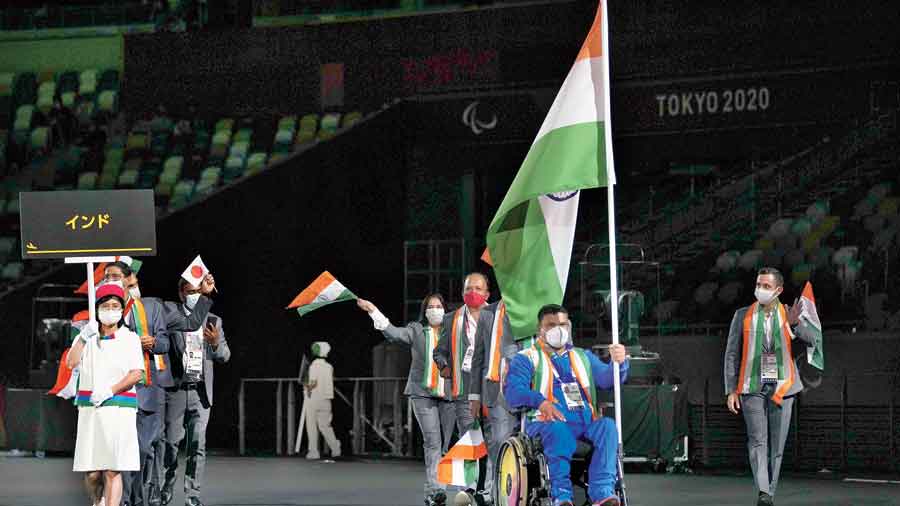 Athletes from India enter the stadium during the opening ceremony of the 2020 Paralympics at the National Stadium in Tokyo on Tuesday.
AP/PTI
---
Published 25.08.21, 02:03 AM
|
---
Two Afghan Paralympians have fled Kabul with the help of a group of Australian sports stars, according to Nikki Dryden, a former Canadian Olympian turned human rights lawyer who was involved in the effort.
She said on Tuesday that they were part of a group of more than 50 athletes — including soccer players, referees and their families — who had secured protection in Australia. The Australia Broadcasting Corporation reported that the athletes and their families had been granted humanitarian visas.
"The operation is still ongoing, but at least 50 athletes and their families are on planes or — for us it was just safely getting them into the airport, that's when we called it a win," Dryden told ABC.
The two Paralympians were "safely out of Afghanistan," she added. She did not identify them by name.
Last week, the Afghanistan Paralympic Committee said the country's athletes would not participate in the Games because of the difficulty of leaving the country.
Dryden said the Australians had worked for days to contact the athletes over social media, to secure a commitment from the Australian government to accept them, to obtain visa sponsorship and arrange paperwork, and to guide the athletes remotely to the airport in Kabul.
The athletes spent 48 hours in line at the airport before making it inside, she said. "The only thing we could tell them was push forward, push forward push forward, stay in the line, don't move, and they did it," she said.
"Every single one that is going to make it to Australia did it on their own."
She said she was unsure whether the Paralympians would compete in Tokyo.
FIFPro, the international federation of soccer players, posted on Twitter that it was "encouraged by recent developments" and "grateful for the assistance of governments, military and human rights groups who are collaborating closely with us to evacuate women footballers and other athletes from Afghanistan".
Overnight, 650 more people were evacuated from Kabul on four Australian flights and one New Zealand flight, Prime Minister Scott Morrison of Australia said on Tuesday.
The athletes' escape came after members of an Afghan girls' robotics team that captured international attention fled to Qatar.
New York Times News Service