Transform your room with virtual lasers and more using Apple Clips
Lidar Scanner on select iPhone and iPad models measures "light distance and uses pixel depth information of a scene to deliver faster, realistic AR experiences"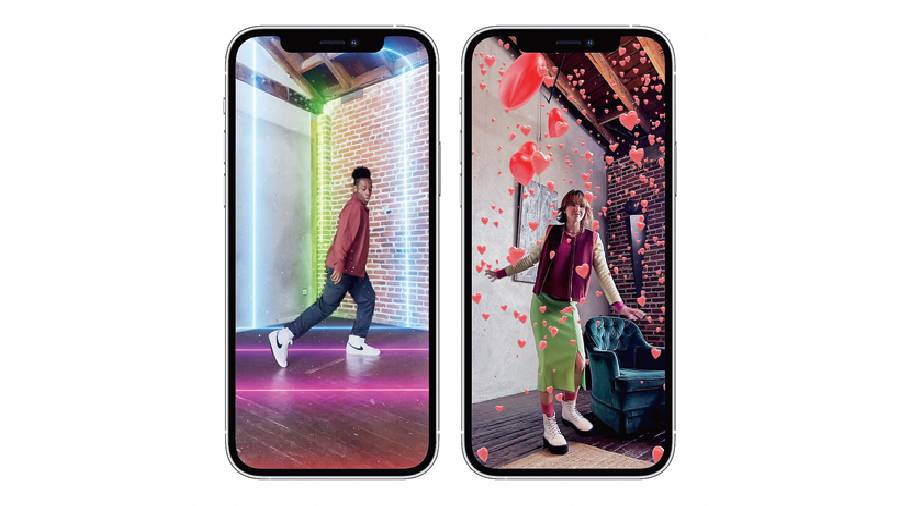 Clips 3.1 introduces all-new AR Spaces, allowing users to record and share videos with magical effects powered by the lidar scanner.
Picture: Apple
---
Published 02.05.21, 02:05 AM
|
---
In the Clips 3.1 update, Apple has thrown in AR Spaces, which allows you to transform the scenery around you with lights, falling objects and other immersive AR effects. The feature takes advantage of the hardware that's packed into the iPhone 12 Pro and the iPad Pro models.
How does it work?
The lidar Scanner on select iPhone and iPad models measures "light distance and uses pixel depth information of a scene to deliver faster and more realistic augmented reality (AR) experiences". It helps Clips 3.1 to record amazing videos with magical effects that map to the shape of a room and the objects within it.
"With AR Spaces in Clips 3.1, users can easily scan a room and see a live preview of effects that bring dynamic lighting, falling objects, and immersive scenes to life. Using the rear camera on a supported iPhone or iPad, users will see effects appear on walls, floors, surfaces, furniture, and objects."
The effects
There are seven new AR Spaces effects to choose from — Prism (ribbons of rainbow light scan the walls, floors, and objects in a room), confetti (celebratory bursts of confetti fall and accumulate on flat surfaces), Disco (shining lights reflect off the disco ball that hangs from the ceiling of the space), Dance Floor (colourful tiles of light dance in patterns across the floor), Sparkles (golden sparkle emoji and white glitter fill the space), Stardust (magical trails of starlight encircle and follow a person in the video) and Hearts (floating heart balloons bubble up within the space).
AR Spaces can also be combined with all of the animated stickers, text labels, and emoji overlays — and can be recorded in all aspect ratios in Clips, including 9:16 vertical, 16:9 horizontal, and square.