Parents have been overusing gadgets during the pandemic
According to a study around 66 % Indians confessed to being on their smartphones while spending time with their kids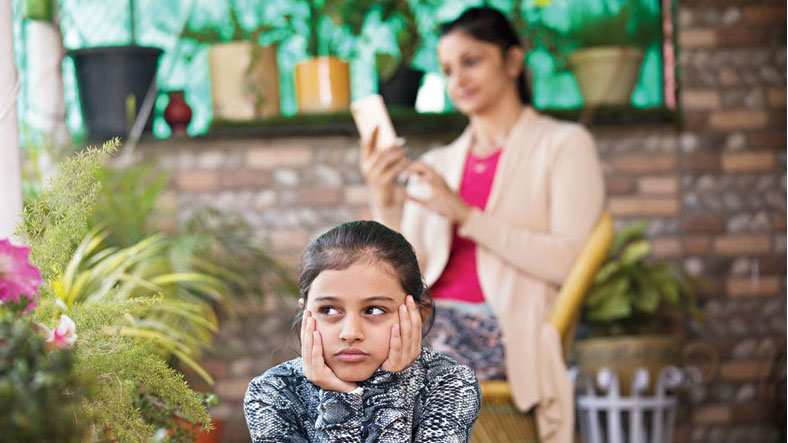 Adults have always been hooked to smartphones but usage time has increased substantially during the pandemic.
---
Published 21.12.21, 11:56 PM
|
---
Parents worry that their children will become/are addicted to devices. The tables have turned. Kids are worried about how often parents or adults are using different devices since the pandemic forced us indoors. According to a study titled 'Impact of Smartphones on Human Relationships 2021', 66 per cent of Indian parents have confessed to being on their smartphones while spending time with their kids.
Adults, of course, have been hooked on smartphones and social media before the pandemic took a grip over our lives. We have spent long hours glued to the smartphone and tablet, scrolling through social media accounts or watching short videos endlessly without thinking that each 15-second video add up and before we know the hour is up. But then we had to go back to working inside the office where there is routine. That has changed.
The Vivo-SwitchOff 3.0 report, conducted in association with Cybermedia Research (CMR), focuses on relationship dynamics differently. It sheds light on the various trends, patterns associated with smartphone usage and analyses the changing behaviour of consumers. Yes, Vivo manufactures phones and a lot of them every year but no brand can look away from the truth about the overuse of phones.
Yogendra Sriramula, director, brand strategy, Vivo India, says, "It's important to notice that 74 per cent parents acknowledge that their relationship with their kids has been hurt because of the amount of time they spend on their phones. So they know there is something wrong. The amount of time parents spend on their phones can be put to efficient use. If you want to improve your fitness, I think jogging is not the problem. The bigger problem is to wear your track shoes, open the door and step out of the house. This is what we are trying to achieve."
Nobody is saying smartphones are unnecessary. After all, it is the smartphone that has kept us connected during the pandemic through various videoconferencing platforms. What's now required is moderation.
In pre-Covid times, we were using the phone 4.94 hours on average per day, which went up to 6.85 hours during the early days of the pandemic and now it's 6.5 hours. No wonder, most users are asking for phones that allow at least seven hours of on-screen time per day. Hopefully, the virus will get beaten soon and per day usage will come down.
Some of the key findings of the report are that 86 per cent parents agree that they are distracted by their phones when with kids and 74 per cent get irritated when kids ask for something while they are immersed in their smartphones.
How are we using our phones? Usage of smartphone for watching OTT for more than one hour has increased from 62 per cent to 80 per cent. Daily social media usage has increased from 87 per cent to 98 per cent. Listening to audio for more than one hour has increased from 41 per cent to 59 per cent.
We are not done. According to the survey, 70 per cent are using smartphones at the dinner table, 72 per cent in living rooms, 75 per cent while sitting with family members. For the survey, the research agency reached out to 1,100 participants in Calcutta, Mumbai, Delhi, Chennai, Ahmedabad, Pune, Bangalore and Hyderabad.
"We hope that on December 31, when people consider their New Year resolutions, one of the things on the list will be around using smartphones more effectively," says Sriramula.
The point is that if adults don't become mindful of how they are using the smartphone, the message that goes out to children can be equally problematic.
At a glance
• 84 per cent agree that the smartphone has improved their quality of life.
• 32 per cent increase in the time spent on smartphones from pre-COVID era.
• 30 per cent increase in smartphone usage by kids.
• 74 per cent parents feel that their relationship with their kids maybe hurt because of smartphones.
• 74 per cent parents get irritated when kids ask for something while they are immersed in their smartphones.
• 66 per cent parents confess to always being on the phone when with their kids.
• 86 per cent parents accept that they are distracted by their phones when with kids.
• 70 per cent parents are using smartphones while eating food/at the dinner table.
• 94 per cent parents agree that their phones have become a part of their bodies that they cannot separate from.
• 46 per cent have voluntarily switched off their phones for a considerable amount of time.
• 95 per cent parents want to spend more uninterrupted time with their kids.
Kids are given the phone when parents need to focus on something else…
• 83 per cent to play digital/video games
• 71 per cent when parents are occupied with office work
• 68 per cent to see educational videos
• 64 per cent for their online classes
• 64 per cent when parents are occupied with household work
• 36 per cent when parents need me-time
Source: Vivo, Switch Off survey, third edition