Oppo F17 Pro is a sleek, good-looking phone with some neat camera tricks
It's a phone that marches on two stilts — beauty and camera. Does it falter? Read on.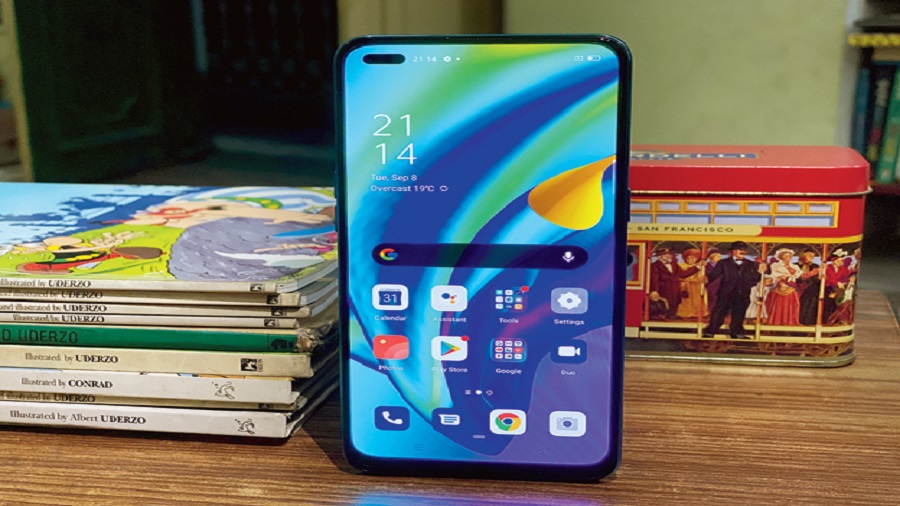 Oppo F17 Pro gets size, weight and camera right
The Telegraph
---
Published 09.09.20, 09:34 PM
|
---
When you are spending more than 20K in a pandemic-hit year, a smartphone needs to be perfect or at least headed towards perfection. Oppo's latest is the F17 Pro, which is a fine phone but somehow one, at times, gets that funny familiar feeling. It's a phone that marches on two stilts — beauty and camera. Does it falter? Read on.
Light to hold
A usual phone in 2020 comes with a big battery, a big screen, a big camera set-up but is not always light. Oppo has taken a different route in the size and weight department. What we have is a 6.43-inch super AMOLED display that doesn't curve while the device weighs only 164g, which is quite light. It's a good size Oppo is targeting. Unlike many of the phones out there, the 800nit display can get super bright, making everything legible under a bright sun. On the back, is a neatly packed camera system while the Magic Blue handset that we reviewed had a panel that's fingerprint-resistant without being too flashy. There is nothing chintzy about it.
Going deeper, the display has a 60Hz refresh rate. Woah! 60Hz and costing above 20K? Let's have some clarity here. When we talk of 90Hz or 120Hz refresh rate offering a smooth experience, it's a great number for gamers out there. If it's primarily about consuming streaming content, the focus could be on a super AMOLED screen, which offers a better experience in way of chilling with Netflix. This automatically gives the phone a lifestyle angle. The question one may ask: Don't we deserve 90Hz at a certain price point?
Relies on camera tricks
It's a good-looking phone… with a  caveat. Let's begin with the rear camera set-up. There are four cameras — 48MP main camera, 8MP wide-angle camera and a couple of 2MP mono cameras. The mono cameras are helpful with some photo tricks. There is something called AI Portrait Colour using which the background can become black and white while the subjects are in colour. It's a trick that's also available on the front camera. Next up, AI Night Flare portrait. It's the one in which you can turn low-light portraits into a cool shot with great lens flare. Let's also throw in AI Super Night Portrait which makes low-light portraits appear decent. You know where we are going.
The camera does a good job with daylight photography while ultra-wide shots don't have too many problems. There is even a tripod mode under night photography, which is helpful. Having said all of this, it somehow feels that Oppo could have achieved most of it using software tweaks. Why pack in four lenses when two would suffice? On the front, there are two cameras, which means the hole-punch is wider than on other phones. It can be a bother while playing games or watching videos. If recording videos is important to you, turn on the ultra steady mode and you can record videos of up to 4K resolution on the F17 Pro.
Performance
F17 Pro comes with a MediaTek Helio P95 AI processing unit, which is very good for everyday apps and there are hardly any stutters. But at this price point one may ask for a more powerful processor. Compare this with OnePlus Nord's Snapdragon 765G, which offers a better experience.  
In way of battery, 4015mAh may seem low but it isn't. Colour OS7.2 based on Android 10 manages the processor well and keeps things under control. Even after streaming a great deal on Netflix as well as Spotify, it's possible to get a day out of this phone. Also, the battery charges fast since it's not a big one. There is some bloatware like WPS Office, Amazon and Facebook but these can be uninstalled.
Is it for you?
Oppo is known to offer phones at reasonable price points. It's done well in way of design, display and camera on the F17 Pro. But when one is paying Rs 22,990, it wouldn't be a bad idea to also look at alternatives, like the OnePlus Nord or wait for Samsung M51, which comes with a big battery of 7,000mAh. Having said that, if you are looking for a sleek, good-looking phone with some neat camera tricks, the Oppo F17 Pro ticks many boxes. At a glance
Device: Oppo F17 Pro
Weight: 164g
Display: 6.43-inch super AMOLED
Camera: Rear — 48MP + 8MP (wide-angle) + 2MP (mono) + 2MP (mono); front — 16MP + 2MP (depth sensing)
Processor: MediaTek Helio P95
Storage: 8GB (LPDDR4X) +128GB
Battery: 4,015mAh
OS: ColorOS 7.2 based on Android 10
Price: Rs 22,990