Helpful features for Gboard, accessibility apps
New updates — announced via a blog — includes the roll out of more than 1,600 new Emoji Kitchen combinations to help users express themselves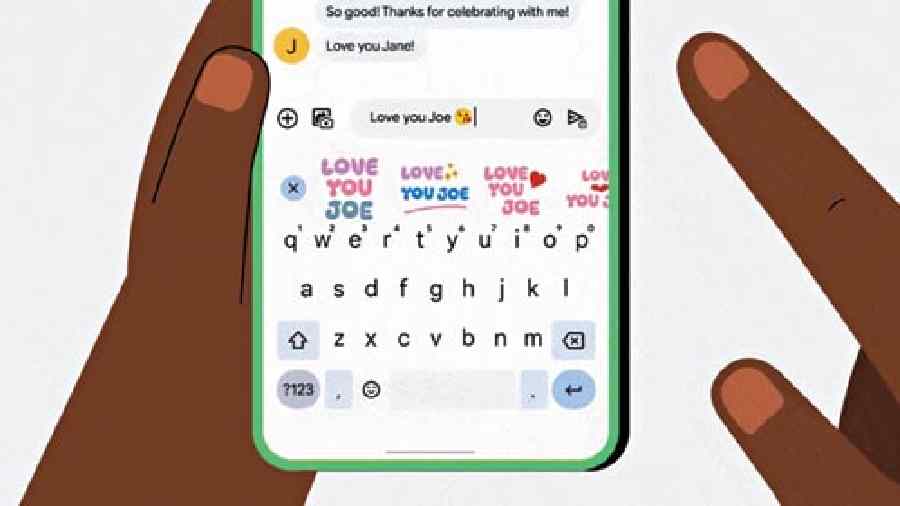 Add some flair to your messages with custom text stickers.
Picture: Google
---
Published 07.06.22, 03:12 AM
|
---
Restricted to Pixel users previously, Google is expanding its custom text stickers to Android users who use the US-English version of the Gboard keyboard. The feature lets you create and send personalised stickers by keying in your text and then turning them into stickers through design templates.
New updates — announced via a blog — includes the roll out of more than 1,600 new Emoji Kitchen combinations to help users express themselves by making new hybrid emojis. There is also new rainbow-based stickers to allow people to celebrate Pride Month.
Google is also offering Sound Amplifier which will help people with hearing loss. It uses your phone to amplify and filter important sounds around you. The update brings improved background noise reduction, faster and more accurate sound and a revamped user interface that is easier to see.
There are updates for the Lookout app, which uses your Android device's camera to provide information about the world around you with a variety of modes. The new Images mode, which uses Google's latest machine learning model for image understanding, you can hear a description of an image by simply opening it from just about any app.
"Android is constantly adding features to better connect with the people and devices around you…. From more expressive ways to message your friends, to subtle but smart upgrades to entertainment and accessibility, we ensure that every interaction with your Android device is more helpful than the last," said Angana Ghosh, director, product management, Android, on the Google blog.