Facebook rebrands as Meta but for end-users nothing changes
Besides FB, several big tech companies have metaverse-related objectives — from Microsoft to Nvidia Corp. and Unity Software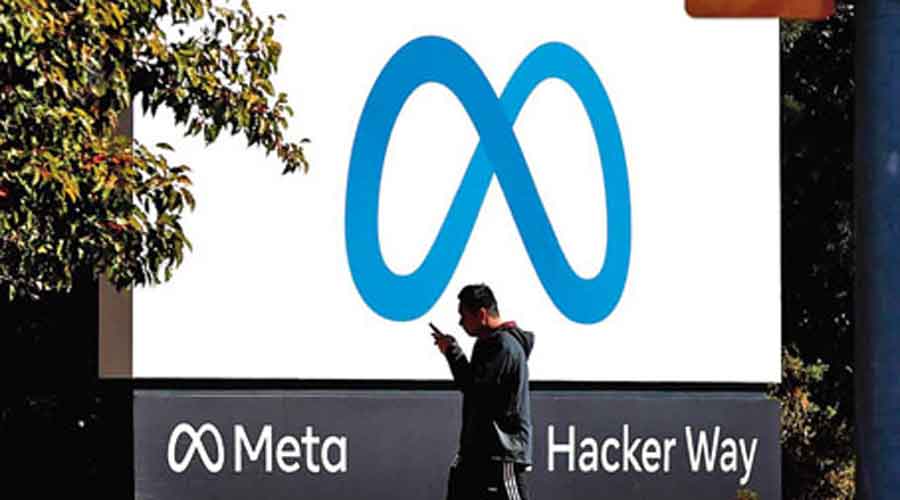 Facebook's new logo and new name, Meta, can be seen in front of its headquarters in Menlo Park, California.
The Telegraph
---
Published 30.10.21, 12:16 AM
|
---
Alphabet is mostly a collection of companies," Google co-founder Larry Page had said about the reoganisation that had taken place in 2015. But the problem with Facebook has never been its name. The problem lies in what Facebook/Meta has become. At a time when it's under fire for spreading misinformation and other issues, Facebook has renamed itself Meta, a bet on what Mark Zuckerberg believes to be the next digital frontier called the "metaverse".
The change in name comes with a new logo — an infinity-shaped symbol – while Facebook, Instagram and other apps are under the Meta umbrella. No, the Facebook social network is not changing its name. "I've been thinking a lot about our identity. Over time, I hope we're seen as a metaverse company," CEO Mark Zuckerberg has said. "From now on, we're going to be the metaverse first. Not Facebook first. Facebook is one of the most used products in the world. But increasingly, it doesn't encompass everything that we do. Right now, our brand is so tightly linked to one product that it can't possibly represent everything we are doing."
The word "meta" comes from the Greek word meaning "beyond". Many believe, a metaverse will appear like a version of VR while a group believes that it could be the future of the Internet. So instead of staying attached to a computer, users may put on a headset to enter a virtual world connecting all sorts of digital environments.
Google changing its parent company to Alphabet in 2015 had much to do with showcasing that the company was not only into search and display advertising but also other areas like a life sciences division. Snapchat rebranded itself Snap Inc in 2016 to present itself as a camera company.
Besides Facebook, several big tech companies have metaverse-related objectives — from Microsoft to Nvidia Corp. and Unity Software. Early examples of metaverse possibilities include Roblox and Epic Games hosting virtual concerts with millions of attendees who appeared as avatars.
For end-users like us, nothing has changed. The Facebook app will continue to be Facebook and will come with the same old problems and from time to time, an exciting feature. Meanwhile, a new MVRS stock ticker will go into effect on December 1.
Brands that changed their names
BackRub became Google: Founders Larry Page and Sergey Brin stuck with the name for some time.
Cadabra became Amazon: During its early days, the name was Cadabra but Jeff Bezos wanted a more accurate name for his company.
Blue Ribbon Sports became Nike: Track coach Bill Bowerman started his company with one of his former runners, Phil Knight. The company's name was Blue Ribbon Sports which became Nike.
Brad's Drink became Pepsi: Born as Brad's Drink in New Bern, North Carolina, Pepsi-Cola became an official trademark in 1902. And then there were more changes.
Tokyo Tsushin Kogyo became Sony: Established in 1946 as a radio repair shop, the company name was changed to Sony Corporation in 1958.
Confinity became PayPal: Confinity was named to "merge the words confidence and infinity".
Pete's Super Submarines became Subway: In 1965, Pete's Super Submarines opened in Bridgeport, Connecticut, selling 312 sandwiches on the first day.