New emoticons to double social media fun
Biting lip and pregnant man emojis are coming your way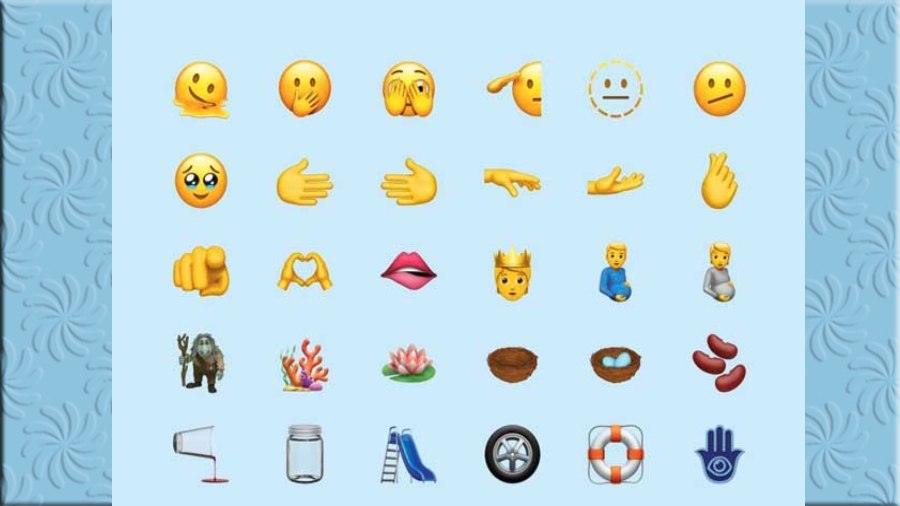 New emojis in iOS 15.4.
Emojipedia
---
Published 29.01.22, 03:49 AM
|
---
In the film Fifty Shades of Grey, Dakota Johnson's character, Anastasia, keeps biting her lip and perhaps that has outlived the forgettable film. We didn't know an emoji form of the biting lip action was needed but it will come as part of iOS 15.4, which will also feature a melting face, someone saluting, a pregnant man, mirror disco ball and beans.
In the iOS 15.4 update, Apple has added support for Emoji 14, introducing a selection of 37 new emojis and 75 skin tone additions, resulting in a total of 112 characters. There are several new hand emojis, such as heart hands, rightwards hand, leftwards hand, palm down hand, palm up hand, hand with index finger and thumb crossed, index pointing at the viewer, along with an update to the handshake emoji.
Emojipedia has come up with a first look at Apple's renditions though the specific way an emoji looks will vary from platform to platform, but you can get a feel of what to expect from the Unicode Consortium, which is the body in charge of creating new emojis.
"Since 2019 vendors have been making considerable efforts to offer all people emojis with three different gender variants: a man, a woman, and a non-gender-specifying  person. This latest Apple beta update continues this trend by adding two new gender-neutral people emojis in the form of  Person with Crown and Pregnant Person, as well as adding a new Pregnant Man emoji," says Keith Broni on the Emojipedia blog.
Based on past iOS beta history, it's likely that the final public release of iOS 15.4 will come to users in March or April 2022. The new emojis are available on the iPhone and iPad with iOS 15.4 and iPadOS 15.4, plus the Mac with macOS Monterey 12.3.