Apple's creative session on the Procreate app turns out magical
The online class involved drawing a motivational motto inspired by Ted Lasso while getting some tips from the professional artist Tyrsa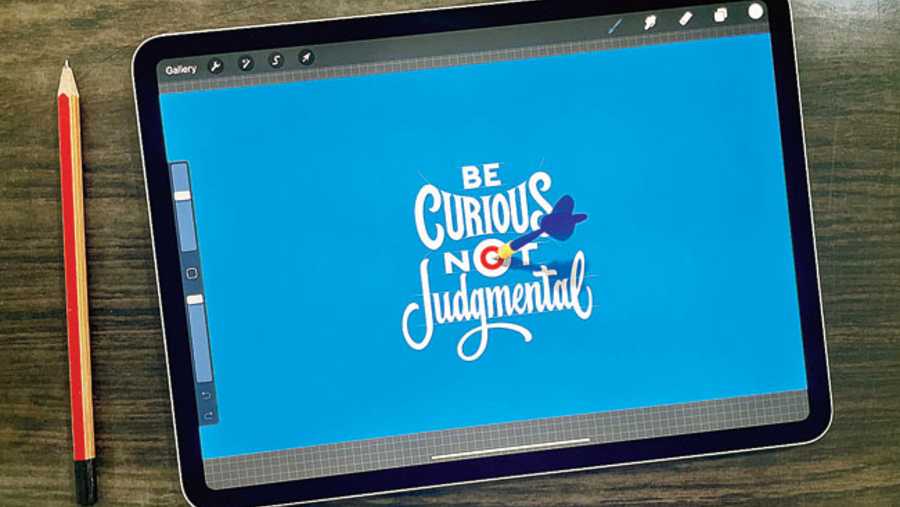 Procreate, the raster graphics editor app for digital painting, is the go-to tool for illustrators using the iPad.
Picture: The Telegraph
---
Published 01.08.21, 10:34 PM
|
---
Fridays now have a routine. Empty the French press into a large cup, bring out a couple of chocolate roll sticks and turn on the television, for Ted Lasso season two is on. Once every few years — or perhaps a decade — comes a show that inspires. If The Wonder Years made a kid in the 1990s realise that life was magical, Ted Lasso is highlighting simple ways to be a better person to that same kid who is now rolling around the mid-life mark.
On a personal note, I have been enjoying the Apple TV+ show so much that I had signed up for an online session titled 'Virtual Studio: Ted Lasso Fan Art with Tyrsa'. The session had nothing to do with the Ted Lasso show as well as everything to do with the philosophy of it. Confused? The idea was to highlight the motivational power of the show as well as one of the best apps money can buy an illustrator or help a budding illustrator to make life simpler while using the iPad.
The online session involved drawing a motivational motto inspired by Ted Lasso while getting some tips from the professional artist Tyrsa, who can turn fonts into works of art and come up with visuals that can become wall art.
My drawing skills are nothing to boast about but the session gave me hope, much like the mustachioed football coach on the show. With every line, Ted's thick Kansas drawl played in my head, saying that one must rally behind friends and well-wishers as well as one's talents. Second, it's best to be at our optimistic best. And at every step, one of the quotes Ted believes in got highlighted — "Be curious, not judgemental," something Walt Whitman had said.
In way of Procreate on the iPad, I learnt the power the latest M1 chip lends the device. Now users can easily have 23 layers at 4480x6720, which is insanely high. Changes made in any layer are immediately reflected. Plus, with some patience, you can add texture and shadows that bring an illustration alive.
The session has motivated me enough to fire up Procreate on the new iPad Pro (11-inch version) while making good use of the Apple Pencil. In case you are seriously considering a career in illustration then opt for the 12.9-inch version, which comes with a Liquid Retina XDR display.
Nonetheless, it's also time to wait for the 5.2 version of Procreate, which promises to free 3D artwork from the canvas and see it in the real world with AR, complete with realistic lighting and shadow effects.
As another Friday is on the horizon, I will be waiting for another new Ted Lasso episode. Meanwhile, I am still trying to make an illustration that's presentable while thinking of a Lasso quote: "You know what the happiest animal on Earth is? It's a goldfish. You know why? Got a 10-second memory. Be a goldfish."