Work together: Native languages to combat Covid
HINTERLAND | The use of native languages and drafting in community to help are both essential for quickly tackling the crisis and its many social fallouts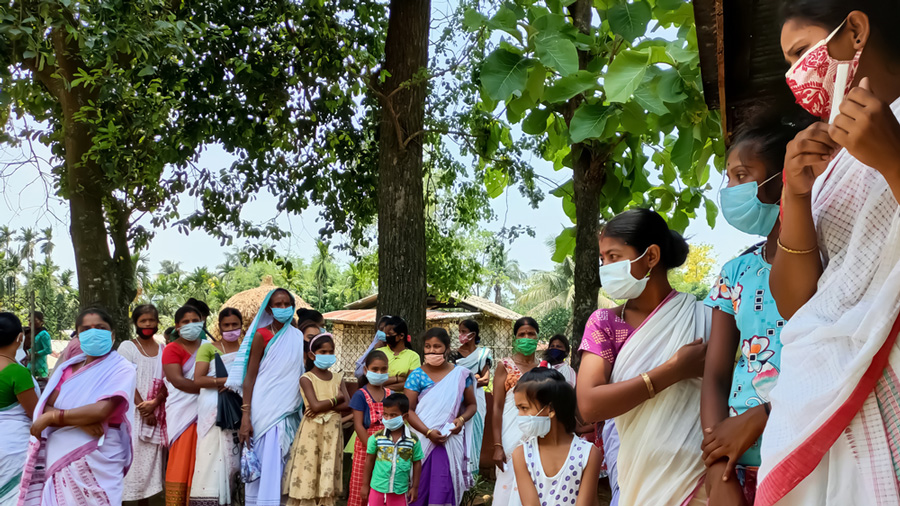 Representational image.
Shutterstock
---
Published 15.06.21, 12:52 AM
|
---
A young doctor posted at a primary health centre in Maharashtra's remote Melghat region found a simple solution to convince the local Korku tribal community to get inoculated. He spoke to them in their native language, persistently, and turned their reluctance into willingness with advocacy. This is in Amravati, a district that was among the first to be hit by the second wave of Covid-19 in early March. Melghat is infamous for malnutrition among the impoverished Korkus.
Miles away, in inaccessible Binagunda at the foothills of Abujh Maadh in the restive Gadchiroli district, a local kotwal, tehsil revenue officer and a recently-recruited project officer of the tribal department joined hands with the Madia community to not only convince them but also quickly vaccinate all tribal villagers. Madias, who are a primitive vulnerable tribal group, had earlier refused to take the vaccine owing to prevailing misconceptions and the inaccessible nature of healthcare.
Last month, teams of government officials walked miles through the Maoist-dominated, thickly-forested territory to deliver vaccine doses to tribal people once the community heads, convinced about the benefits of inoculation, had prevailed over their fellow villagers. The local head was among the first to take the jab in front of the people of his village. The process was easy from there on.
Quite encouragingly, the health and district administration of Nandurbar, an economically backward part of north Maharashtra, also dispelled inoculation-related misconceptions and rumours among the predominantly tribal population with awareness campaigns designed in the local language and run with the help of community institutions. The result? Several inaccessible, scattered hamlets have been fully vaccinated, while many others are getting there.
 The lesson is two-fold and long-term. One, native languages and dialects are key to convincing local populations of vaccination benefits. Two, having communities and their institutions, both formal and informal, by your side are critical for any programme delivery.
 Currently, Indian administrators are struggling with a paucity of ideas to keep children in schools, more so in the remote and rural corners. The use of native languages and drafting in the community to help are both essential for quickly tackling the crisis and its many social fallouts, and to avert another Covid wave.
What is quite reassuring is that local political players and government officials, usually unenthusiastic about shouldering these massive challenges, are taking such initiatives and deploying decentralized strategies. They are even partnering with communities to overcome the hurdles when the country's top-level political and bureaucratic leaderships are failing in their responses to the crisis.
While the second wave has not ended, vaccine-related hesitation prevails in many parts of India. Against this backdrop, these examples of positive action hold promise, as many other villages in Maharashtra and perhaps in other states are now achieving full vaccination — subject to vaccine availability — using these strategies of advocacy in native languages and community support.
India, with a dynamic history of language development, is home to innumerable languages belonging to the Indo-Aryan, Dravidian, Austro-Asiatic and Tibeto-Burman language families. Advocates of decentralization and local language preservation have long argued that language chauvinism and administrative hegemony do not work in a diverse country as ours. But our administrators, who revel in hierarchy, have a distaste for community wisdom and promote centralization of power. They have abused the very concept of community participation and treated the subaltern with disdain. Gandhi's 'consensual democracy' is difficult to practice, but some of the examples noted above show that it is the only effective tool in dealing with heterogeneity and the diversity of languages and thought.