Too loud: Editorial on BJP's ignorance about manners and protocol at official events
The party has made it a habit of blurring the lines between government and political functions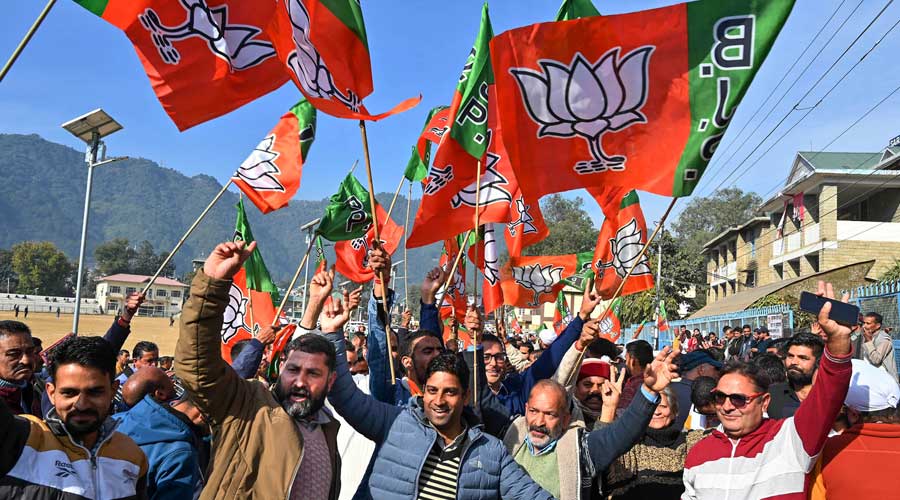 The imperative of political outreach, evidently, outweighs protocol.
---
Published 02.01.23, 04:38 AM
|
---
The idea of civility is embedded in public life. Similarly, government functions are informed by their own set of etiquettes. It appears that the Bharatiya Janata Party's cadre remain — wilfully? — ignorant about manners and protocol when it comes to official events. The latest, but by no means the first, instance of the BJP cadre's unacceptable conduct unfolded at a railway ministry function when party workers erupted into their favourite slogan, "Jai Shri Ram", at the sight of the chief minister of Bengal. This unbecoming conduct, which apparently left even the BJP dignitaries embarrassed, is not new: similar chants had been heard at another official function of the Union culture ministry at the Victoria Memorial. Enthusiastic party workers may have the freedom to air slogans, provocative or otherwise, in political events. But government programmes — convention and civility demand — must not be tainted with such exuberance. But then, perhaps it is unwise to blame the BJP rank and file. The party has made it a habit of blurring the lines between government and political functions. The imperative of political outreach, evidently, outweighs protocol. There is also the other matter of slighting the chief minister who was an invitee to the event.
Unfortunately for the BJP, all that sloganeering on this occasion came to a nought since Mamata Banerjee, the alleged target of the provocation, chose not to fall for the bait. In fact, Ms Banerjee's response was markedly dignified. She thanked the prime minister who was attending the function remotely and also offered her condolences for his bereavement. That politicians can rise above differences and incitement is heartening: the other day, in Haryana, Manohar Lal Khattar and Bhupinder Singh Hooda, veterans and bitter rivals, chose to wrestle verbally — but through verse. But the fact that incidents like these stand out reveals a deeper problem — the deterioration in the standards of politeness in contemporary politics. Unsurprisingly, banter between leaders or parties mirrors the same decline, with effrontery and insensitivity being quite common. The lack of grace is the manifestation of another breakdown: the ties between the ruling dispensation and the Opposition seem to be at their worst. Political differences need not decimate grace. India's democratic history has been enriched by the bonds and the respect that leaders have nurtured in spite of their location on opposite ends of the political and ideological spectrum. That spirit needs to be preserved.