The secret institutional support for illegal mining must be addressed
Tied up with issues of tribal rights to land and tribal practices, coal-mining has continued unregulated in Meghalaya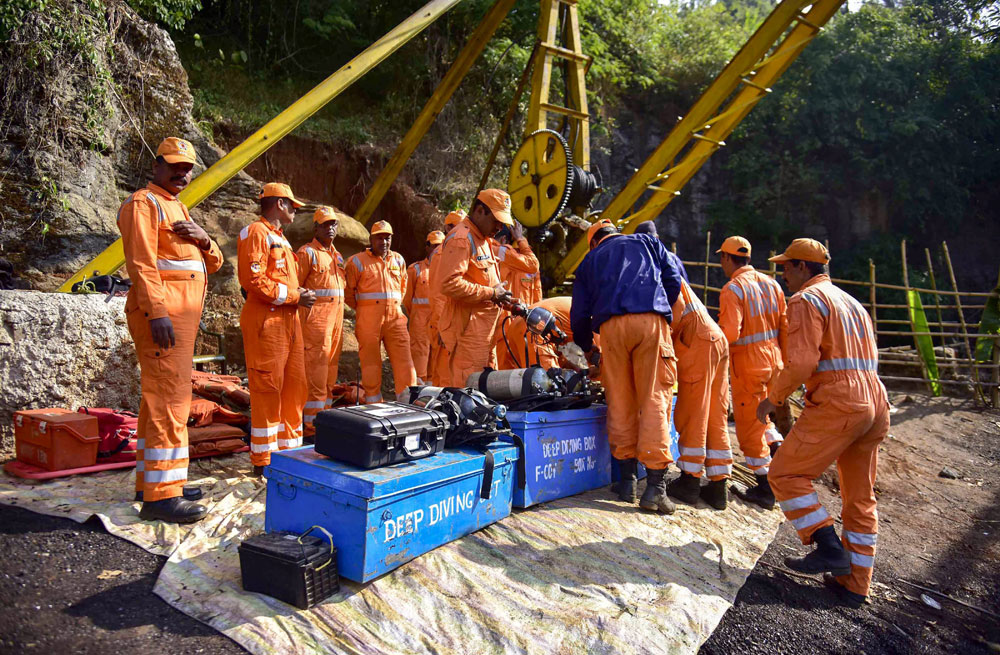 NDRF personnel at the site of the coal mine collapse at Ksan, in the Jaintia Hills district of Meghalaya. No emergency measures can be on standby if the activity is illegal.
PTI
---
Published 31.12.18, 03:41 AM
|
---
Laws fail only when people in power want them to. The tragedy of the miners trapped since December 13 in a suddenly flooded coal mine in the East Jaintia Hills district of Meghalaya is the terrible outcome of illegal activity. Rescue efforts, which began on December 14, reached a scale equivalent to the tragedy — with the right machines — around 16 days later. Even allowing for the time taken to transport equipment like heavy pumps, airlifted from elsewhere to be brought to the top of a forested hillock, administrative delays as in requests for help from the state government to the Centre seem bewilderingly long. Everyone appeared to be reluctant about publicizing the accident. Why should time be wasted with inadequate pumps as a first response to an accident in a 370-feet mine flooded with water to around 170 feet?
No emergency measures can be on standby if the activity is illegal. Coal is traditionally a major revenue earner in Meghalaya, and the trapped miners were promised rewarding wages. Tied up with issues of tribal rights to land and tribal practices, coal-mining has continued unregulated in the state. Yet Meghalaya is not officially outside the coal mines nationalization law although it is a state under the Sixth Schedule. The state's 2012 law to regulate mining not only pussyfooted round the issue of traditional practices, but also remained unimplemented by the earlier Congress and the current National People's Party government, which has as its ally the Bharatiya Janata Party. The situation worsened with the 2014 National Green Tribunal ban on coal mining, especially the popular rathole method, that the government implemented in 2015. The accident has occurred in a rathole mine. Unregulated and unscientific mining has polluted rivers, destabilized the environment and continued to destroy lives. Resistance to the ban comes from political leaders across parties, a large number of whom own, or are related to those who own, mining and coal transporting businesses. Regulation would lift the ban, but maybe that goes against the interests of the reported nexus among the administration, mine owners and the State. The arrest of the owner of the mine that flooded on December 13 cannot obscure the secret institutional support for illegal mining. It is that which must be addressed first.