The relationship between Tories and Hindus in UK
EYE ON ENGLAND | New producton of Othello at National Theatre, support for Sunak from an unlikely source and more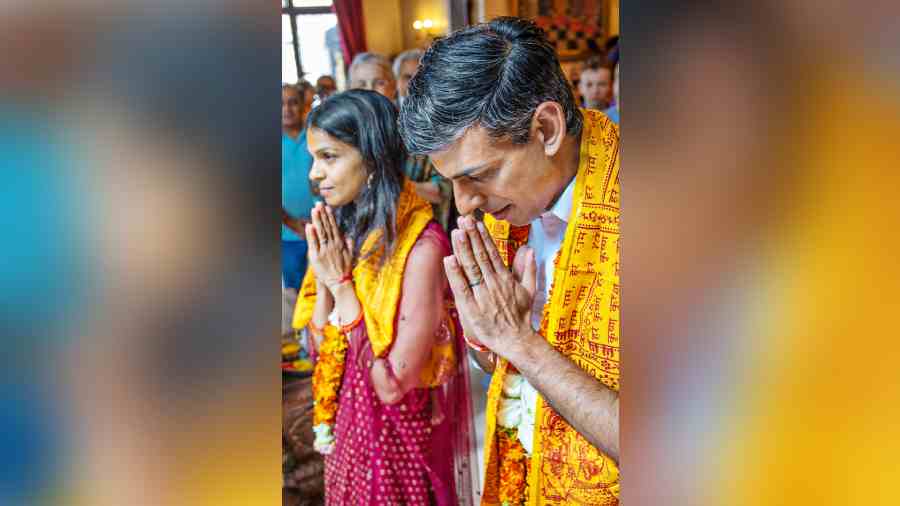 ---
Published 10.12.22, 06:03 AM
|
---
Spot the connection
Is Rishi Sunak a Hindu prime minister or a prime minister who happens to be Hindu? As a result of his rise to power, ConservativeHome, a "right-wing blog which supports but is independent of the Conservative Party", commissioned a study of Tory bonding with Hindus. One of its journalists, Andrew Gimson, posed the question: "What of the politics of Hindus in Britain?" He confirms that the party's core values do appeal to Hindus, but he concluded: "In Britain, class matters more than religion, and is closely related to schooling, which Hindus take with the utmost seriousness." He also pointed out: "Hindus don't all think the same, any more than Anglicans do. Enoch Powell has ceased to be much of a limiting factor for the Conservatives when trying to recruit Hindus... Did anyone foresee that in 2022 Britain would have a Hindu Prime Minister?... David Cameron predicted this development, in a general sort of way, when he declared in 2015, 'It won't be long before there is a British Indian Prime Minister in Downing Street.' He announced to 60,000 British Indians who had gathered in Wembley Stadium to celebrate the visit to Britain of Narendra Modi, Prime Minister of India since 2014." The BJP has been trying to recruit followers among Indians in the UK with varying degrees of success. What Gimson could also have taken into account is how Keir Starmer's Labour Party is influenced by its Pakistani origin MPs. Starmer and his team have targeted Rishi for his 'wealth' and his wife, Akshata Murty, for her "non dom" tax status, which many Indians see as an attack on their aspirational outlook on life.
The Bard in Bollywood
A powerful new production of Othello has opened at the National Theatre. Watching it took me back to 2006 when Ajay Devgn and Vivek Oberoi came to Cannes and held a press conference to promote Omkara, Vishal Bhardwaj's adaptation of Shakespeare's tragedy. Some people joke that there is so much melodrama in Shakespeare that the Bard would have been a Bollywood scriptwriter had he been alive today. In fact, in response to something I asked, Devgn got a bit carried away and declared that "Vishal Bhardwaj's script is so good that it is even better than the original". Far from turning in his grave, one can imagine the Bard nodding in agreement.
Sky is the limit
Sir Ed Davey, the leader of the Liberal Democrats, was one of the senior politicians I met at the Diwali party. He was gifted a silver statue of goddess Lakshmi. Last week, I talked to him at length about his possible role as kingmaker after the next general election if his party were to substantially increase the 14 MPs he currently has in the Commons. He said that unlike Labour, he wouldn't attack Rishi Sunak over his wealth or education. "I'm actually very proud that we have a Prime Minister who has an Indian heritage. It is a real tribute to our country. And while I may have disagreements with Mr Sunak on policy details — of course, I do — I think he is both a signal to the world that Britain celebrates diversity, and that you can come from whatever background and you can get on in our country. That is our fantastic strength... I hope that people from all different communities can look to the prime minister and politicians of all parties who have come from different minority communities and say, this is a country where if you get into the political system, you can progress. You can get elected, get into the cabinet, even get the top job — the sky's the limit."
Out of place
Lady Susan Hussey, who is 83, offended Ngozi Fulani, a black charity worker whom she met at a recent Buckingham Palace party by repeatedly asking her, "Where are you really from?" She persisted despite being told that the Caribbean-origin Fulani was UK-born and considered herself British. Lady Susan's late husband, Marmaduke Hussey, was chairman of the BBC and CEO of Times Newspapers. As a member of the aristocracy, Lady Susan was the late Queen's 'lady-in-waiting' for 60 years.  Although Prince William is her godson, his spokesperson said "racism has no place in our society. The comments were unacceptable, and it is right that the individual has stepped aside [from Buckingham Palace duties] with immediate effect." The one person I would like to hear from is the Bengali, Indrojit Banerji, who has been happily married since 2009 to Katharine Waldegrave. They met at Oxford, and had their first wedding in India, followed by a second in Somerset. "We are thrilled for them," Katie's mother, Caroline, said at the time. Katherine's father, William Waldegrave, a life peer, served in Margaret Thatcher's cabinet. He is also Susan Hussey's brother.
Footnote
I am happy to report that there is a Royal Bengal tiger at the Fifa World Cup in Qatar. Commissioned by the UK government, the British Indian artist, Chila Burman, has decorated an ice-cream van and put a tiger made of bright neon lights on top. This is on display in the British "Garden of GREAT" in Doha and has been a huge hit. Chila's Sikh father sold ice-cream from a van after emigrating to Liverpool from Calcutta in 1954.