Editorial: Showtime
The garish transformation of Jallianwala Bagh has led to accusations of the govt being complicit in a disquieting initiative to engineer a break with the past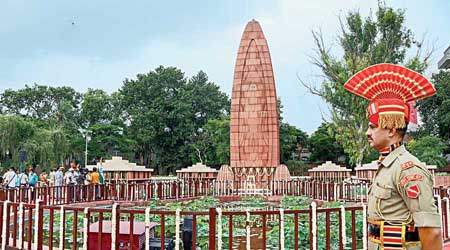 The renovated Jallianwala Bagh Martyrs' memorial in Amritsar on Saturday.
PTI
---
Published 02.09.21, 12:59 AM
|
---
The edifice of history is built on facts. Yet, history can be rendered malleable — hence vulnerable. The transformation of history — from fact to fiction — can be achieved in numerous ways. The most common is through revisionism, something that authoritarian, right-wing dispensations, such as the one in power in India, have been accused of many times. Another, equally insidious, way is desecration. Desecration need not be understood as a wilful show of disrespect. It can take place, ironically, through projects that seek to 'preserve' sacred relics. One such instance of insensitive 'conservation', historians allege, has taken place with the renovation of the Jallianwala Bagh complex, the site that witnessed an unprecedented act of colonial barbarity on Indian citizens. The prime minister recently inaugurated the 'restored' complex, unveiling unacceptable changes to the venue. The constricted alley, through which General Reginald Dyer's soldiers had marched before unleashing terror, has been embellished with tacky murals as well as a gleaming floor. The Martyrs' Well, too, has not been left unscathed: it is now enclosed within a glass wall. These refurbishments — Punjab's Congress chief minister finds them tasteful — have been conducted under the benign gaze of the Archaeological Survey of India with the Union cultural ministry pulling the strings.
The garish transformation of Jallianwala Bagh — Rabindranath Tagore had renounced his knighthood in protest of the massacre — has, understandably, led to accusations of the Bharatiya Janata Party-led Central government being complicit in a disquieting initiative to engineer a break with the past. There is, however, a deeper crisis that has gone unnoticed. The aesthetics of memorials are integral to commemoration enterprises. Around the world — be it in Hiroshima in Japan or Auschwitz in Germany — conservators have been mindful to protect, or recreate, a sense of solemnity to force visitors to contemplate on the sufferings inflicted by oppressors. A planned assault on such aesthetics, the fount of reflection, is now leading to the metamorphosis of heritage into recreation. This 'Disneyfication' of history and heritage, and perhaps a nation's destiny, warrants immediate public attention. This is especially so because other sacrosanct precincts in India — M.K. Gandhi's Sabarmati ashram in Ahmedabad is an example — may meet a similar, grisly fate soon. A parallel need is to grant autonomy to institutions skilled in conservation, such as the ASI, so that they can go about their work without meddling from the powers that be. History and its spaces must be protected from the ravages of time and spectacle.