Shock tactics
Can controversial ads help brands?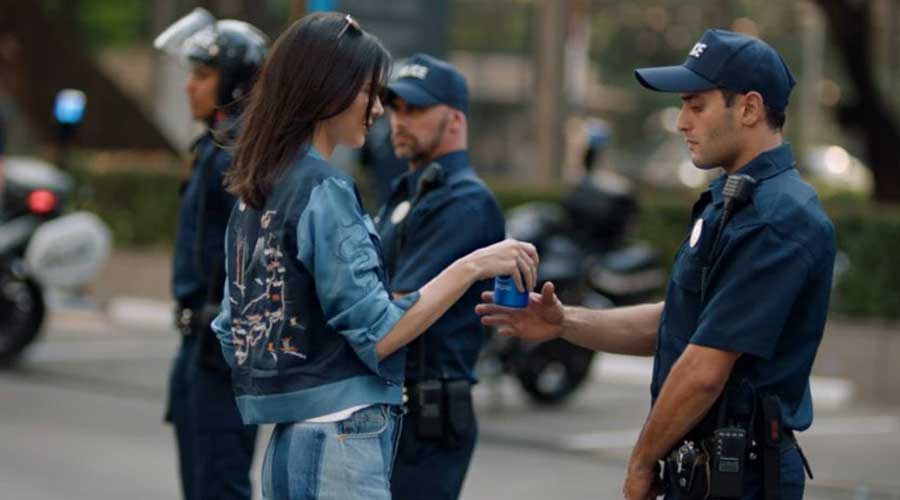 Pepsi ran into controversy over an ad starring Kendall Jenner.
Twitter @StefSimanowitz
---
Published 03.01.22, 02:36 AM
|
---
A 2017 Pepsi advertisement, featuring the American supermodel, Kendall Jenner, faced backlash for being insensitive towards black anti-police-violence protesters. In the ad, Jenner leaves a photo shoot to jump in with protesters marching along the road, and then approaches a policeman with a can of Pepsi, while the crowd celebrates the apparent alliance between the police and the protesters. Amid crushing condemnation from critics, the company had to pull the ad off air and off the internet in less than 48 hours after the initial release.
We are exposed to thousands of advertisements each day — on TV, in newspapers, on social media, the internet, billboards and so on. But few have as much of a lasting impact as ads that get embroiled in controversy. A 2016 Forbes article claims: "Individuals and companies use 'Shock Marketing' tactics, believing that their controversial activities or marketing methods will spark interest..." while admitting that "using controversial marketing also has several downsides." According to consumer perception scores measured by YouGov BrandIndex, immediately after the Jenner ad, Pepsi's Purchase Consideration score with millennials went down from 27 per cent to 24 per cent.
In 2016, Colin Kaepernick, a professional American footballer, started taking the knee during the national anthem before the match to highlight the ongoing oppression of black people in America. It created a huge controversy — so much so that no team has signed Kaepernick since. In 2018, Nike released an ad featuring him along with the slogan: "Believe in something. Even if it means sacrificing everything. Just do it." The ad immediately both created controversy and resonated with millions of people. However, it also won an award for outstanding commercial and was a success too: just days after it released the ad, Nike's sales soared by 31 per cent.
In India too, multiple ads have caused a stir. In 2020, the water purifier company, Kent RO, put out an ad for Atta Maker and Bread Maker showing a pair of hands kneading dough with the caption, "Are you allowing your maid to knead atta dough by hand? Her hands may be infected." This attracted widespread criticism and the brand had to withdraw it. Tanishq showed a caring Muslim mother-in-law organize a traditional baby shower for her Hindu daughter-in-law: "A beautiful confluence of two different religions, traditions, cultures". But this drew criticism from a section of society, forcing Tanishq to withdraw it.
Google Trends showed that immediately after the ad was withdrawn, the search volume for Kent went back to the pre-advertisement level. The search volume of Tanishq in the post-withdrawal period, however, was almost twice as high as that in the pre-withdrawal period. Controversy, thus, not only increased Tanishq's visibility but might also have enhanced its brand reputation.
From Ola and Zomato to Manyavar and Sabyasachi, many brands have faced backlash from one or the other section of society. Some of their ads were also withdrawn. Fabindia faced heat for a Diwali ad with the tag line, 'Jashn-e-Riwaaz', and Dabur Fem for depicting a same-sex couple, two women, fasting for each other on Karva Chauth. Debates are still on about these ads.
But can controversies help brands? It is not easy to predict the result. One year after the Jenner ad, PepsiCo and Pepsi's brand perception among the young has made an unusual recovery. While generating more buzz, a controversial ad can be detrimental to a brand if executed poorly. In 2016, a Texas mattress shop, Miracle Mattress, faced strong criticism after its "twin tower sale" offered every mattress sold on the anniversary of the attacks at a discount. The damage to the business of the Texas shop was immense.
For brands, experimenting with public outrage may be like a mad scientist combining chemicals in a laboratory. The outcome is often unpredictable.