Secure law: The National Security Act
Experts feel that it is being used to punish, not prevent, because people can be locked up for 12 months although most cases would not pass legal scrutiny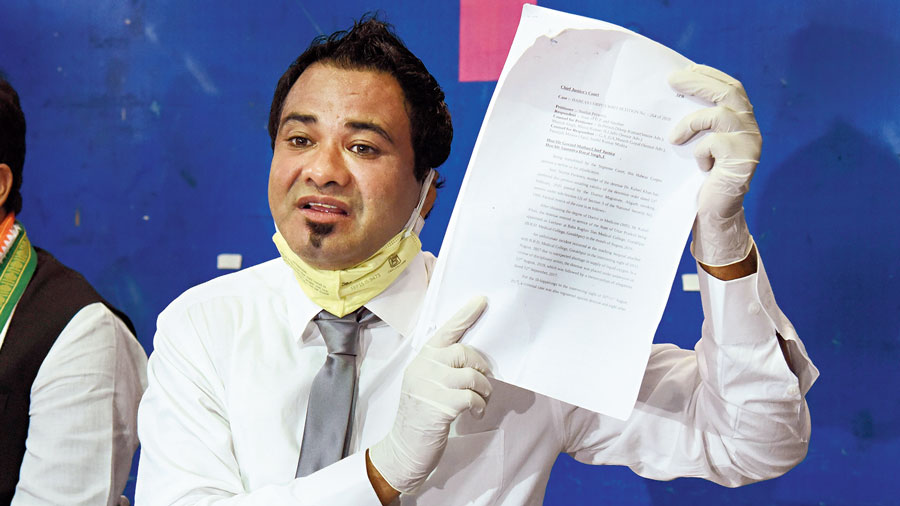 Dr Kafeel Khan was locked up behind bars under the NSA.
File picture
---
Published 15.09.20, 01:35 AM
|
---
The value of a law depends on its application. The National Security Act, 1980 permits preventive detention — up to a maximum of 12 months — "in certain cases and for matters connected therewith". These "certain cases" are fleshed out to indicate that a person can be detained, among other reasons, to prevent him from acting in a manner prejudicial to the security of India and the maintenance of public order. This is rather imprecise: public order remains subject to the State's interpretation, and the security of India could be made to mean the security of the ruling regime and its agenda. Recently, after the release of the doctor, Kafeel Khan, by the Allahabad High Court which reportedly criticized the authorities for booking him under the NSA on a whim, legal experts have spoken up against the indiscriminate use of this law. They feel that states should not use the law without reasonable material to justify its application, and police officers using it wrongfully should be penalized. Although successive governments have misused the NSA from time to time, its application has become almost a daily practice under the present dispensation. From dumping cow carcasses to protesting against the lack of Covid-19 testing at airports, the NSA is slapped for anything that strikes the State's fancy. Experts feel that the law is being used to punish, not prevent, because people can be locked in jail for 12 months although most cases, like Mr Khan's, would not pass legal scrutiny.
Uttar Pradesh leads in the intimidating and arbitrary use of the NSA. While 13 arrests under it this year have been of anti-Citizenship (Amendment) Act protesters — they evidently threaten security, even if not the country's — 76 of 139 NSA arrests till August 19 were of those accused of cow slaughter. They allegedly threaten public order, because the accusation of killing cows is a 'sensitive' matter. This use of the NSA upends all notions of justice and fair process. It is telling that of the thousands of arrests under other laws for cow slaughter in UP, the police have filed closure reports for only 32 on account of the lack of sufficient evidence. But the NSA can enforce a 12-month stay in prison. Deliberately misused, it is a handy tool in the art of creating fear.