Development must prioritise even the smallest infrastructure links
The Mumbai bridge collapse highlights the serious problem of persistent gaps in the modernisation of infrastructure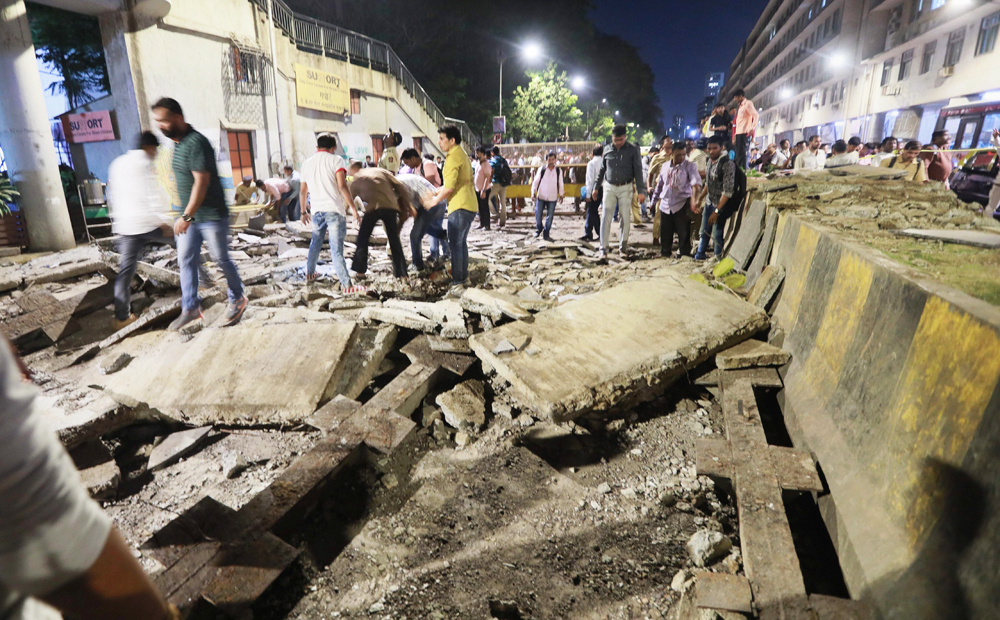 Rescue work in progress after a foot overbridge near CSMT station collapsed in south Mumbai on Thursday, March 14. The bridge connected the bustling Chhatrapati Shivaji Maharaj Terminus railway station with the Azad Maidan Police Station.
PTI photo
---
Published 20.03.19, 03:14 AM
|
---
The troubled water has deepened, especially after portions of a foot overbridge near the Chhatrapati Shivaji Maharaj Terminus in Mumbai collapsed, killing six people and injuring more than 30 others. By now, news of bridges and flyovers collapsing in various parts of the country — resulting in the loss of numerous lives, extensive damage to public and private property and aggravated traffic situations — have ceased to be surprising. Last year, the collapse of another overbridge connecting train stations in the financial capital was one of three such infrastructural disasters to occur in India in 2018. In fact, an audit conducted by the Union transport ministry two years ago had found over 100 bridges in the country to be unfit for use on account of their dilapidated condition. The fact that little seems to have been done by way of corrective measures is evident in the subsequent mishaps that have taken place since then. Even more worrying, however, are the mysterious ways in which structures that are hazardous to public safety are given a clean chit — the footbridge that collapsed last week had been marked as safe for use by an audit conducted in 2018 by the Brihanmumbai Municipal Corporation. This calls into question the role of human oversight in such tragedies and sheds light on the alleged irregularities that undermine monitoring and maintenance of utility structures that can thereby compromise public safety. Not only must attention be drawn to the process by which such a fragile structure was certified as safe for use, but the penalties handed out to the errant individuals involved in giving the green signal must be stringent enough to act as a deterrent for the future.
In all of this, however, a glimmer of hope did present itself, in the form of first responders who were ordinary citizens. While a 45-member team of the National Disaster Response Force was rushed to the site to carry out rescue operations, witnesses reported having rescued a number of victims. But the larger, more serious, problem persists: the gaps in the modernization of infrastructure. Development must prioritize even the smallest of links — footbridges, pavements, canals and even arterial roads. It is because these links do not figure in the discourse on public utilities that such mishaps occur with alarming frequency. They must be brought within the ambit of urban planning and policy so that the safety of citizens and public spaces is ensured.