Mischief begins: Post-poll violence in Bengal
Ms Banerjee should ensure that peace prevails; Bengal has voted in favour of peace and pluralism, and it is now her turn to honour the people's pledge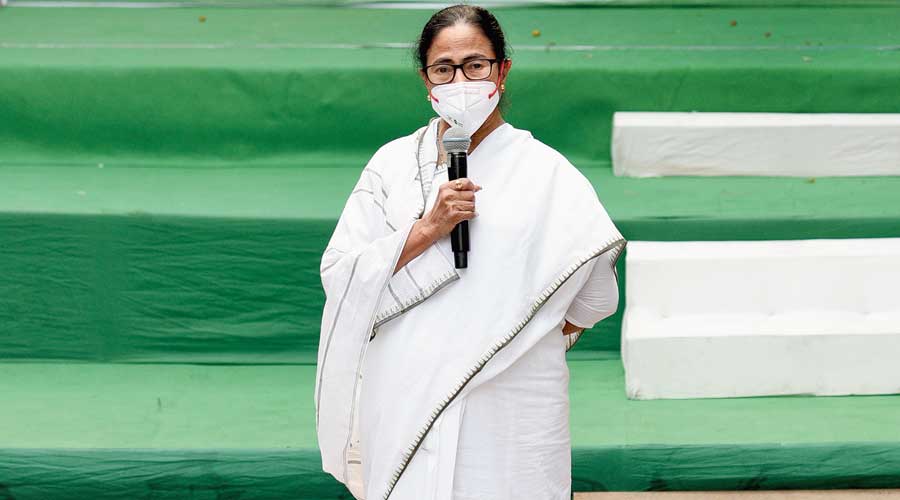 Mamata Banerjee.
File picture
---
Published 06.05.21, 12:59 AM
|
---
Violence is antithetical to the spirit of democracy. Yet, even a cursory examination of Bengal's political history would show that bloodshed has, unfortunately, been integral to its political culture. The killings that the state has witnessed after the declaration of the results of the assembly elections, therefore, are indicative of a worrying continuum. Several deaths have been reported from all over the state, with supporters of the Bharatiya Janata Party, the Trinamul Congress as well as those of the Sanjukta Morcha losing lives. The provocative comments made by several BJP leaders as well as by voices in the right-wing's echo-chamber in the course of the campaign may have been one of the sparks that lit this fire. The chief minister, Mamata Banerjee, has responded by appealing for peace. She has to do more than that. The administration must act firmly and without bias, nipping the toxic contagion in the bud. Ms Banerjee cannot be complacent about the mischief. The BJP, having been comprehensively rejected by the people, is a past master when it comes to fishing in troubled waters. The party — this is only to be expected — is giving a communal twist to the transgressions by depicting minorities as the aggressors. The BJP's national president has egregiously compared the prevailing situation with that of the Partition. Such prejudiced views are being complemented by the dissemination of patently false reports through social media. Several claims, such as the one amplified by a BJP MP and an MLA — of a karyakarta being gang-raped in Nanoor — have been disproved.
It would not be erroneous to speculate that the BJP has the following goals. First, keeping the communal pot on the boil in Bengal could reap a better electoral harvest in the future. Second, the poisoned rhetoric, obediently subscribed to by large sections of the media and, allegedly other influential offices, would keep Ms Banerjee's government on the defensive. Finally, the myth of 'Bengal burning' could prove to be a useful diversion to deflect public attention from the monumental lapses committed by the Narendra Modi government in its management of the Covid crisis. Ms Banerjee should ensure that peace prevails. Bengal, the chief minister must not forget, has voted in favour of peace and pluralism. It is now her turn to honour the people's pledge.