Letters to the Editor: Women deprived of due recognition
Readers write in from Calcutta, Hooghly, Jalandhar, Burdwan, Raichur, Ludhiana and Ohio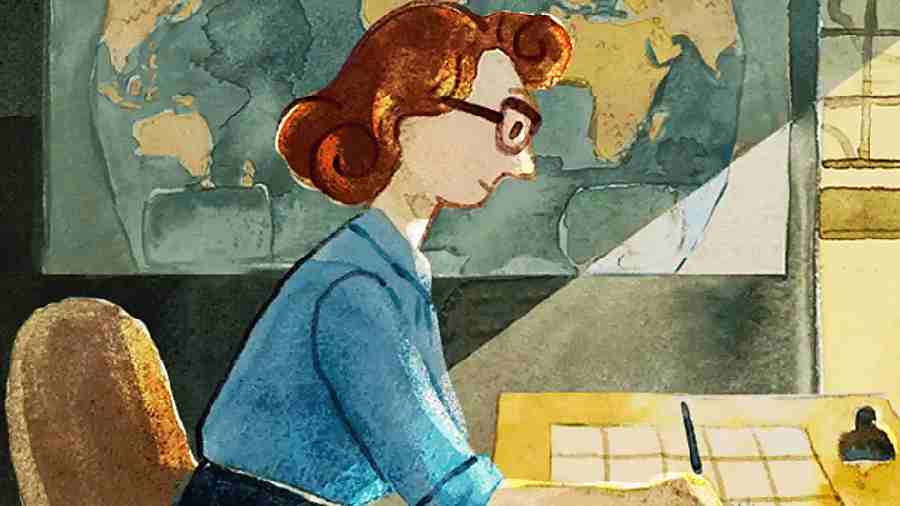 Millions of students are taught that Charles Babbage was the 'father of the computer', but few know of Ada Lovelace, whose calculations and computer programs helped Babbage create his Analytical Engine.
---
Published 24.11.22, 04:30 AM
|
---
Due credit
Sir — A woman being denied the recognition she deserves for her achievements is a tale as old as time. Millions of students are taught that Charles Babbage was the 'father of the computer', but few know of Ada Lovelace, whose calculations and computer programs helped Babbage create his Analytical Engine. Charles Lindbergh is a household name in the United States of America, but the exploits of Bessie Coleman, the first Black female aviator to get a pilot's licence even before Amelia Earhart, are rarely celebrated. It is thus refreshing that the contributions of Marie Tharp — her felicitation by the US Library of Congress in 1998 was depicted in a recent interactive Google Doodle (picture) — were acknowledged during her lifetime.
Abhishek Marjit, Calcutta
Fear of reprisal
Sir — The Chief Justice of India, D.Y. Chandrachud, recently highlighted the important role that district courts play in our judicial system. He said that judges in lower courts are reluctant to entertain bail pleas for fear of being targeted. This is one of the reasons why higher courts are flooded with bail applications. But it would be wrong to blame these judges. They have every right to be wary. It is the government's responsibility to make adequate security arrangements for the members of the judiciary.
Diganta Chakraborty, Hooghly
Fickle fortune
Sir — The Bharatiya Janata Party has ruled Gujarat for the last 27 years. If the party retains power in the upcoming elections, it will equal the reign of the Left Front in West Bengal. This clearly shows that voters do support the BJP. However, voters can also remove a party from power if they so wish, as is evident from the fact that there is not a single legislator in the Bengal assembly from the Left Front.
Yash Pal Ralhan, Jalandhar
Cosmetic cure
Sir — The chief minister of West Bengal, Mamata Banerjee, has chastised doctors of rural areas for referring too many patients to urban medical centres ("CM ire over patient referrals", Nov 22). While there is no denying that some patients are sent away from rural hospitals so that doctors can wash their hands of difficult cases, many others are sent to city hospitals because the poor infrastructure in rural medical facilities is not enough to save critical patients. This is not the first time that Banerjee has condemned the medical fraternity. Her latest criticism has come just in time for the panchayat polls. Such chastisement, though, has rarely yielded results. Healthcare delivery in Bengal remains abysmal. The much-hyped Swasthya Sathi health insurance scheme has done little to improve the situation. In fact, many private hospitals and nursing homes refuse to provide free treatment to patients even with the Swasthya Sathi card. Only time will tell whether Banerjee's critique is just a gimmick.
Kunal Saha, Ohio, US
Unfair reward
Sir — In his article, "Gross valuation" (Nov 20), Gopalkrishna Gandhi correctly opined that "[d]emography and democracy must go hand in hand in a country which takes electoral representation seriously." States and Union territories that have implemented population control measures will be punished with lesser representation in terms of parliamentary constituencies if the delimitation exercise is carried out in 2026. Women's representation, especially in regions where they played a decisive role in population control, too, will be limited. Greater representation in Parliament should not come at the expense of some sections of the population.
Sukhendu Bhattacharjee, Hooghly
Live stage
Sir —The role of the open-air stage has been crucial in India ("The stage is alive", Nov 22). Be it panchali popularised by the folk poet, Dasharathi Roy, or swadeshi jatra propagated by Mukunda Das, both played a vital role in promoting patriotic sentiment in the 19th century. The 20th century saw the rise of revolutionary theatre by the likes of Utpal Dutt, Sombhu Mitra and the 'third theatre' of Badal Sircar. The stage is indeed alive.
Tapamoy Das, Burdwan
Deflated morale 
Sir — The Centre's decision to curtail the awards given to meritorious teachers is unfortunate. We must endeavour to boost the morale of those involved in building the nation's future. The government's myopic step of replacing a variety of awards with a single category of 'high stature' might deny aspiring receipients the encouragement to pursue their dreams.
Sunil Chopra, Ludhiana
Be aware
Sir — According to a global study, less than 10% of plastic waste makes it to recycling facilities and is properly processed. Moreover, recycling is not the solution to plastic pollution. The popularity of single-use plastic has had a detrimental impact on both human beings and ecosystems. Conscientious citizens need to become more aware of where the plastic waste ends up and refuse to use single-use plastics.
Vijaykumar H.K., Raichur, Karnataka
Football fever
Sir — The graffiti of Lionel Messi on a wall on Gopal Nagar Road is exciting. Like many football-crazy cities around the world, Calcutta — known as the Mecca of Indian football — has also been decked up for the World Cup. Many shops are selling World Cup jerseys. Calcuttans have also decorated the alleys of their localities with signage of their favourite teams and players. Several local clubs have also installed big television sets in paras so that the residents can enjoy the matches together. The hype for the quadrennial event will keep football fans like me excited for the next few weeks.
Sourish Misra, Calcutta