Editorial: It's itching
If the Opposition can mobilize the middle class along with other disgruntled communities, the PM could well be looking at a rather rough road ahead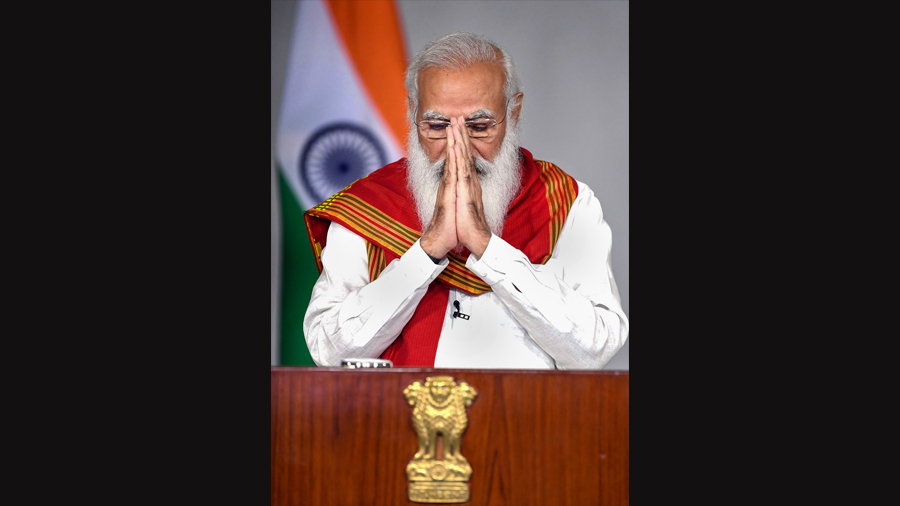 Prime Minister Narendra Modi addresses Virtual Vesak Global Celebrations on Buddha Purnima in Delhi.
PTI
---
Published 01.06.21, 12:08 AM
|
---
Could it be that India is experiencing the first signs of the proverbial seven-year itch with the Narendra Modi government? What else can explain the apparent nervousness in the rank and file of the Bharatiya Janata Party after completing its seventh year in power? There are, of course, several reasons for the public disenchantment. The death and devastation caused by the second wave of the coronavirus — Mr Modi had declared victory over the virus rather prematurely — lie at the heart of this collective anger. The Centre's apathy and unpreparedness — India continues to struggle for vaccines, oxygen, hospital accommodation and, in its hinterland, for quality healthcare — may have eroded the prime minister's popularity considerably. Mr Modi's focus on the 'ten-fold' rise in India's oxygen production in his latest Mann ki Baat episode is unlikely to improve his popularity ratings even though it must be admitted that none of his political rivals can hope to replace him just yet. The debacle in healthcare has been matched by a precipitous slide in the economy. The gross domestic product growth has shrunk dangerously; unemployment is sky-high; the informal sector decimated. The autonomy of India's institutions, the vibrancy of its democracy, the glue of social cohesion — the hallmarks of the foundational idea of India — are under unprecedented threat.
None of this would have bothered India's ruling regime had it not been for the spreading stain on Mr Modi's Teflon-tinted image. In spite of the best diversionary tactics employed by the prime minister and his minders — the pliant media are among them — there is a growing perception that Mr Modi has failed in his responsibilities. This could be a matter of worry for the BJP because the party has always managed to rely on Mr Modi's image to tide over such other disastrous experiments as demonetization. This over-reliance on Mr Modi's charisma on the part of the BJP is a testament to the increasing centralization within the party. A dip in the prime minister's public endorsement — the man and the party are now one — could lead to a dip in the BJP's electoral fortunes. The results of the rural polls in Uttar Pradesh and the debacle in Bengal may herald ominous signs. The other worry would be a hostile middle class that has been one of the BJP's staunchest allies. If the Opposition can mobilize the middle class along with other disgruntled communities — farmers, industrial and informal workers and influential caste groups — Mr Modi could well be looking at a rather rough road ahead.