The unsurprising R-Day guest
Public opinion holds key to pushing governments to prioritise environment protection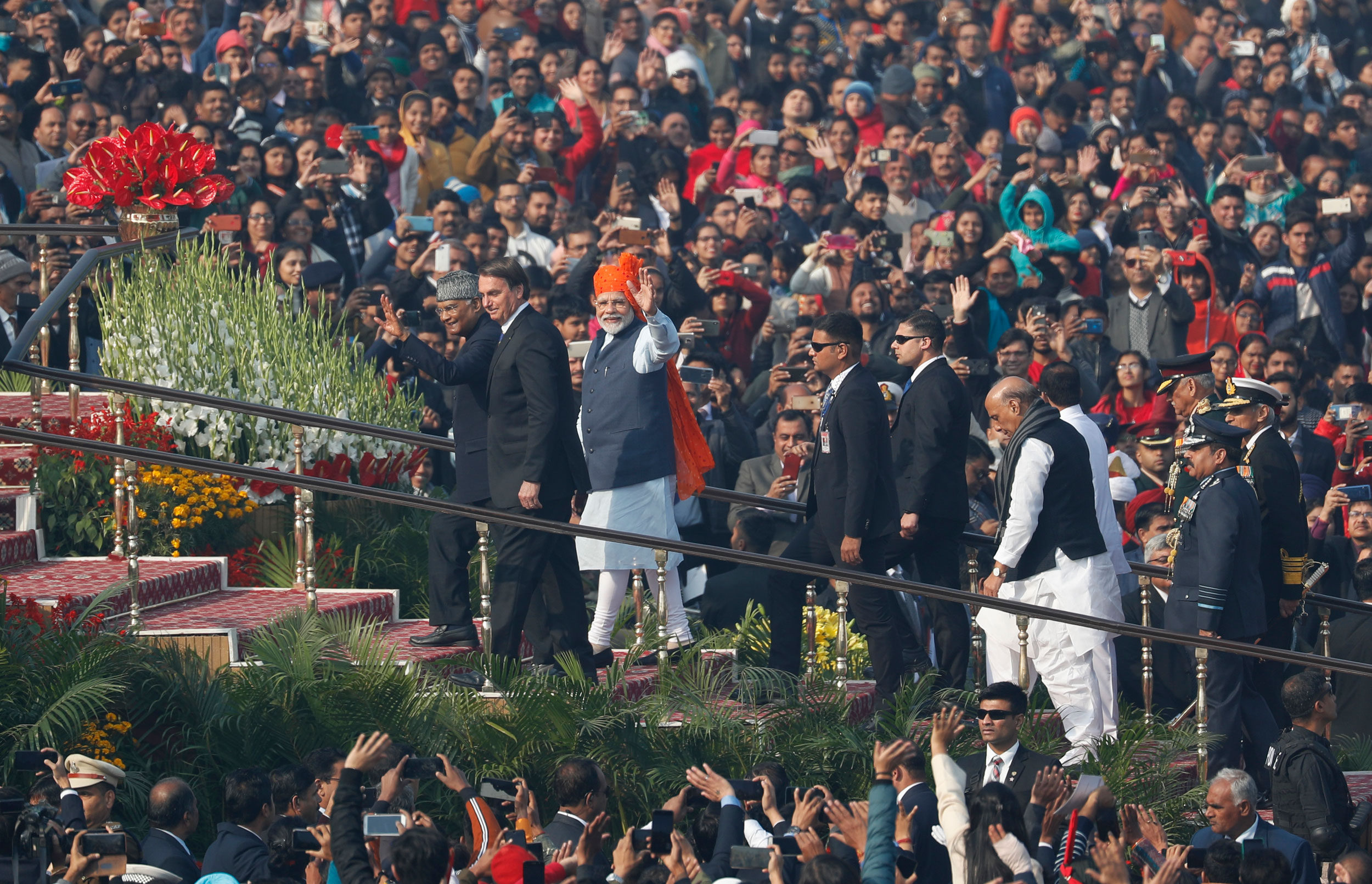 President Ram Nath Kovind, Brazilian President Jair Bolsonaro and Prime Minister Narendra Modi at the Republic Day Parade in New Delhi on Sunday.
(AP)
---
Published 27.01.20, 08:11 PM
|
---
Certain events in Indian politics have ceased to be surprising. Take, for example, the presence of Brazil's far-right president, Jair Bolsonaro, as chief guest at India's Republic Day parade this year. Mr Bolsonaro's record on environmental protection in his country is telling. He has been openly disdainful of measures to protect the Amazon rainforest and weakened government agencies tasked with conservation. On his watch, the deforestation of the Amazon forest shot up by 278 per cent in a year. The timing of his visit to India is significant: it coincided with the Union environment ministry's decision to exempt oil and gas firms from seeking environmental clearances for conducting on-shore and off-shore exploratory drilling. It is not difficult to imagine the devastation that this measure is likely to wreak on the natural environment. That even exploratory surveys were subjected to the deepest scrutiny till the waiver attests to this. Environmentalists have listed some of the possible repercussions: damage to fishing areas, breeding grounds and migratory routes, water contamination, disoriented whales and other marine life that depend on sonar for navigation and a far greater risk of oil spills. The 'convergence of worldviews' held by the Brazilian and Indian heads of State seems to have become frighteningly clear with this move.
While successive governments at the Centre have had questionable relationships with the environment, the current dispensation, ever since it came to power in 2014, has made no bones about the fact that conservation figures rather low on its list of priorities. It has, among other things, made it easier for polluting industries to operate within five kilometres of ecologically-sensitive areas and diluted the Forest Rights Act which required the consent of gram sabhas for diverting forest land. Only last year, it approved coal mining in Chhattisgarh's dense Hasdeo Arand forest, which is one of India's last pristine stretches of natural forest cover, extends over 1,70,000 hectares and is impossible to replicate through plantation forests. At the root of this avaricious attitude lies the belief — held by both the government and private players — that the country's natural resources are to be plundered and profited from. Given that environmental regulations, having allegedly been watered down to favour corporations, fail to be effective deterrents, it is crucial to mobilize public opinion to build pressure on the government. This is the only way to compel politicians to prioritize the urgent protection that the environment needs.