A red carpet welcome
Bolsonaro arrived last week in an India eddying with foreboding and protests related to the new citizenship act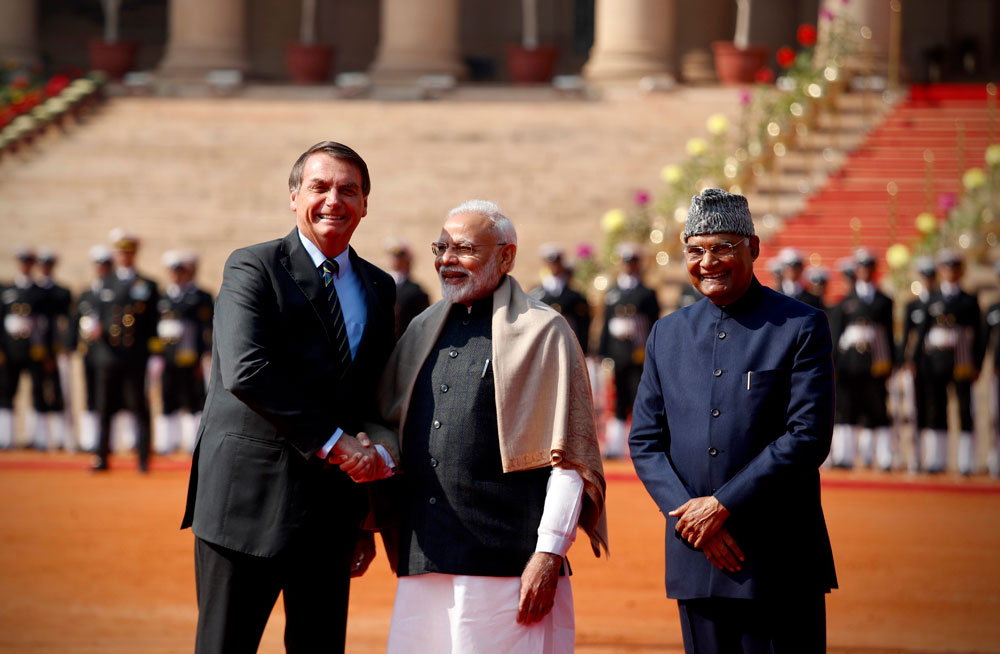 Brazil's President Jair Bolsonaro with Prime Minister Narendra Modi, and President Ram Nath Kovind
(AP photo)
---
Published 25.01.20, 06:48 PM
|
---
This year, Brazilian president Jair Bolsonaro, is India's chief guest on Republic Day. The year Bolsonaro was born — 1955 — Pakistan's Governor General Malik Ghulam Muhammad was the guest of honour on R-Day in keeping with a tradition that began in 1950. The general, an alumnus of Aligarh Muslim University, was also the first guest for the parade at Rajpath. Born of mixed Italian and German ancestry, Bolsonaro arrived last week in an India eddying with foreboding and protests related to the new citizenship act. Of course, when 20 pacts across defence, energy, agriculture, healthcare and minerals are in the offing, it seems like a small thing to point out, but Bolsonaro's parents had immigrated to Brazil from Italy.
Arms and the man
The year he graduated from military school — 1977 — the First Secretary of Poland, Edward Gierek, was the R-Day guest. Those were times when Poland was in turmoil over constitutional amendments. Upon becoming first secretary, Gierek promised that under his watch people would not be shot on streets. Thereafter, security forces intervened but not with firearms. In 1986, when Bolsonaro first made headlines as a rising star in Brazil's military firmament, the Prime Minister of Greece, Andreas Papandreou, graced India on January 26. The year after that Bolsanaro was accused of trying to blow up some military units in Rio. A board, constituted to look into the matter, declared that he had "serious personality deviation". In 1988, he was acquitted but he quit the army. That year India invited Sri Lanka's J.R. Jayewardene.
Atithi Devo Bhava
The next few years as Bolsonaro's political star ascended, India welcomed Vietnam's Nguyen Van Linh, Anerood Jugnauth of Mauritius, Maumoon Abdul Gayoom of Maldives, Mário Soares of Portugal, John Major of the United Kingdom... In 2019, Bolsonaro was sworn in as President of the Federative Republic of Brazil. The winning campaign slogan was: "Brazil before everything, and God above all." Some words that itinerantly appear in any description of him are — far-Right, nationalist, violence-inciting, homophobic, racist. He recently said of the indigenous people of Brazil: "They are increasingly becoming human beings just like us." He is a friend and admirer of Trump. Has been known to publicly endorse physical violence as a legitimate and necessary form of political action. Has turned a deaf ear to global concerns about the Amazon rainforest fires, saying: "Deforestation and fires will never end. It's cultural." This year, in these times, on a day that celebrates the Republic, India has rolled out the red carpet for this man.