Hindutva's inner conflicts
Selective enumeration and eulogizing of Hindus reveal the utter lack of compassion within Hindutva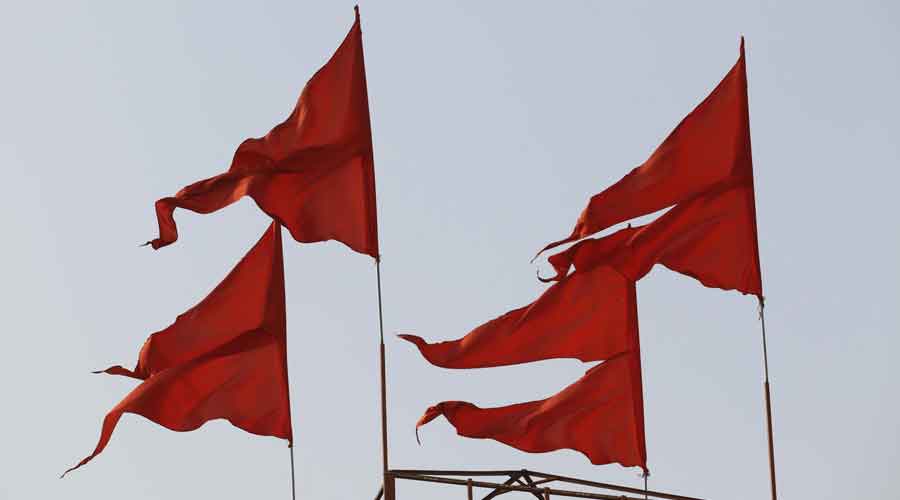 Representational image.
File picture
---
Published 08.02.22, 12:03 AM
|
---
As the regime that vouches for Hindutva goes on to complete its sojourn in political power, the inherent contradictions that are its essence are coming to the fore.
Hindutva began in 2014 with a promise of development and growth alongside communal polarization. It implied the stoking of Hindu pride and a strong economic presence in a globalized world. The economy is sliding, job opportunities are shrinking, and India is yet to take major strides in its global presence. The BJP-RSS has, therefore, been pushing the communal button harder in the belief that Hindutva would compensate for poor economy and abysmal governance. But economic recovery needs purchasing power and liquidity. This, in turn, is contingent upon a participatory polity and social citizenship. Hindutva, contrastingly, is a project of undermining citizenship to create hierarchies, exclusion, and anxieties cutting across castes and classes. It undermines the trust necessary for market transactions, the innovation necessary for start-ups, and the security necessary for global capital.
Hindutva is fraught with contradictions in terms of strategies of mobilization too. While patronizing aggressive, masculine behaviour manifest through street violence and mob lynching, it offers various reasons — including the theory of karma — to explain its failure to meet legitimate demands and concerns. Assam's former health minister had said cancer patients are afflicted with the disease because of their past karmas; pollution in Uttar Pradesh is, similarly, blamed on Pakistan. This contradiction is unsustainable in the long run, as is evident from the BJP's mistake while dealing with the protesting farmers on the assumption of an easy switch between hysteria and passivity.
The BJP's critique of dynasty politics was welcomed as a progressive move to liberate politics from the patron-client relationship. With time, the contradiction between the critique of dynasty and extreme centralization has raised questions. Had centralization resulted in efficiency, it could have been read differently. But a diarchy contradicts the critique against dynasty politics. Dynasty politics in India is associated with patronage that comes with the promise of welfare. A critique of dynasty politics can also be seen as a veiled critique of welfarism.
Hindutva is about aggression against Muslims, but does that necessarily mean compassion for Hindus? Do we become Hindus only when mobilized against the minorities and not as migrants, farmers, students, and the urban poor? Selective enumeration and eulogizing of Hindus reveal the utter lack of compassion within Hindutva.
Hindutva politics promised a new horizon. Narendra Modi was the personification of this transformation. But the claims of a strong leader can become a liability if contradictions become overt, and there is no visible attempt to overcome them. Given the social character of Hindutva, recalibration will not be easy: this was demonstrated during the repealing of the farm laws. The prime minister had to offer an apology without conceding that he was mistaken to begin with. He continued to blame the lack of understanding among farmers. This leads to no man's land, pushing the leadership to appeal to a core constituency and live in its self-image. This, over time, creates a disconnect with larger social groups that are not part of its core constituency. This distinction between the core and those outside it has got blurred for a leadership that is hesitant to rethink or evaluate objectively. By relying only on force, propaganda and aggression, the regime has been left clueless about why it has stopped being appealing to the masses, especially since it had looked invincible not so long ago.
Ajay Gudavarthy is Associate Professor, Centre for Political Studies, JNU