Editorial: High table
The myth of the BJP being a party with a difference has been busted in another way through the cabinet expansion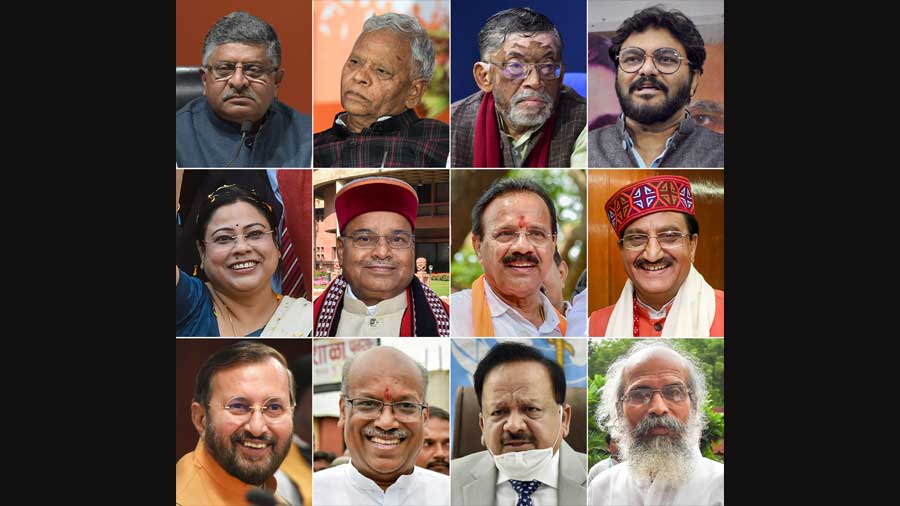 Union Ministers, from left to right in the top row- Ravi Shankar Prasad, Rattan Lal Kataria, Santosh Kumar Gangwar and Babul Supriyo; from left to right in the middle row- Debasree Chaudhuri, Thaawarchand Gehlot, DV Sadananda Gowda and Ramesh Pokhriyal Nishank; and from left to right in the bottom row- Prakash Javadekar, Sanjay Dhotre, Harsh Vardhan and Pratap Chandra Sarangi- who resigned from their posts with immediate effect ahead of the Cabinet reshuffle, in New Delhi, Wednesday, July 7, 2021.
PTI
---
Published 09.07.21, 12:47 AM
---
The exit sign, at times, can glow brighter than that of entry. The most talked about point concerning Narendra Modi's cabinet expansion is not the seven promotions and 36 new inductions but the demotions of 12 ministers. Some of the prominent netas who now find themselves without their beloved kursis include Ravi Shankar Prasad, Harsh Vardhan, Ramesh Pokhriyal and Prakash Javadekar. Mr Prasad, having led the Centre's heavy-handed charge against social media platforms such as Twitter, may have reasons to feel a bit cut up. That the axe fell on Mr Vardhan and Mr Pokhriyal, the Union health minister and education minister, respectively, is being cited on non-performance. It is true that India has been lashed savagely by the pandemic with the second wave exposing an unprecedented crisis in oxygen, hospital beds and basic medical amenities. But in a regime as centralized as the one that is run by Mr Modi, where decisions independent of the prime minister's nod are rare, it would be unfair to pin the blame on the health minister alone. Again, Mr Pokhriyal has been hauled up for the delays in appointments in premier institutions, opacity and policy U-turns, but here too there are whispers that the Prime Minister's Office had a hand in slowing down things in some instances. It appears that some of the ministers who have been dropped are the proverbial fall guy: taking the plunge only to protect the boss's sheen. If this speculation is indeed true, it does not say much about Mr Modi's leadership qualities. A leader who is averse to taking his share of the blame for what clearly are collective failures on the part of the government he heads speaks poorly of the democratic ethos within the ruling Bharatiya Janata Party. In any case, standards of assessment need to be fair for the entire pecking order of the government.
The myth of the BJP being a party with a difference has been busted in another way through the cabinet expansion. The anointment of seven new faces from Uttar Pradesh betrays the BJP's desperation to send the right signals to the poll-bound state: the outcome of the elections, the BJP is hoping, would set the template for the Battle of 2024. What this shows is that just like any other party, the BJP prioritizes political considerations over performance.