Sir — The decision of the the former Indian cricketer, Gautam Gambhir, to retire from all forms of the game after playing his last Ranji Trophy match could not have come at a more appropriate time. Gambhir was the highest scorer in the World Cup in 2011. In spite of this, the solid, dependable opener found himself falling out of favour with the team management over the last few years. On many occasions, much to his regret, he was kept on the sidelines even though he had a commendable record in the Indian Premier League tournament and in domestic cricket.
Many people attribute Gambhir's exclusion from Indian team to his less-than-ideal relationship with the squad's current skipper, Virat Kohli. Gambhir had shared a good rapport with the former captain, M.S. Dhoni, during whose reign he had played some memorable innings. Even though he batted with the likes of Sourav Ganguly, Sachin Tendulkar and Rahul Dravid in the initial stages of his career, Gambhir's attempts to find a place among the playing eleven in the last few years were regularly rebuffed.
It is, thus, in the fitness of things that Gambhir has decided to hang up his boots and spare himself further humiliation. However, his valuable contribution to Indian cricket in all formats will not be forgotten.
Aditya Mukherjee,
New Delhi
Sir — It was upsetting to read that Gautam Gambhir has announced his retirement. He has been one of India's most successful opening batsmen. It was always a pleasure to watch him bat. It is not surprising that he was named the Test player of the year by the International Cricket Council in 2009 — he scored 4,154 runs, including nine centuries, at an average of 41.96 in 58 matches. He was instrumental in India's success in both the Twenty20 World Cup in 2007 and the ICC World Cup in 2011 — his knocks in the finals of both tournaments helped the team win. It is a pity that the team management did not care to make proper use of his talent and expertise after M.S. Dhoni renounced his captaincy. If this is the manner in which valuable players are repeatedly treated, the team management will gain a dubious reputation for itself.
Janet James,
Calcutta
Sir — It will be interesting to remember that India never lost the matches in which Gautam Gambhir was the captain. Even though these were just six matches, the quality of his leadership must have been such that the team felt motivated enough to give their best and win. He is also the only Indian cricketer to have scored five consecutive Test tons, a feat that put him in the same club as Jacques Kallis, Mohammad Yousuf and the greatest cricketer in the history of the game, Sir Donald Bradman. Gambhir may have had a few downward spirals in his career, but none of that justifies the ignominious way in which he was excluded time and again from the team in the past few years.
Ronit Sinha,
Calcutta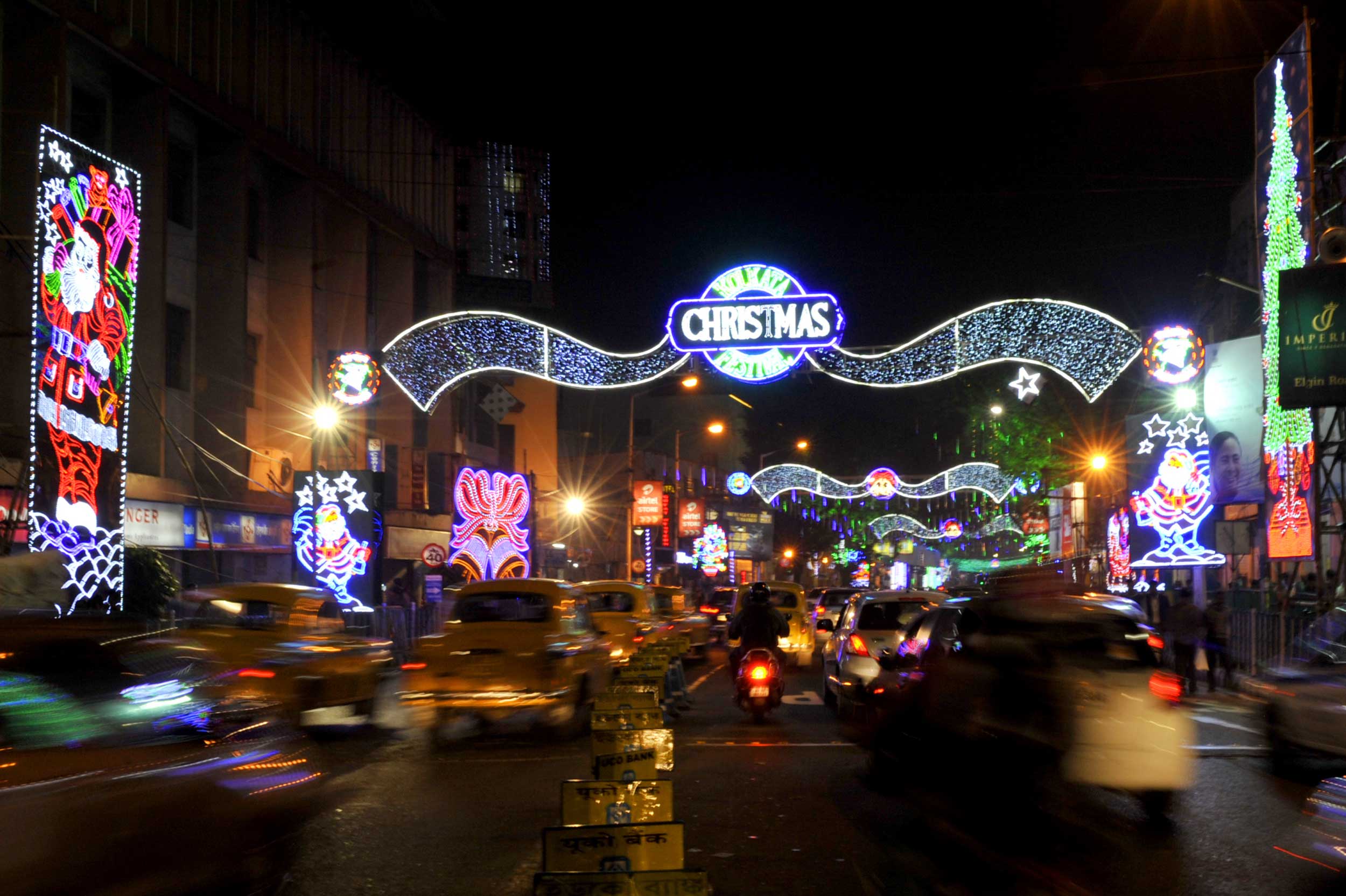 Calcutta's Park Street on Christmas Eve, 2017. We are almost at that time of year when app-based cabs charge passengers exorbitant amounts of money The Telegraph file picture
Trouble ahead
Sir — Now that Christmas is around the corner, the Park Street area of Calcutta will be lit up with festive lights, and food stalls will dot the pavements. While this evokes a sense of excitement, it is also accompanied by a feeling of looming dread. It will, again, be that time of year when app-based cabs such as Uber and Ola charge passengers exorbitant amounts of money for rides. During Durga Puja, the surge pricing bordered on the criminal; riders were often expected to shell out hundreds of rupees even for very short rides. If such practices are repeated during this festive season, the app cab services must be penalized.
Atreyee Ghosh,
Calcutta
Inclusive dream
Sir — The Cricket Association of Bengal should be praised for taking the all-important initiative of helping differently-abled cricketers ("CAB lends a hand to disabled cricketers", Dec 13). The CAB has decided to look into providing proper practice facilities, coaching and supplying kits for such players. It will also ensure that they have access to grounds for their practice sessions and tournaments.
It is heartening that the cricket body has called for tenders to build an easily-accessible area with 50 seats for differently-abled spectators in the G Block of Eden Gardens. It also intends to construct two toilets for those who use wheelchairs. Cricket must be made an inclusive sport, and it is a matter of pride that the CAB has taken cognizance of this fact and is acting on it. Players with special needs will surely benefit from this initiative.
Sourish Misra,
Calcutta
Parting shot
Sir — Over the last two weeks, I have frequently travelled to Barrackpore using the Dhobighat ferry route from Serampore at around 9 am. I was shocked to witness the way in which garbage was regularly being set on fire, throwing up a thick column of toxic smoke in the front yard of a school. There is also another school in the same vicinity. This was being done in spite of the presence of a yellow board put up by the Barrackpore Cantonment Board, bearing a prominent message in English asking everyone to keep the area clean and green.
Kausik Ray,
Serampore