Fuel for trouble: Editorial on arrest & release of activist who dressed up as Shiva to slam price rise
Birinchi Bora, however, represented two popular traditions, one being that of the nukkad natak, or street play, that brings up painful social and economic issues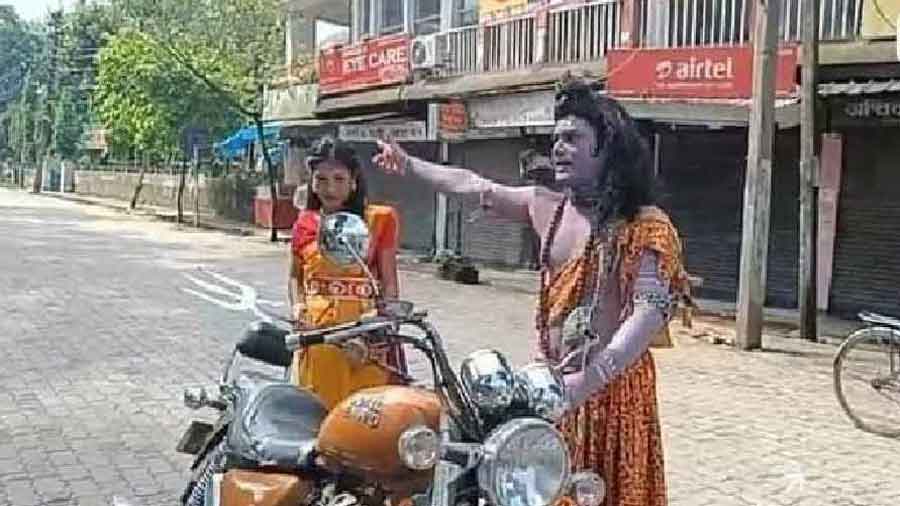 Birinchi Bora as Lord Shiva in the play.
Twitter/@VINODKU18374194
---
Published 16.07.22, 03:39 AM
|
---
Sentiments hurt. That was what happened to the sentiments of Bharatiya Janata Party, Vishva Hindu Parishad and Bajrang Dal members in Assam when a mere human dressed up as Shiva criticised the rise in fuel prices and unemployment. This demeaned the deity, thus wounding the saffron brethren, and the impersonator had to be arrested. The police not only accepted a first information report against him but also arrested him like a shot — hurting the brotherhood is a strict no-no — although the BJP chief minister was so large-hearted that he said the man had no offensive material. The actor was released, but the incident was revealing. For one, it demonstrated what galvanises the police into action in much of India today. This should change after the Supreme Court's direction to adhere to the provision of the Code of Criminal Procedure which says that no one should be arrested unless absolutely necessary.
Dressed as Shiva, Birinchi Bora, however, represented two popular traditions, one being that of the  nukkad natak, or street play, that brings up painful social and economic issues. His fellow actor was made up as Parvati, and they bickered when their two-wheeler appeared to run out of fuel. But they could also have belonged to the tradition of entertainers whose appeal lies in their many disguises, including those of deities who come to the door to sing and dance, often infusing their performance with satire and farce. The  bohurupis  in Bengal or  behrupiyas  in Rajasthan share cousinship with the naqalchis of Punjab with their mimicry as with the bahands of Uttar Pradesh and elsewhere. The last name comes from bhand, or jester, who, in the rulers' courts of the East and West, could criticise anything through comedy and clowning. The traditions have weakened, but are far from dead. Gods, goddesses, saints and sages are all fair game, for folk culture welcomes the humane deity, foibles and all. Durga Puja illustrates how a goddess tasked with killing a demon is also a married daughter visiting her parents with her children. She is loved as daughter and mother, and worshipped as the irresistible force of good.
All this makes the hostility of the BJP and its siblings to Mr Bora puzzling. These are the champions of India's indigenous traditions, yet they bridle at a little bit of traditional fun. A VHP member said that they were liberal enough to allow protests — the fake deity's audience might find this meaning of liberality hard to swallow — but bringing deities into it was unacceptable. This would make gods humourless, distant, uninterested in humane values, but able to excite tender sentiments in their power-wielding worshippers. But will the people's collective imagination of the deities submit to the saffron brotherhood's ownership? Folk traditions aside, humanness, familiarity and laughter bring gods and goddesses close to their hearts. Can the flaunting of 'hurt' sentiment and fear of punishment do the same?