Editorial: Free fall
A combination of factors forces an estimated 19 crore Indians to go to bed on an empty stomach in a land that is, ironically, a food-surplus nation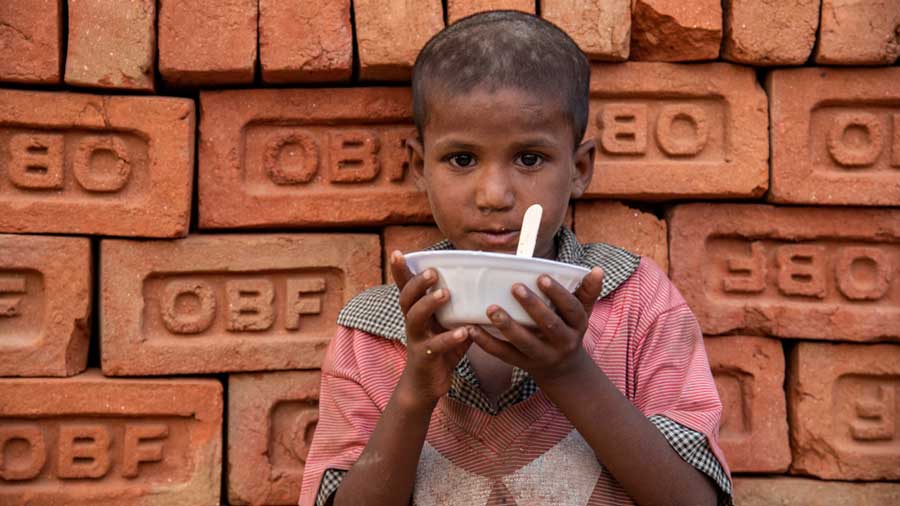 Representational image.
Shutterstock
---
Published 19.10.21, 01:04 AM
|
---
India continues to perform poorly on global indices of progress and inclusion. A week after the Unesco report showing the precarious state of education in India came the 2021 Global Hunger Index wherein India ranked 101st out of 116 countries, far below its neighbours like Pakistan, Nepal and Bangladesh. Juxtaposing this data with the findings of the United Nations' Food Waste Index Report 2021, which shows that 50 kilogrammes of food is wasted per person per year in India, would reveal a picture of entrenched inequality and shocking indifference. The Centre, as is its wont whenever data emerge to show it in poor light, has questioned the methodology of the GHI and claimed that the ranking does not represent the ground reality. The GHI data on deficiency in calorie intake, however, are sourced from the Food and Agriculture Organization. Had the GHI been estimated using the latest data on calorie intake usually provided by the National Sample Survey Office, things might have looked even worse given that the leaked report of 2019 indicated that consumption expenditure in India declined by 4 per cent between 2011-12 and 2017-18. The figure was worse in rural India, at about 10 per cent per annum. In its efforts to dispute facts, the government also confused undernourishment, which is a measure of the proportion of the population with inadequate access to calories, with undernutrition that is calculated by measuring weight and height — categories where India ranked as poorly.
A combination of factors forces an estimated 19 crore Indians to go to bed on an empty stomach in a land that is, ironically, a food-surplus nation. They include poverty, deepening inequality, rising unemployment, agrarian stress aggravated by climate change as well as glaring leakages and corruption in India's mammoth public distribution system. There are also newer challenges posed by the pandemic. With the closure of schools, mid-day meals were either not delivered or the dry rations for one child were shared by entire families. The National Food Security Act has been criticized for ignoring the instability of food supplies in a country vulnerable to extraneous shocks — the pandemic being one example. Food security must be aligned with not only such issues as production and quality but also people's rights, diverse diets, environmental protection and political action. But these linkages remain invisible to a short-sighted leadership. India must reimagine policy interventions in light of concerns raised by the GHI, especially against pandemic-induced nutrition insecurity.