Editorial: Fault lines
The Assam-Mizoram fracas is a source of embarrassment for the National Democratic Alliance government in Delhi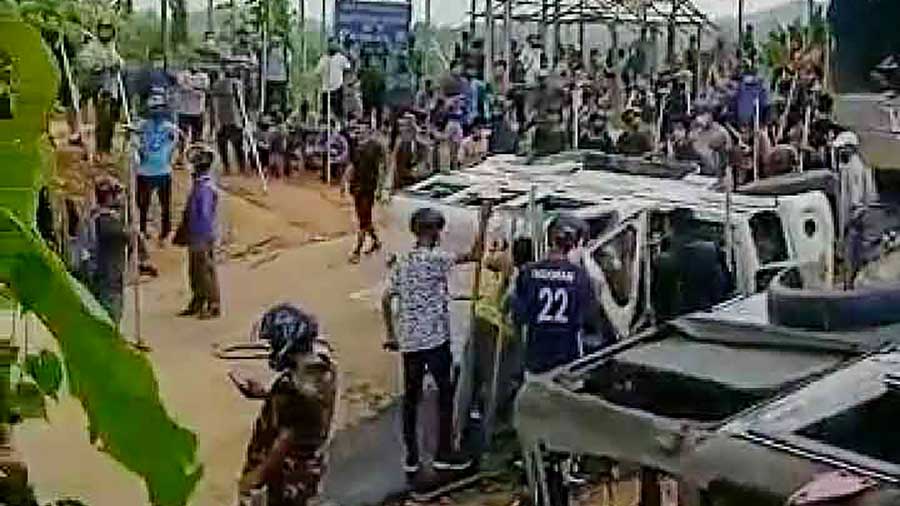 Cachar: Damaged security force vehicles at the site of the Mondays clashes at Lailapur on the Assam-Mizoram border, in Cachar district, Tuesday, July 27, 2021.
PTI
---
Published 29.07.21, 01:57 AM
|
---
Restive borders are usually associated with international boundaries. That may not be the case always. The shocking violence — it spilled blood — that erupted when security personnel of Assam and Mizoram clashed on the inter-state border is a reminder of the urgent need to address fault lines pertaining to contestations over domestic territory. Incidentally, these clashes are not unprecedented. Northeastern states — Assam and Nagaland, Nagaland and Manipur, Assam and Arunachal Pradesh — have witnessed periodic conflagrations over strips of land. The history of most of these disagreements can be traced back to the colonial era when commercial and political interests of the raj influenced cartographic interventions. It is a pity that neither the exercise of state reorganization, in which language was prioritized over all other imperatives, nor successive elected dispensations have succeeded in dousing these simmering fires. It would be naïve to assume that it is only the Northeast that is vulnerable to this phenomenon. The Union home ministry has identified cases of 'boundary wars' involving Maharashtra and Karnataka, Haryana and Himachal Pradesh and so on. The prize for these battles need not be land. Riverine boundaries and the sharing of water have also sparked contests: Tamil Nadu and Karnataka have an uneasy relationship over the claims on the Cauvery.
A resolution of these festering crises requires patient, consultative engagements. It is unfortunate that the chief ministers of Assam and Mizoram, Himanta Biswa Sarma and Zoramthanga, respectively, chose to up the ante instead. Mr Sarma's attribution of the bloodshed to 'non-State' actors in Mizoram is unfortunate and is unlikely to soothe frayed nerves. The fracas is a source of embarrassment for the National Democratic Alliance government in Delhi. It took place a couple of days after the home minister's meeting with representatives of the region to — the irony is glaring — find a solution to conflicting territorial claims. That the Mizo National Front is also a partner in the Bharatiya Janata Party-led North East Democratic Alliance does not speak much about the NEDA's credibility as a platform of dialogue. The Constitution provides instruments to address such problems. They must be complemented by judicial wisdom and, most importantly, public representation if a dispute resolution engagement is to succeed. The domestic flames must be put out at a time when India's international border with a giant neighbour — China — remains piping hot.