Editorial: All together
Executive overreach was implicit in the law minister's high-minded benevolence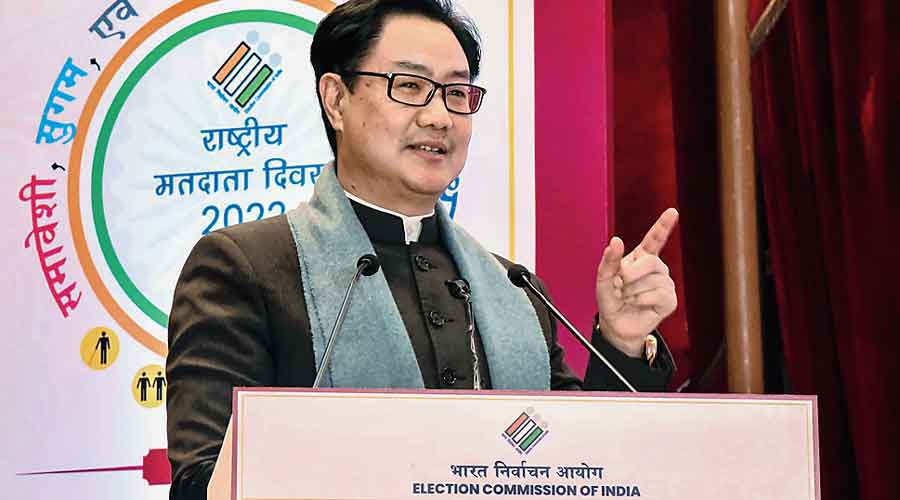 Union law minister Kiren Rijiju.
File photo
---
Published 31.01.22, 12:16 AM
|
---
It is slow work — subverting independence. That the work is in progress was indicated by the remarks of the Union law minister, Kiren Rijiju, about 'coordination' of constitutional bodies with the executive. As the law minister, he cannot have any doubt regarding the importance of independence of constitutional bodies such as the Election Commission. The whole point of free and fair elections is defeated — and democracy made into a travesty — if the EC, for example, acts in coordination with the law ministry headed by an elected politician. But it is precisely this that formed the context of Mr Rijiju's remarks; he praised the EC for its cooperation after a meeting with the election commissioners that he had called. The impropriety of the proceeding had been criticized by members of the Opposition and the former chief election commissioner, S.Y. Quraishi. The EC may call officials for administrative tasks, but its commissioners cannot be summoned by the executive. Moreover, the 'coordination' was in the matter of a controversial change. The election laws (amendment) bill, 2021 links Aadhaar with voter rolls which, according to the Opposition, is likely to disenfranchise a number of voters apart from breaching privacy.

So the context of the Union law minister's paean to coordination defines what he, or his government, means by the term. He has even spoken to the judiciary about the importance of coordination; should justice 'coordinate' with the executive then? The independence of officials of autonomous institutions was being undermined for quite some time, whether through the delay in appointing the necessary number of vigilance commissioners for the Central Vigilance Commission or through amending the law so that information commissioners in the Central Information Commission became dependent on the government for their tenure and salaries. Such moves add more weight to the criticism from the former Supreme Court judge, Madan B. Lokur, Mr Quraishi and others that followed Mr Rijiju's praise of coordination. They pointed out the lack of checks against 'executive overreach', focusing on the fact that, unlike the CEC, the other two election commissioners do not have constitutional protection from removal and therefore feel insecure. The process of their selection and appointment is faulty, being dependent on the executive. But that is what this government desires; executive overreach was implicit in the law minister's high-minded benevolence.