The invisibility of inequality
Does the government believe that food in the worker's stomach translates into nutrition at home?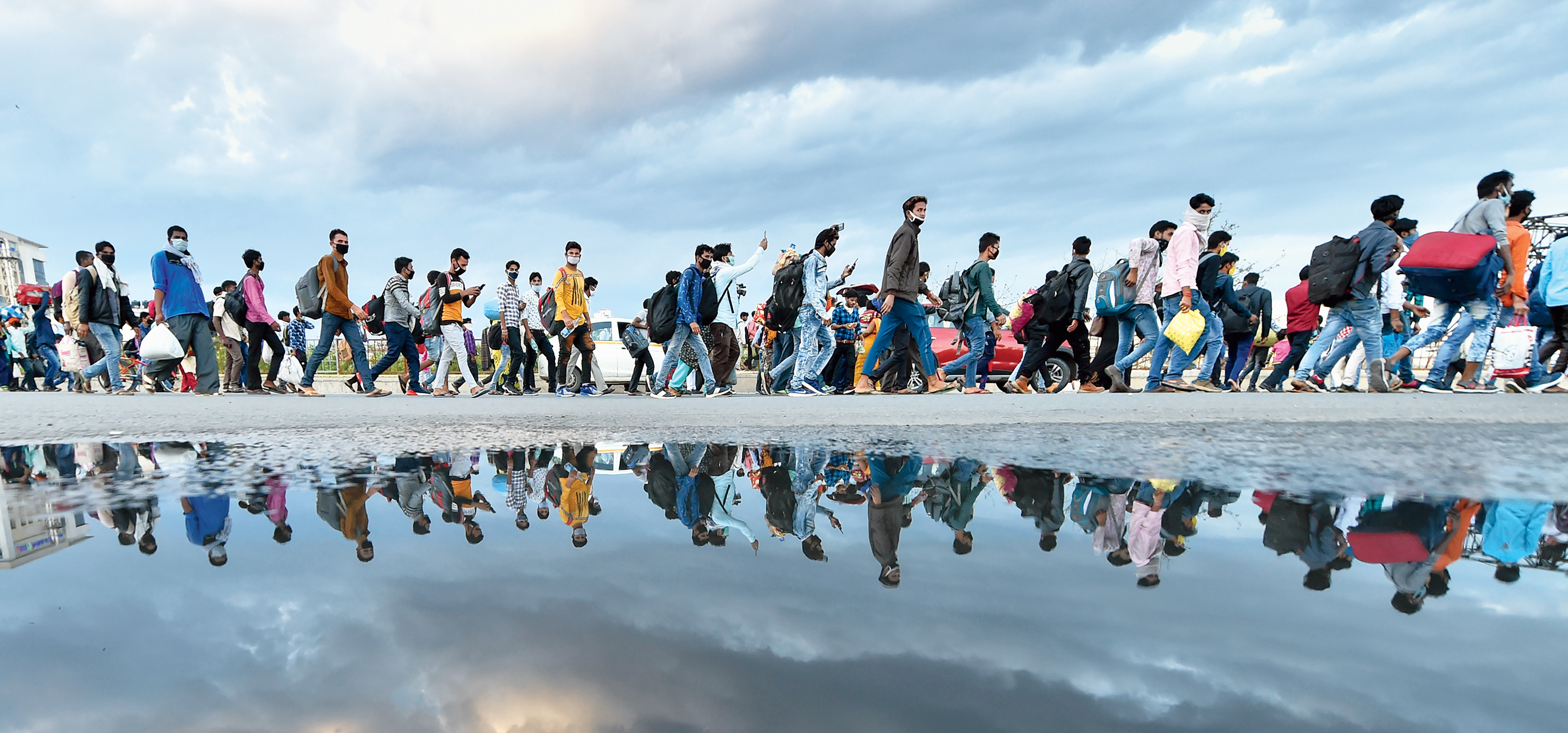 A group of migrant workers walk to their native places amid the nationwide complete lockdown, on the NH24 near Delhi-UP border in New Delhi, Friday, March 27, 2020
PTI
---
Published 12.04.20, 08:14 PM
|
---
Worries about inequalities in countries such as India are aired regularly. What is not always discussed is the invisibility that goes with inequality. For example, when the whole of audible India was busy expatiating on the rightness of the prime minister's decision to impose a lockdown to control the spread of Covid-19, the highways were suddenly filled with people, sometimes small families with babies, trying to walk hundreds, sometimes a little over a thousand, kilometres to their faraway homes. Numberless thousands crowded points from where buses were supposed to leave for their regions. These migrant workers were a surprise: it is as if eloquent India did not know that a sudden lockdown would immediately throw those who harvested its food or built its cities out of their jobs. They had been invisible, as had been, or still were, their needs. The best intentions, political, economic and social, of those who are visible inevitably fall short of encompassing their lives.
The Supreme Court, hearing a plea to allow the migrant workers their wages from the government treasury, did not wish to "supplant" the government's wisdom with its own, since it was not an expert in health and management. This was a dignified reminder of the separation of powers, since the court had been informed by the government that everything was being done to ameliorate the distress of the workers, including the introduction of a helpline. The Chief Justice of India reportedly felt that workers housed in shelters and fed by the government did not need their wages. Obviously, the main use of money is to buy food. That is a perfectly sound assessment of the reason that migrant workers leave behind their homes and undergo numerous hardships to work and earn. If, however, they are fed in shelter homes but not given their wages, their families far away will starve without the money the father, husband or brother sends home. The wisdom of the court must have appreciated this argument of the petitioners, which had to be spelt out lucidly, it seems. No doubt that is the reason that the court asked the petitioners to read the report of the government's efforts in this direction. Does the government believe that food in the worker's stomach translates into nutrition at home, not starvation?