Bugged: Democracy vs dictatorship
The coronavirus outbreak has the power to cause fundamental raptures in the compact between State and citizen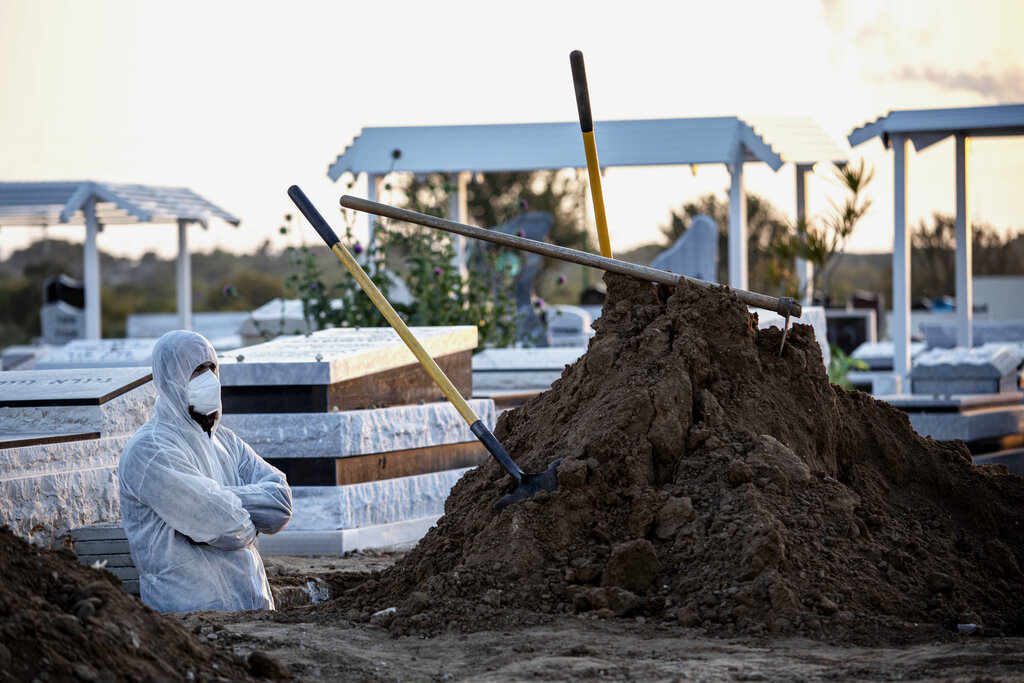 Member of Hevra Kadisha, an organization which prepares bodies of deceased Jews for burial according to Jewish tradition, waits during a funeral of a Jewish man who died from coronavirus in the coastal city of Ashkelon, Israel, Thursday, April 2, 2020.
(AP Photo/Tsafrir Abayov)
---
Published 08.04.20, 07:40 PM
|
---
Under ordinary circumstances, a clear line separates democracies from dictatorships. Among other 'accomplishments', the coronavirus pandemic can claim to have made this line fuzzy. Consider the following facts. An autocracy like Jordan, a weakened democracy — Hungary — and Great Britain, one of the oldest democratic systems, now find themselves inundated with sweeping legislations that can potentially undermine the democratic ethic — thanks to Covid-19. Britain, reeling under the assault of the coronavirus, has vested in its ministers extraordinary powers to shut borders and detain citizens. In Hungary, the prime minister has ordained that he can rule by decree. Jordan, too, has enacted an emergency 'defence law' whose latitude is rather fearful. Israel, meanwhile, has ordered the closure of courts: the development is certain to delay legal proceedings against Benjamin Netanyahu who is battling charges of corruption. Civil liberties are under unprecedented pressure. China, Israel, South Korea are among the nations that have, in the course of instituting a system of surveillance to keep the disease under control, seriously encroached upon the domain of privacy.

Covid-19, admittedly, is an unprecedented crisis. There is a school of thought that argues that the responses by governments cannot, therefore, go by the script. South Korea's model of tracking citizens to contain the contagion has, thus, been applauded around the world. But there is also evidence to suggest that some of the measures which have been implemented in the lands that are free or chained warranted greater scrutiny. Legislations that infringe upon the right to assemble in public, to cite one example, could jeopardize the cause of dissent in the long run unless such laws are accompanied by adequate safeguards. In a world where democracy is in decline on account of the rise of rabid populism, the provision of checks and balances cannot be relied upon. These rapid transformations within political systems should encourage policy as well as the public discourse to change their views about pandemics. The coronavirus or, for that matter, the other contagions that have swept the world in the past is not merely a health crisis. These outbreaks have the power to cause fundamental ruptures in the compact between State and citizen. The view that the post-Covid-19 world would be remarkably altered cannot be dismissed easily.