Editorial: Brute uniform
Encroachment is a serious problem in Assam, but gunning down those being evicted, justly or otherwise, cannot be a solution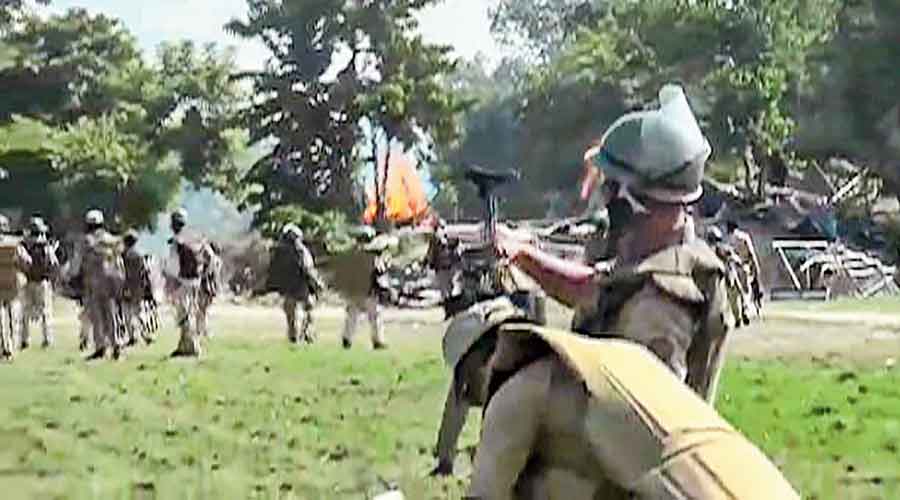 The firing incident in Darrang.
File photo
---
Published 28.09.21, 01:21 AM
|
---
The police superintendent of Darrang — he happens to be a sibling of the chief minister of Assam — has stated that the force exercised 'restraint' during a violent eviction drive that led to the death of two civilians in Dholpur, which is primarily populated by Bengali-speaking Muslims. The sordid ground reality belies his claim. Of the two casualties, one was a young boy who, reportedly, got caught in the violence; the other victim was fired upon by the police in 'self-defence' and, later, his body was stomped upon in a diabolical act by a photographer accompanying the policemen. Some sorry inferences can be drawn from the tragedy. First among which is the police's willingness to violate standard operating procedure. Instead of overpowering and arresting the man, a gun was aimed at his chest and he was assaulted after he had fallen, both by the police and the photographer who has now been arrested. This wanton disregard for protocol can be attributed to poor standards of training in the force. But that is only a part of the problem. The beastly conduct of the cameraman signifies a singular moral blot that threatens citizens and State personnel alike. This pertains to a sense of real or imagined impunity to perpetrate violence on minorities — be they religious, caste or economic groups. The viciousness is the fruit of the sustained injection of a communal, immoral discourse into the body politic of the nation by the political and ideological proponents of Hindutva.
The depravity of the police should not deflect public attention from another, equally grave, problem. The flare-up is a manifestation of an issue endemic to Assam — occupation of land. An interim report by the Brahma Committee appointed by the Sarbananda Sonowal government alleged that 63 lakh bighas of government land had been encroached upon, even though the veracity of the exact volume of territorial encroachment remains ambiguous. The encroachers need not be 'migrants' on every instance: indigenous communities have been known to occupy government land, especially in Tinsukia and Dibrugarh. The festering tension between settlers and indigenous communities has been fanned by divisive political rhetoric. Encroachment is a serious problem in Assam that has been magnified by larger socio-economic-historical conditions such as political upheavals, vagaries of the environment and displacement. It requires patient, objective, inclusive examination and effective rehabilitation. Gunning down those being evicted, justly or otherwise, cannot be a solution.