Dilwale and Dulhanias
Alia Bhatt has delivered a hit this season and it is not Gangubai Kathiawadi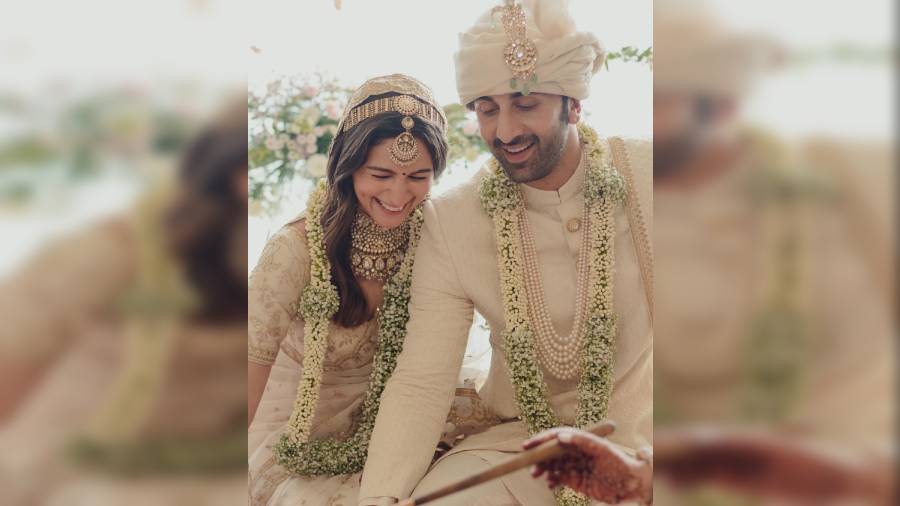 Alia Bhatt and Ranbir Kapoor have gone and wed in their balcony, sealed it with a public kiss, set aflutter a billion imaginations
File Picture
---
Published 17.04.22, 12:30 AM
|
---
Last December, when the pandemic pall was still clinging to our lives and living, Katrina Kaif and Vicky Kaushal got married. And actor Siddhant Chaturvedi said, "Purey India ka shaadi ka mood bana diya." Meaning, these guys have put all of India in wedding mode. Chaturvedi was perhaps just paying the star couple a grand compliment, but his words spoke to a larger socio-cultural phenomenon. The follow-the-Bollywood-lead phenomenon. More than any other obvious, the impact of Bollywood — productions as well as lives of stars — on the idea and packaging of marriage is the most obvious. Be it Hum Aapke Hain Koun or Dilwale Dulhania Le Jayenge, or its poor cousins Hum Saath-Saath Hain and Vivah, all of them foregrounded a certain imagery.
Bollygood
This imagery might not be entirely honest to the diverse Indian tradition and culture, but it stuck. It also trickled into all kinds of Indian lives, even those that never watched one of these films up to the title page, forget end-to-end. And they upset the wedding budget of countless non-filmi folk for generations. If Salman Rushdie were to write Bollywood's Children at the turn of this century he might have begun thus: "One Punjabi morning in the winter of 2000, my grandfather Aadam Kapoor was nearly strangled by the multi-layered gem-studded designer garland he was trying on. "Am I to become a shaheed on my own wedding day," Aadam was thinking even as he was gasping. Outside his window the Mexican band was whipping up the stiff December air into a frenzy. His sister, Evelina, who was in the room was watching him helplessly, but she couldn't dial the phone or ring for help so great was her fear of spoiling the elaborate mehendi on her hands…"
Knot Out
At some point, Bollywood actors and actresses decided to use their own weddings to make statements. You might argue that they had no such intention, and you might be right. But what they did, became statements. This would be the generation after the Abhishek-Aishwarya lot. For years, it was taboo in Bollywood to have a married star. The men delayed it or denied it, and the women had no choice but to retire thereafter or settle for comeback productions by acolytes or the husband himself, which usually sank without a trace. Virat Kohli and Anushka Sharma were possibly the first to bring marriage out of the Bollywood closet. They also brought into the whole affair an element of fun and individuality. Remember the advertisement for an apparel brand they appeared in just before the wedding? It also worked as a wedding teaser. The wedding itself was hosted in Tuscany. And the visuals focussed on the laughing couple first and the finery after. The Priyanka-Nick, Ranveer-Deepika weddings that followed belong to this template. And now, Alia Bhatt and Ranbir Kapoor have gone and wed in their balcony, sealed it with a public kiss, set aflutter a billion imaginations. Ek chutki sindoor ka responsibility tum kya jaano, Ramesh Babu?