Odisha tigress Sundari eludes capture teams
Panicky Satkosia villagers stay indoors; killer big cat not yet tagged a man-eater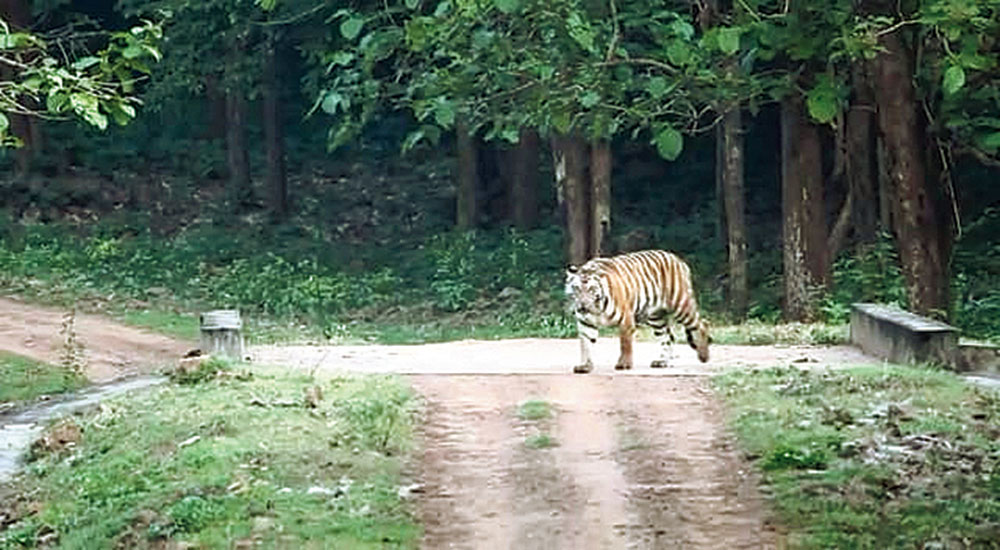 ---
|
Angul
|
Published 24.10.18, 06:33 PM
---
Villagers in and around the Satkosia Tiger Reserve continue to live in fear as wildlife experts failed to tranquillise and capture tigress Sundari even on Wednesday.
Sundari is now believed to be prowling at a jungle near Kumuri village outside the limits of the tiger reserve.
Three teams of wildlife experts have been roaming around the Satkosia Tiger Reserve since Tuesday to tranquillise the tigress. They had fired a shot at Sundari upon locating her on Wednesday afternoon. But, the dart missed her as she slipped into deep forest.
The forest officials' several attempts to tranquillise the tigress went in vain on Tuesday as well. Three goats were kept in separate traps to lure Sundari, but she did not even look at them, said a forest official.
"Our experts are trying to locate and tranquillise her as soon as possible. A shot fired at her missed the target this afternoon. We hope to capture her shortly and bring her to a special enclosure at Raigoda," additional chief conservator of forests Sudarshan panda told The Telegraph on Wednesday.
He appealed to local people to co-operate with forest officials in their efforts.
Panda said that as soon as Sundari was tranquillised, she would be taken to the enclosure at Raigoda. "There, a technical team will decide what to do with her. She has killed human beings. But, we won't yet call her a man-eater," he said.
In another development, the situation in the villages adjacent to the Satkosia Tiger Reserve continues to be tense. People are staying indoors being advised by forest officials.
Sundari, which was earlier in Bandhavgarh National Park in Madhya Pradesh, created panic in Satkosia ever since she was released into the wild from enclosure here on August 17. She had once entered into the core area of the Satksoia Tiger Reserve but was chased away from there immediately by the tigers that have been inhabiting there for long.
Ever since, Sundari has been roaming around in the buffer zone of the tiger reserve. Occasionally, she has also come out of the limits of the tiger reserve.
Sundari killed a calf at Katrang village in the tiger reserve and had injured a forest guard there in August. Then, it moved to the Athmallick jungle, about 50km away from the tiger reserve, and killed a cattle and a calf there.
Sundari returned to Satksoia again in September and killed a woman at Hatibari village. Again, she went back to the Athmallick jungle in search of food, where she killed a cattle. After being chased from there, Sundari went to Tainsi, a village that is outside the tiger reserve, and mauled a man, Trinath Sahu, there on Sunday, triggering large-scale protests and violence by the local people.
Experts, however, still believe that Sundari can perhaps settle well in Satkosia if she can be brought into contact of the tiger that was brought from Kanha Tiger Reserve in Madhya Pradesh.
But the tiger that was brought from Kanha in June has settled well in the core area of Satkosia and was never found roaming around in the buffer areas or outside the tiger reserve for prey.