Maritime history comes alive - Naveen inaugurates museum on Utkal divas
Read more below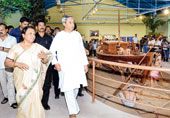 ---
---
Chief minister Naveen Patnaik at the Odisha State Maritime Museum at Jobra in Cuttack and artifacts at the facility. Pictures by Badrika Nath Das
Cuttack, April 1: Odisha's first maritime museum at Jobra was thrown open to the public today on the occasion of Utkal Divas.
"The museum is a gateway to the rich maritime history of the state and it would certainly draw a large number of tourists from the country and abroad," said chief minister Naveen Patnaik while inaugurating the museum.
During the British era, the museum building was a navigation workshop.
There are 10 galleries at the museum. These include an introduction gallery, a maritime history gallery, a boat building gallery, a workshop gallery, a maritime rituals gallery, a navigation gallery, a gallery on the monuments on Odisha coast, a boat display shed, a saw mill and a boat repairing jetty
Apart from this, there are old letters, photographs and drawings on display, as well as a large collection of artifacts, including lanterns used for navigation during the British era.
"We had been eagerly waiting to see the museum as there was a delay in its completion. The work went on for over four years. However, we are happy that the museum officials have been successful in replicating the maritime past of the state," said Prabhat Swain, a visitor.
At the audio-visual gallery, visitors can watch the special rituals that were once performed in the state during sea voyage and festivals that mark the maritime activities in 3D and 2D format.
Apart from the galleries, heavy machineries that were being used inside the Jobra workshop for fabrication of sluice gates, building of boats, tools for irrigation canals, surface water transport and embankments have also been displayed at the workshop gallery.
Eight boats from different periods of history in their original form and an anchor used to drag boats are special attraction at the museum.
The workshop and maritime headquarters had helped the British to connect Cuttack with the hinterland.
It was set up by then PWD department of British administration through the efforts of engineer G.H Faulkner.
Indian National Trust for Art and Culture (Intach) has carried out the restoration and conversion of the workshop into maritime museum after the foundation stone was laid in 2007.
Though the preliminary cost for the restoration project was pegged at Rs 8.11 lakh, it escalated to Rs 10 crore, which included cost for building restoration, establishment of museum and external development and landscaping.
Visitors will be able to have a glimpse of the British period maritime history of the state at the museum by paying an entry fee of Rs 10.
This amount would be utilised for maintenance of the museum. However, no fee would be collected from students and children below 10 years of age.
Naveen also laid the foundation stone for an aquarium inside the museum. Over 12 species of marine creatures would be kept inside the aquarium.
Official sources said a souvenir shop and cafeteria would soon be established at the museum.