Chandi Medha to be on show
Visual treat of gold & silver at immersion procession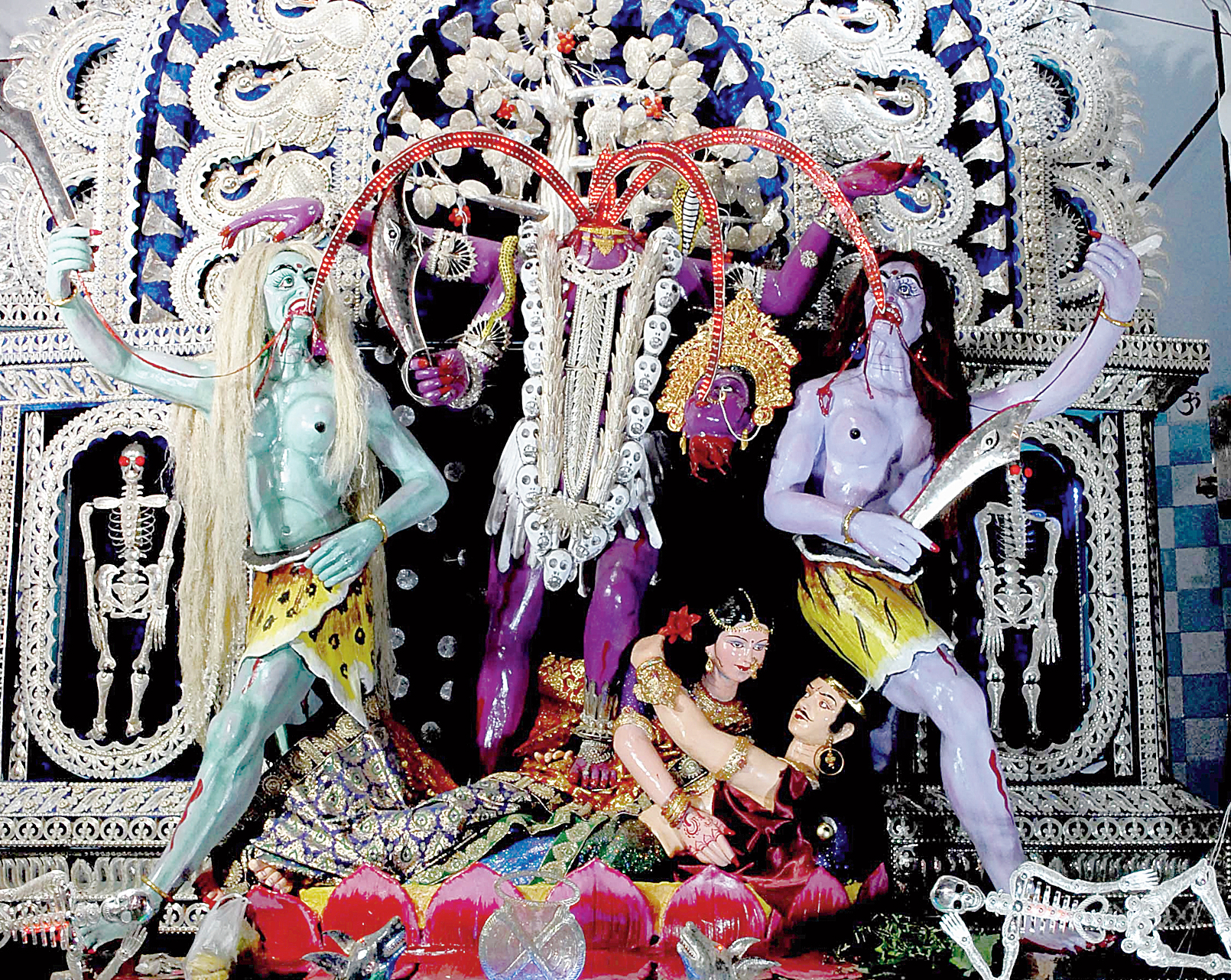 The idol of Goddess Chinnamastika at Bakhrabad in Cuttack.
Picture by Badrika Nath Das
---
Cuttack
|
Published 09.11.18, 07:09 PM
|
---
Bakhrabad residents, who worship Goddess Chinnamastika — an incarnation of Kali who chops her own head — will display their chandi medha (silver filigree backdrop) in the public by carrying it during the immersion procession on Saturday.
When it comes to Kali Puja, the goddess at Bakhrabad has no parallel so far with the idols that come up in the other 70-odd Puja mandaps in the city.
The headless goddess holds her severed head in one hand while three springs of blood spurt out of her neck — one stream into her mouth and the other two into the mouths of her two female aides.
Her left leg is not over Lord Shiv, but a couple embracing each other on a lotus.
Bakhrabad Puja Committee secretary Kanhailal Nanda said: "Though we had come up with a chandi medha for our Chinnamastika five years ago, it will be taken out of the Puja mandap for the first time during this year's immersion procession."
Bakhrabad had come up with 120kg chandi medha by spending over Rs 60 lakh in 2013. In 2014, it came up with an intricately carved crown of pure gold of 650 grams, which cost around Rs 26 lakh. Another 300 grams of gold was added by spending Rs 9 lakh in the form of two peacocks, the next year.
The committee felt the chandi medha, by virtue of its exclusivity, would be a treat for the people in the open. "What makes our chandi medha unique is that it has images of a cremation ground and illustrations related to it," said Nanda.
"Unlike the chandi medhas of other mandaps in the city, the 13ft x 11ft intricately carved silver filigree backdrop has a banyan tree, along with motifs such as skeletons, wolves and owl that relate to death," he said.
The two pasakathis (dice sticks) of 10kg silver, which had been added on both sides of it in 2014, is another peculiarity.
What is striking about the goddess at Bakhrabad is the stark contrast in the iconographic setting — gruesome decapitation, copulating couple, drinking of fresh blood — all arranged in a delicate harmonious pattern.
According to experts, the most common interpretation is Chinnamastika signifies self-control, courage and discernment.
Chhinnamastika or the goddess with a severed head is the sixth of the 10 Mahavidyas or great wisdom goddesses — Tara, Tipura, Sundari, Bhuvaneshvari, Bharavi, Chinnamastika, Dhumavati, Bagalamukhi, Matangi and Kamalatmika.