Bhubaneswar fails to check stray cattle
With 7 days to go for Hockey World Cup, there is just one hole in the splurge to impress visitors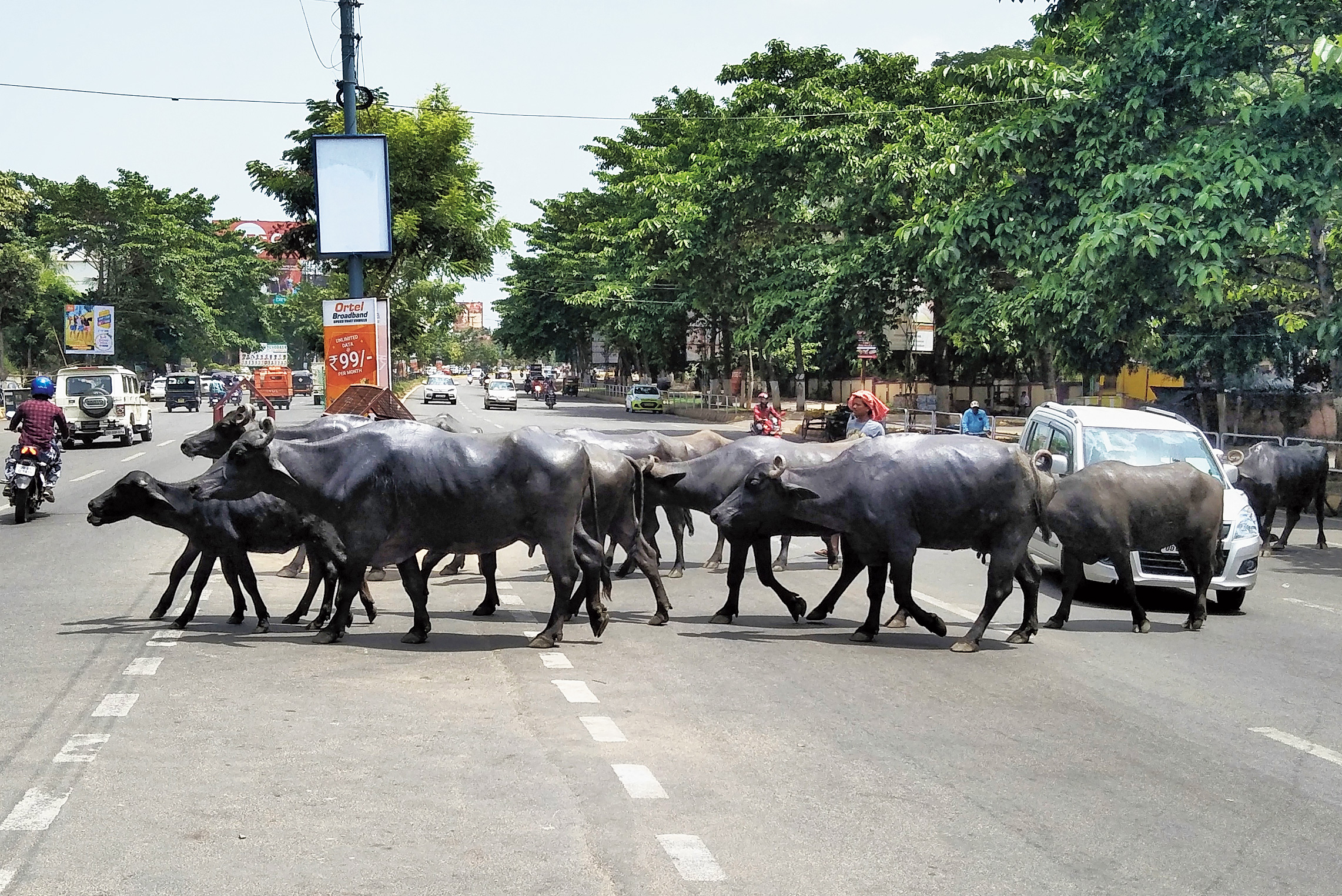 ---
Bhubaneswar
|
Published 20.11.18, 07:34 PM
|
---
The civic body's drive to check cattle menace on the city's roads has failed to yield the desired results.
On October 30, the Bhubaneswar Municipal Corporation began a drive to tag stray cattle in the city to keep tabs on them and penalise those, who let their animals loose on the roads. The plan was to make the city streets free from stray cattle ahead of the upcoming Men's Hockey World Cup scheduled to begin this month.
But, the stray cattle can still be spotted roaming freely on the city roads, and in the process, obstructing traffic, creating congestion and posing a threat to commuters and pedestrians.
"This is not the way to control stray cattle on roads. The officials are shifting the tracking job to the cattle owners as they are the ones, who are efficiently tracking their animals with the help of the civic tags. But what about those animals, especially the roaming bulls, which belong to no owner," said Nayapalli resident Gitam Hota.
Residents attributed the failure to lack of enforcement activities of the officials, who were focusing only on the core areas of the city. On the other hand, the cattle menace is paramount on the city outskirts such as Nandankanan Road, Shyampur Road, Gothapatna Road and Kalinga Nagar area among others.
"I am unable to see any change as the stray animals continue to obstruct our ways on the roads. They should increase their enforcement activities and catch the animals and keep them at suitable places. The tagging will not help," said Hitesh Behera, a commuter.
What is adding more to the prevailing problem is the lack of adequate place to accommodate the stray animals that are being caught by the civic body's cattle squad. At present, the body has one kine house at Kharavela Nagar that can accommodate only 15 bulls or cow at a time.
"We have improved the infrastructure of the kine house and are now accommodating the animals without harming them. The tagged cattle are also being caught regularly, and we are summoning the cattle owners, who have violated the norms and penalised them," said an official.
Mayor Ananta Narayan Jena said they had been distributing leaflets and doing house inspection under the programme.