Acupressure walkway at park - Walking on surface could reduce blood pressure: Doctors
Read more below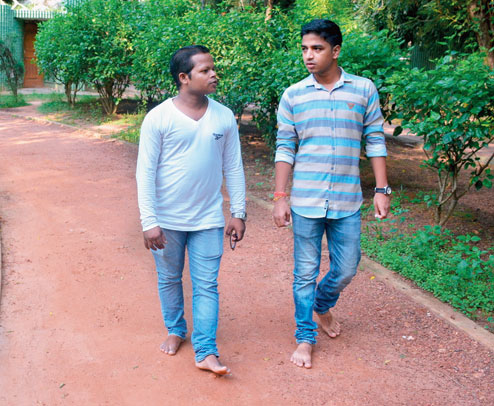 ---
Published 10.09.17, 12:00 AM
|
---
Bhubaneswar, Sept. 9: The development authority has decided to develop acupressure walkway in its parks to let citizens get a natural feel of acupressure treatment. Such a path will first be developed at Biju Patnaik Park in Unit-VI.
The acupressure walkway -technically called a reflexology walkway - is a path designed to massage and stimulate acupressure points on the soles of the feet, which are connected to various energy meridians of the body.
'Our engineering division has floated a tender for development of the walkway. There is nothing like it in any of our parks. We have decided to introduce the facility at the Biju Patnaik Park on a pilot basis and later introduce the facility in other parks,' said BDA chief horticulturist A.N. Dhar.
According to plan, the walkway will be created with soft and smooth river rocks or cobblestones to stimulate neurological reflex zones on the foot. The development authority will spend Rs 6.7 lakh to build it.
The park now has basic facilities such as children's play area, open gym, ornamental garden, benches and jogging tracks. The acupressure walkway will be built near the meeting place located at the very centre of the park.
Health experts believe walking barefoot or with socks on such a benefits the body.
'Walking on such paths results in significant reduction in blood pressure and improvement in balance and physical performance especially among adults,' said physician Sobhan Rath.
Located in the centre of the city, Biju Patnaik Park - popularly known as Forest Park - is visited by several senior government officials and politicians especially in the mornings.
'This is one of the biggest parks in the city. It has beautiful lawns, good landscaping and many plants and trees. There are jogging tracks and benches for visitors to sit on. The introduction of the acupressure walkway will definitely add to the utility of the park,' said Unit-VI resident Rajani Panda.
The development authority has also initiated the process to improve facilities at the Badagada Brit Colony Park.
'We have decided to take over the park and develop it for the residents,' said an official of the development authority.