3D mural magic on Bhubaneswar street walls
Artists from across the world worked at night to create art aimed at visitors to Men's Hockey World Cup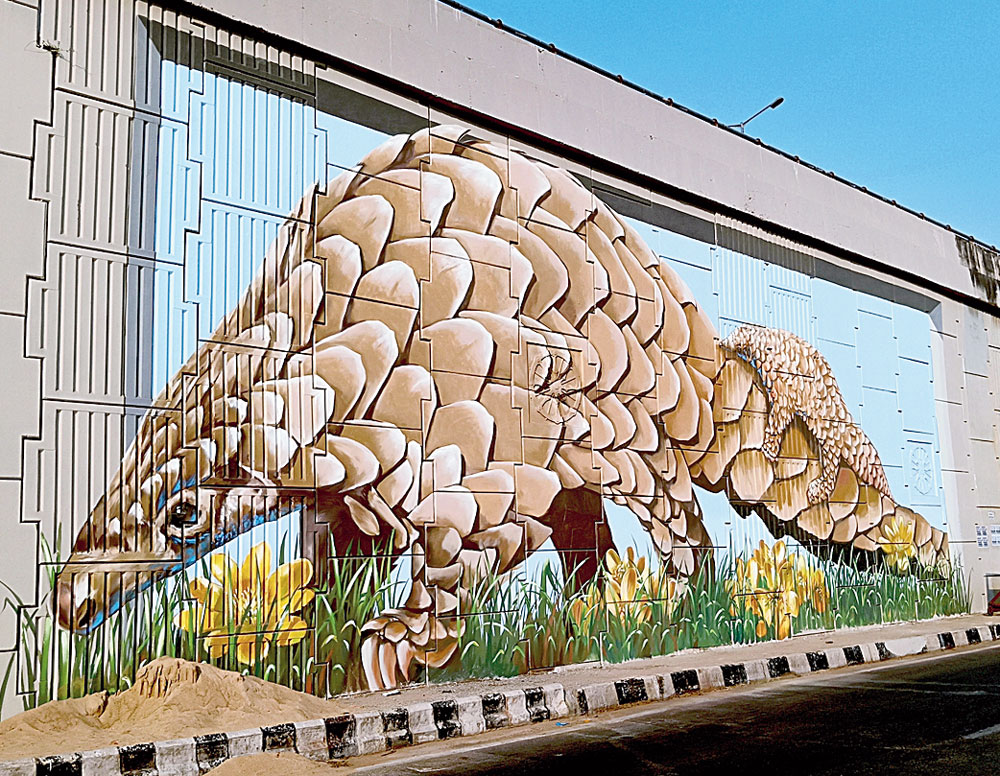 A 3D mural adorns a flyover wall in Bhubaneswar.
Ashwinee Pati
---
Bhubaneswar
|
Published 19.11.18, 06:30 PM
|
---
To present the artistic side of the city to visitors coming for the forthcoming Men's Hockey World Cup, beautiful 3D murals have come to adorn the sidewalls of flyovers here.
A group of 3D street artists from across the world worked overnight from November 1-15 to complete the work on time.
As part of the Street Art and Murals Project (STAMP) of the Bhubaneswar Municipal Corporation (BMC), the Bakul Foundation mobilised artists, who include US citizens Tracy Lee Stum, Anat Ronen, Zee Schindler and Julio Jimenez.
Within a span of 15 days, Tracy created one of her biggest murals at 110ftX24ft titled "Over the rainbow".
The mural celebrates the city's development into a child-friendly smart city. The mural portrays huge figures of happy children on swings.
"Since it would create a traffic mess, we had to work overnight. Passers-by used to stop to look at our work and a number of enthusiastic people had a lot of questions about my artwork. It was a great experience," said Tracy.
Anat Ronen, originally from Israel, painted another huge mural (70ftX28ft) of the endangered pangolin at Acharya Vihar Square and it looks like a huge dinosaur towering over the tiny vehicles to those uninitiated to wildlife. It again creates a 3D illusion, as it appears as if the pangolin is stepping out of the flyover.
At the Jayadev Vihar flyover, which is close to Kalinga Stadium, where the world cup will be played, predictably the theme is hockey in Julio Jimenez's mural. The artist originally hails from Mexico. Jimenez has made the walls look as if one is actually at the hockey stadium with a game being played and the field seems to extend till the road.
At ID Market turning, Zee Schindler, originally from Brazil, took inspiration from the colourful Indian trucks and presented an illusion of the vehicles breaking through the flyover wall onto the road.
In another 3D illusion, she is presenting huge eco-light bulb plugged into the flyover wall, but reflecting the ecological concerns through images such as water conservation and wind energy.
"The murals have been put up in the most prominent spaces in the city. No one in the city can ignore these huge and stunning murals unlike other cities in the country where they are confined mostly to the by lanes," said Sujit Mahapatra of the Bakul Foundation.