Two killed in grenade attack near Digboi town in Upper Assam
This is the first attack carried out by unidentified assailants since Himanta Biswa Sarma took over as the chief minister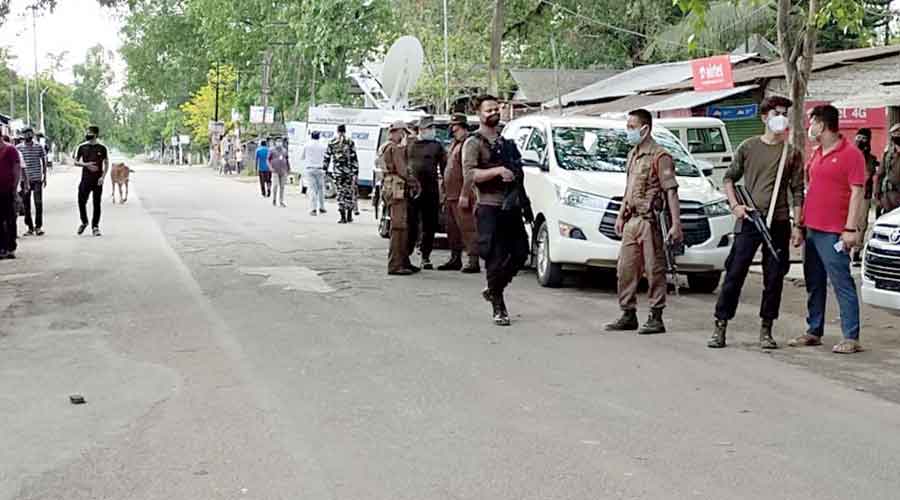 Security personnel at the Tingrai Bazar after the grenade attack
Amit Mishra
---
Guwahati
|
Published 15.05.21, 12:53 AM
|
---
Two persons died in a grenade attack carried out at Tingrai Bazar near Digboi town in Upper Assam's Tinsukia district around 1 pm on Friday, the first attack carried out by unidentified assailants since Himanta Biswa Sarma took over as the chief minister on Monday.
Two motorcycle-borne youths hurled the grenade in front of a hardware shop, injuring four persons of whom Sanjit Singh, 25, and Surajit Talukdar, 22 succumbed to their injuries at the civil hospital and the Assam Medical College respectively.
Two others — Monjit Das and Ghanshyam Agarwala — were injured.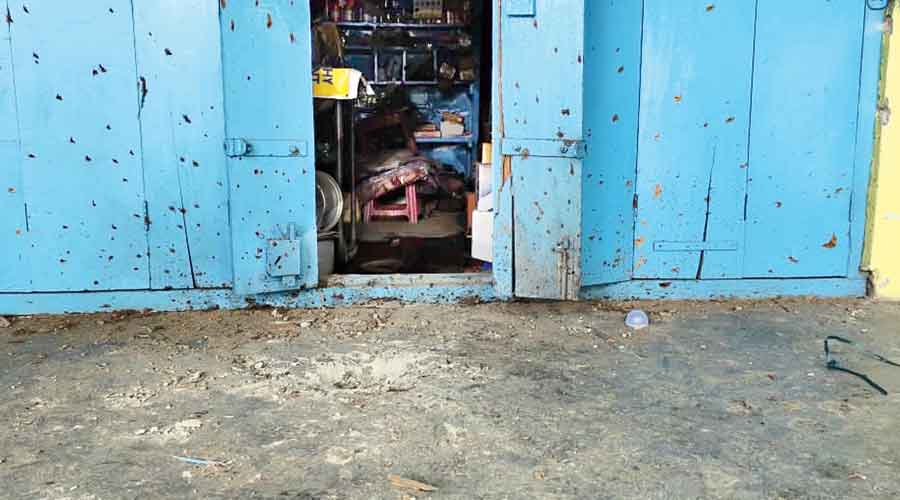 The shop belonged to Turan Agarwalla. The blast site is about 500km east of Guwahati, and 23 km from Tinsukia.
The deceased were customers. The attack took place when shops were closing down as per the new Covid-19 safety protocols to check the spread of the virus which has infected over 40,000 since April.   
Though the needle of suspicion pointed towards the involvement of the Ulfa(Independent) since its activities have increased in Upper Assam since December but the proscribed promptly denied any hand in the attack.
Ulfa(I) chief Paresh Baruah called a TV channel and blamed someone from the Army and police  for the attack. He said the attack seemed pre-planned  and the new government should find out who is behind the attack which he said, came hours after they had sent a set of demands to oil and gas companies, mainly to recruit local people in their organisation.
Assam's newly-appointed chief minister Himanta Biswa Sarma had soon after his swearing-in had appealed to all insurgents to join the peace process, including the Ulfa chief, because killings and abductions won't solve any problem. 
Condemning the grenade attack, Sarma expressed asked police chief Bhaskar Jyoti Mahanta to rush to the site, deal sternly with the situation and nab the miscreants involved.
Sarma said: "This act of violence is a sign of desperation and cowardice. State government will never tolerate such kind of high-handedness leading to the loss of precious human lives."