Tarun Gogoi slams move on NRL
'The government was talking about expanding the NRL. Now it is going to sell it,' Gogoi said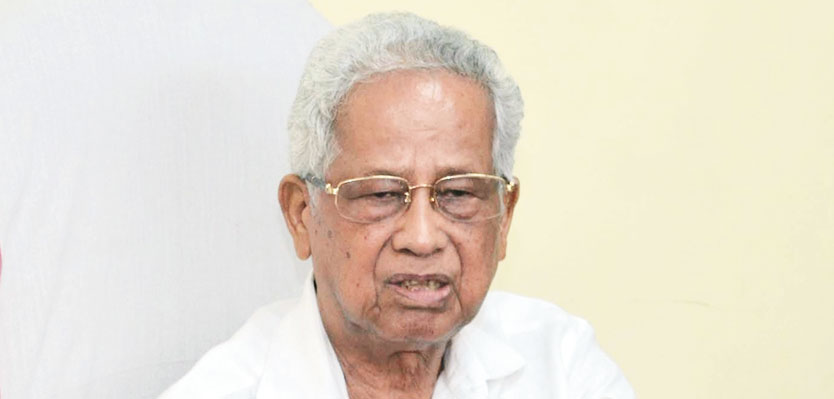 ---
Guwahati
|
Published 15.10.19, 09:09 PM
|
---
Former Assam chief minister Tarun Gogoi on Tuesday opposed the Centre's alleged move to privatise Numaligarh Refinery Ltd.
The Centre has reportedly proposed to disinvest Bharat Petroleum Corporation Ltd (BPCL), which holds a 61.65 per cent share of NRL, causing concern among organisations and people in Assam.
Gogoi reminded the Centre that the NRL was the product of the six-year-long Assam Movement. It was approved by the Centre when Rajiv Gandhi was Prime Minister, to open employment opportunities for youths of the state.
"The government was talking about expanding the NRL. Now it is going to sell it," he said.
Gogoi's statement came a day after chief minister Sarbananda Sonowal shot off a letter to the Centre. "Till a few days ago, Sonowal said he was not aware of the Centre's move to disinvest BPCL. Now he says he has dashed off a letter to the Centre. The Centre has already issued notification to engage legal adviser for disinvestment of the entire BPCL stake," he said.
The chief minister's office on Monday issued a two-paragraph statement saying that in view of the reports about BPCL, Sonowal had written a letter to the Centre. It, however, did not divulge the contents of the letter.
Sonowal has been facing flak from various corners for allegedly not taking a strong stand against the Centre's move to privatise the NRL. They pointed out that Sonowal was a leader of the All Assam Students' Union (AASU), which was a signatory to the Accord. "Assam is facing the most unfortunate time. Today refinery, airport and oilfields are in the process of privatisation. Tomorrow, ONGC will face the same fate," Gogoi said.
He also criticised the state government for allegedly not bestowing proper respect on literary doyen Lakshminath Bezbaroa on his 155th birth anniversary on Monday.
He said to show respect to Bezbaroa, Sonowal should oppose the Citizenship (Amendment) Bill the Centre has hinted of tabling in Parliament again.
Gogoi advised Sonowal to follow the example of chief ministers of the neighbouring states, who have opposed to the bill, saying it would be a threat to the language and culture of Assam.