Search for 'JMB leader' over threat letter
Police sources said the letter was handwritten and has been sent for forensic tests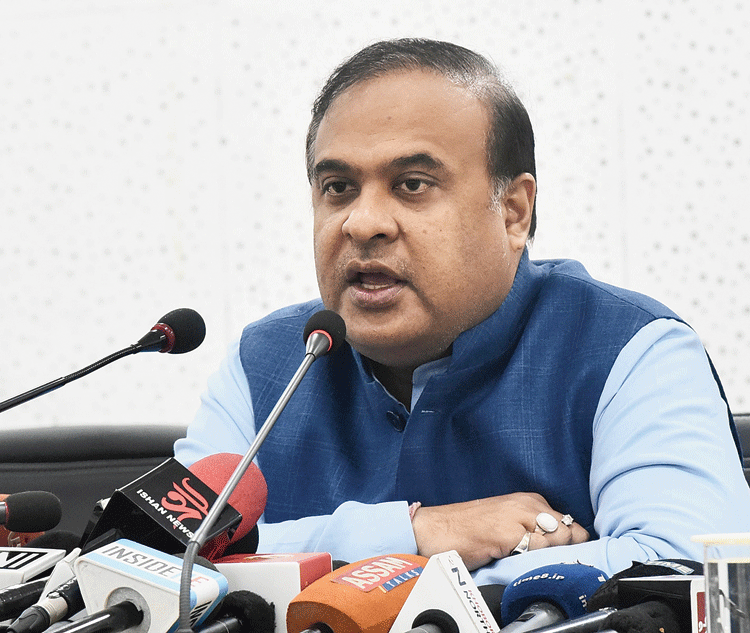 Himanta Biswa Sarma
File picture
---
Guwahati
|
Published 04.02.20, 07:06 PM
|
---
A hunt has been launched for a suspected Jamat-ul Mujahideen Bangladesh (JMB) leader in connection with a letter threatening senior minister Himanta Biswa Sarma, Assam Tourism Development Corporation chairman Jayanta Malla Baruah and the son of a xatradhikar in lower Assam's Barpeta district.
Though Barpeta police had registered a case in connection with the incident on January 19, the matter came to light after a JMB leader, identified as Jeherul Islam, remained at large.
A senior police officer said on Tuesday, "The letter was found in front of the residence of Apurba Adhikary, son of xatradhikar of Moinbari Xatra, in Sorbhog on January 5. Adhikary opened the letter almost two weeks after he found it. It was only after that we registered a case and began investigating."
Adkhikari said, "Initially, I thought it was meant for my father and did not open it. But a few days later, when I read it, I was shocked by its content. It said minister Himanta Biswa Sarma, ATDC chairman Jayanta Malla Baruah and me had acted against Islam. Jeherul Islam, who had signed the letter, threatened that lower Assam will soon be gripped by Islamic forces."
Police sources said the letter was handwritten and has been sent for forensic tests. "A search operation is on but no Jeherul Islam having connection with JMB has been apprehended. We are investigating the authenticity of the letter," a police source said.
Police also suspect the sender is a resident of the area as the letter referenced a few local incidents.
During recent years, Barpeta district has emerged as a hotbed of fundamentalist groups. Presence of such groups came to light after Burdwan blast-accused Sahanur Alom, a resident of Barpeta, was arrested in 2014.
Police investigation has revealed that JMB modules began to spring up in the state in the aftermath of riots of 2012 where lakhs of minorities in lower Assam were displaced and many killed.
A senior police officer said, "In 2016, Assam police had begun a massive combing operation in around 2,000 sar areas across the state. Many of the youths of the sar areas are working outside the state and many outsiders are too also visiting these areas."
In October last year, Barpeta police arrested a senior JMB member Azharuddin Ali alias Azhar from the district's Roumari Pathar, a riverine area. Investigation revealed that during 2013-14, Azhar along with Alom, both wanted by the National Investigation Agency (NIA) in connection with the 2014 Burdwan blast case, had allegedly set up a training centre at a mosque at Larkuchi in Chotla in Barpeta district.
According to home ministry records, 120 JMB operatives were arrested, including 59 from Assam, in the last five years.