Schools refuse meal from NGO
Workers' protest continues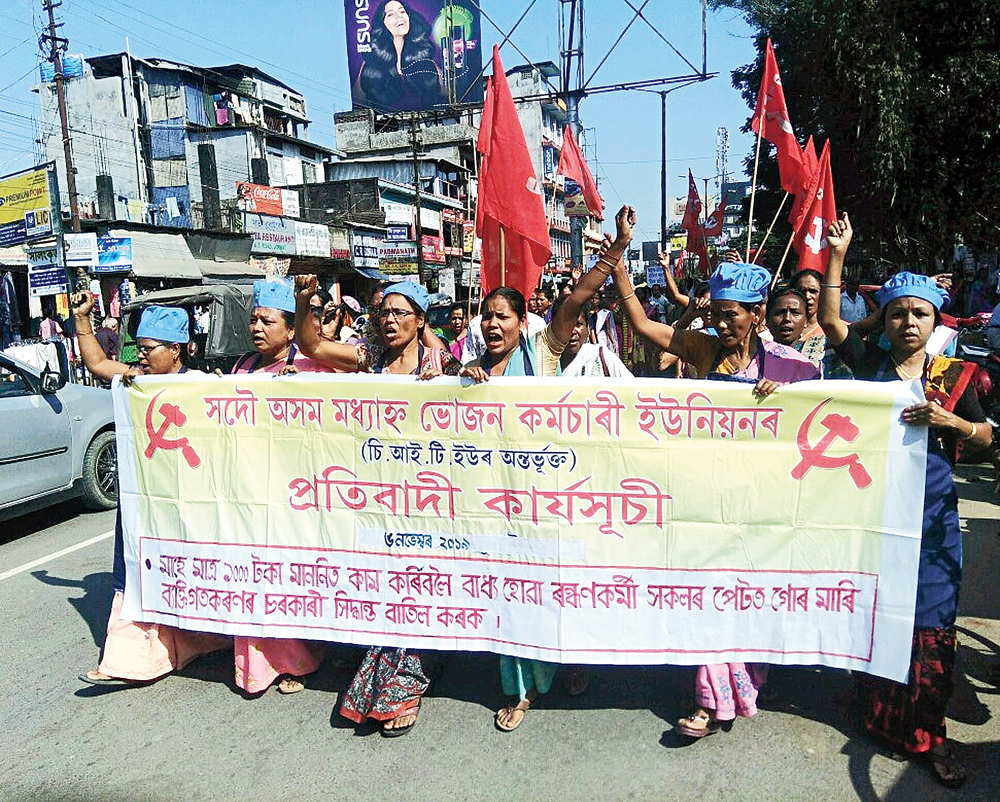 ---
|
Guwahati
|
Published 06.11.19, 07:12 PM
---
Over 100 schools in Assam's Udalguri district and 30 in Lakhimpur on Wednesday refused to receive midday meals from one of the 15 NGOs engaged by the state government to prepare and supply lunch.
The development came despite state education minister Siddhartha Bhattacharya's assurance the meal workers, who have been protesting against the decision to engage NGOs, will not lose their jobs. Midday meal workers alleged the involvement of NGOs in preparation of lunch will render them jobless. The protesters are also seeking regularisation of their jobs, besides a hike in remuneration of Rs 1,000 a month.
Paras Agro Society president Ankush Jain said, " A number of schools refused to accept our food. There were also instances where our vehicles were stopped by cooks and helpers and even by the public from reaching some schools in Udalguri. The situation was similar in Lakhimpur. Altogether 100 schools in Udalguri and 25 to 30 schools in Lakhimpur could not be reached on Wednesday."
The society, which started serving midday meal in Udalguri and Lakhimpur from November 1, said owing to the widespread protests, cooks and other staff employed for the delivery process are under threat.
In Lakhimpur, students of No. 1 Dejoo Pothar Primary School did not receive cooked meal supplied by the society because they allegedly delivered the food too early around 9am.
School cook Khudeza Khatun said, "Earlier, we served meals to the students at noon. We refused take the meal cooked by the NGO as it came around 9am."
The Jorhat unit of the All Assam Primary and Upper Primary Midday Meal Cook and Helper Association staged a protest in the Upper Assam town reiterating its demand for immediate removal of the NGOs engaged in preparing midday meal for the primary schools.
Extending its solidarity to the meal workers, the CPM condemned the state government and said, "The state government should understand the pain of the meal workers. We demand Dispur to remove the NGOs from cooking midday meal and provide due provisions to the meal workers."
Krishak Mukti Sangram Samiti adviser Akhil Gogoi said the state government's decision of engaging NGOs in preparing midday meals was an "anti-people" move. "We will not tolerate such a decision of the government. We demand the state government to remove the NGOs at the earliest," he said.