RTI activist held for 'extortion' in Guwahati
Dulal Bora had been made a scapegoat by vested interests in the government, claims social organisation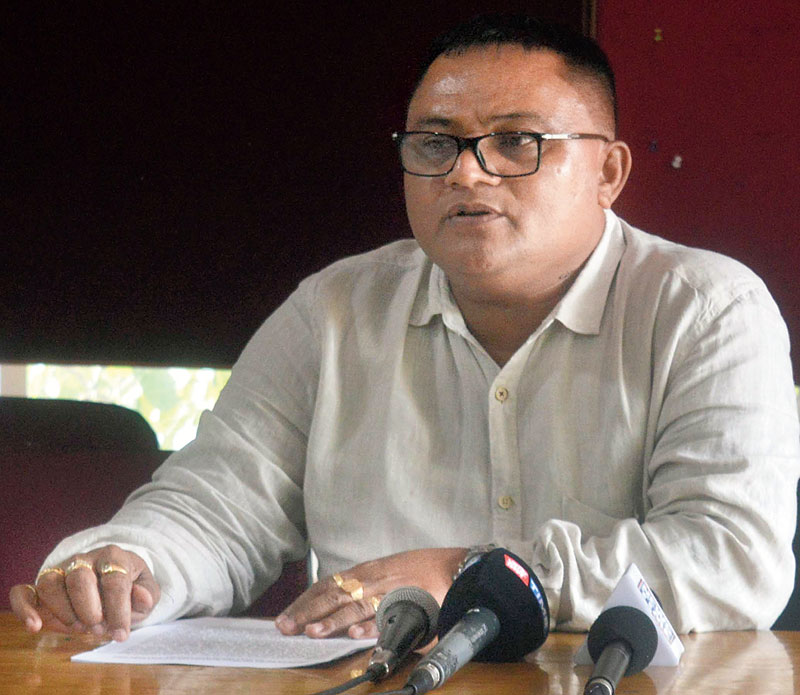 ---
|
Guwahati
|
Published 07.12.19, 08:17 PM
---
RTI activist Dulal Bora was arrested by Hatigaon police on Saturday for allegedly "blackmailing and extorting" a motor vehicle inspector.
A source in Hatigaon police station said Dulal was arrested from his house in Khanapara here after Niamuddin Ahmed, motor vehicle inspector in Kamrup district, filed an FIR alleging that Dulal was extorting money from him based on RTI findings.
Ratan Das, officer-in-charge of Hatigaon police station, said Bora was arrested and presented in court, which sent him to 14-day judicial custody. A case (No. 905/19) has been registered against him and he has been booked for extortion under Sections 385/389/384/511 of the IPC.
One of Dulal's close aides said the court asked him to refrain from making any statement, by speech or in writing. He said they would move for his bail on Monday and hoped that it would be granted as he was "innocent".
Dulal was also arrested in 2014 in connection with a defamation case after he brought corruption charges against then Dispur MLA Akon Bora's son Manas. He was later released on bail.
A few others, including officials and police personnel, have also accused Dulal of blackmailing them based on RTI findings. Dulal has been filing RTIs on various issues and FIRs on issues related to the National Register of Citizens (NRC).However, city-based social organisation, Anti Corruption Youth Power (ACYP), Assam, sniffed a conspiracy behind Dulal's arrest.
"Dulal's arrest is a state conspiracy. He continuously gathered information on various malpractices and corruption by many government officers and made them public through media," ACYP president Dharmakanta Gogoi said.
Dharmakanta alleged that Dulal had been made a scapegoat by vested interests in the government. "It is a conspiracy on the part of the state government to keep Dulal confined for a long period and to threaten him under police custody," he alleged.
"On November 27, Dulal had submitted a written complaint against an official of the transport department to Amingaon police. Instead of taking action against the official, the police provided him security," he alleged. "We demand Dulal's immediate and unconditional release," Dharmakanta said.
In August, Dulal had lodged a complaint with the criminal investigation department (CID) against four social activists for alleged "misrepresentation" and collection of funds in the name of NRC.
In a letter to additional director-general of police (CID) L.R. Bishnoi, Dulal alleged that Rehna Sultana, a PhD student from Gauhati University, Sofiqul Islam, another student of the university, Mausami Chetia, a Hague-based PhD researcher, and Ashraful Hussain, a social activist, were engaged in "anti-India activities" and creating "terror" by "misrepresenting" the NRC update process on the social media. These allegations are being investigated.