Rosekandy tea estates hit by strike, lack of succour
Cachar garden shut for 15 days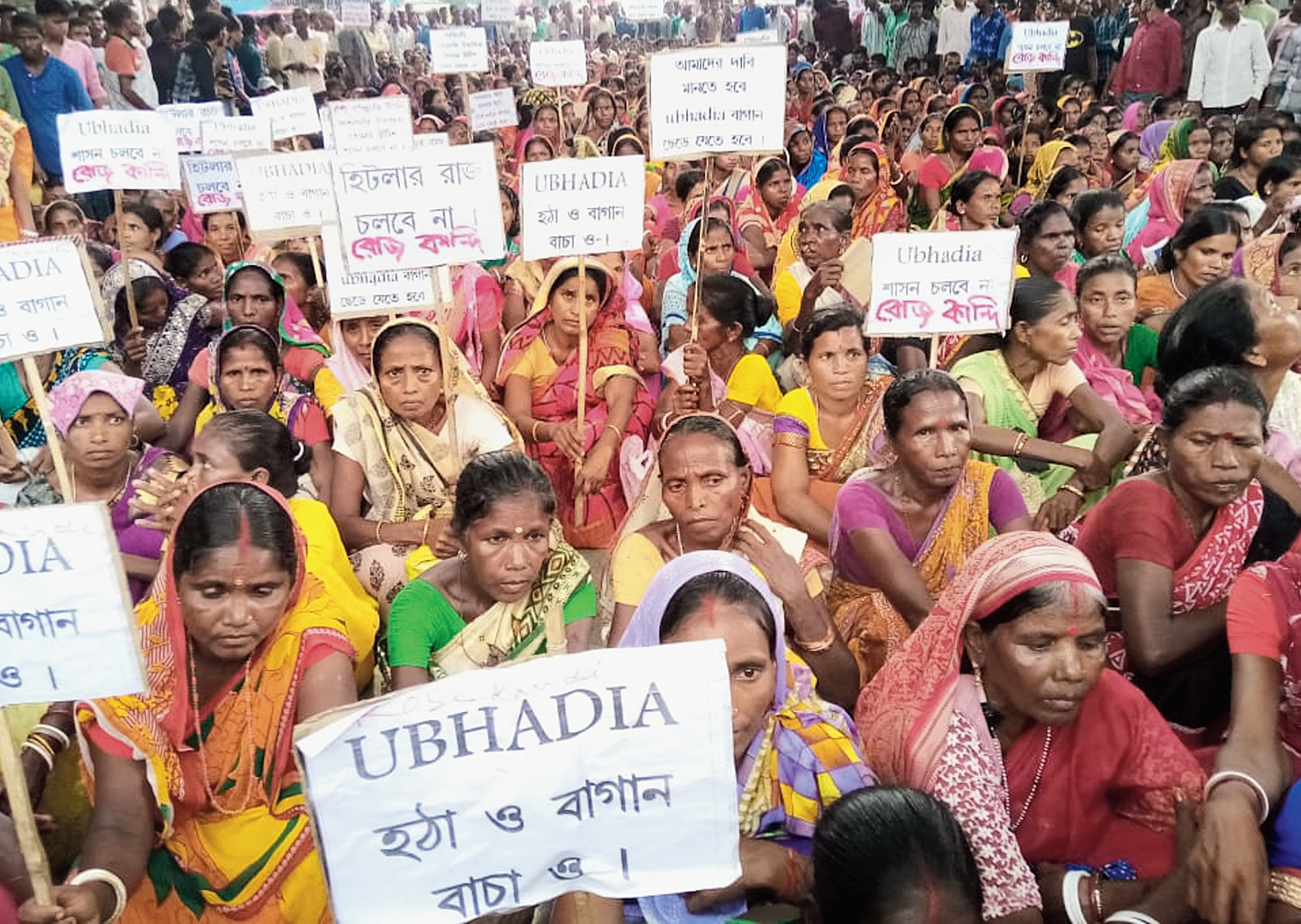 The labourers of Rosekandy tea garden stage a protest.
Picture by Satananda Bhattacharjee
---
Hailakandi
|
Published 23.06.19, 06:49 PM
|
---
The labourers' strike at Rosekandy tea estate in south Assam's Cachar district entered its 15th day on Sunday, with plucking and production completely halted for the past two weeks.
The labourers have been on strike demanding the ouster of the garden manager, Iswar Bhai Ubadia, alleging that he was "running the garden with unprecedented strictness".
Rosekandy, about 30km from Silchar town, produces around 14 lakh kg of tea annually.
On Saturday night, the Cachar district administration had convened a tripartite meeting in Silchar to find a solution to the impasse, but the meeting ended after six hours without any resolution.
During the meeting, a large number of garden labourers gathered outside the deputy commissioner's office and staged a demonstration demanding sacking of Ubadia. Police were pressed into service to prevent the labourers from storming the office.
An official said the labourers' representatives were adamant on the ouster of Ubadia and owing to their protests and argument, the meeting failed to reach a fruitful conclusion.
Later, the district administration decided to constitute an 11-member inquiry committee, headed by assistant labour commissioner Rupali Pegu to arrive at an amicable solution. The committee will inquire into the cause of the imbroglio and the labourers' problems.
The committee comprises representatives of the district administration, labour department, labour unions and tea garden unions.
The meeting was attended by civil and police officials, garden owner Sanjoy Bhuwalka, Ubadia, former minister Ajit Singh, MLAs Rajdip Goala and Nijam Uddin Choudhury, Dinanath Baroi of the Barak Cha Shramik Union and 23 garden labourers, headed by Babul Kumar.
A garden worker said they would not withdraw the strike till the removal of Ubadia and solution of their problems.
The worker also alleged that Ubadia's way of functioning and his perspective towards labourers was "extremely objectionable" and that they faced difficulties to get a no-objection certificate from the manager for availing of various government schemes.
The labourers have also not been paid for the last two weeks as the tea garden follows the "no work, no pay" policy.
The district administration had clamped Section 144 of the IPC in the garden, banning all agitation, to avert any untoward incident. It also banned carrying of arms under Section 4 of the Indian Arms Act, 1818.
Chief minister Sarbananda Sonowal has directed south Assam director-general of police to maintain strict vigil over the situation in the garden.