Republic Day speech: Scrap-AFSPA message on Neiphiu Rio's lips
He wants justice for families of the 14 civilians killed in botched counter-insurgency operation at Oting in Mon district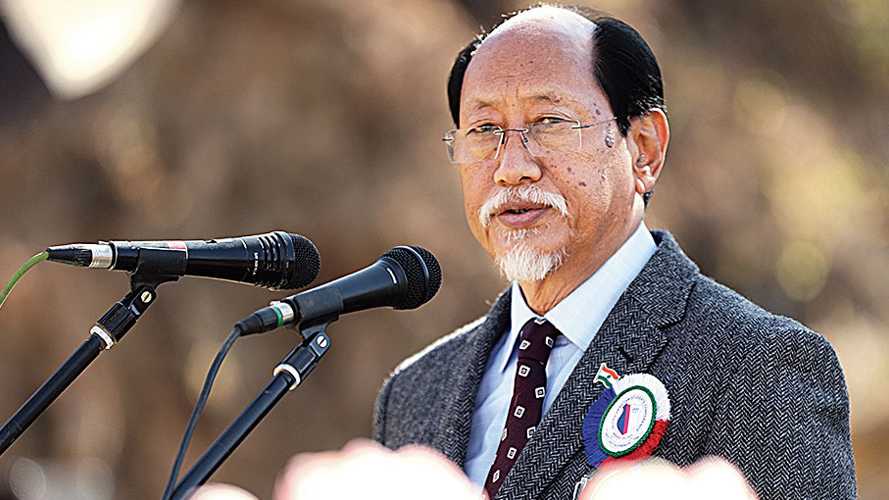 ---
Guwahati
|
Published 27.01.22, 02:38 AM
|
---
Nagaland chief minister Neiphiu Rio used his Republic Day address to assure justice to the families of the 14 civilians killed in the botched counter-insurgency operation at Oting in Mon district and to voice the hope of an immediate withdrawal of the Armed Forces (Special Powers) Act from the state.
Along with the December 4-5 deaths and the removal of the AFSPA, which gives unfettered powers to the armed forces to search, arrest and shoot, Rio raised the need for an early solution to the decades-old Naga political issue in his 36-minute speech at Kohima.
Several Naga civil society organisations had asked people to skip the Republic Day celebrations to press for these three demands.
The Centre's move to reimpose the AFSPA from December 30 amid outrage over the Oting deaths has not gone down well with the Naga community.
Rio said: "My fellow citizens, as we celebrate Republic Day, we also take note of the unfortunate firing incidents that occurred in December last year in Oting-Tiru village area and Mon town, which led to the unfortunate death of 14 innocent civilians and serious injuries to many others. We are taking every measure to lessen the pain of the family members, who lost their near and dear ones, as well as of all those who suffered injuries."
The chief minister pointed to the fast progress made by the state government-constituted special investigation team of Nagaland police and the court of inquiry being held by the army.
"We are sure that justice will be delivered to the families. Following the incident, there was a public outcry against the continuation of the AFSPA in the state and brought to focus once again its potential for misuse. The state cabinet decided to take up the immediate repeal of the AFSPA, 1958, with the government of India.
The central government is considering the matter and we are hopeful of a positive decision soon," Rio said.
"As all of you are aware, the Naga insurgency in the 50s was one of the reasons for imposition of the AFSPA in our state. Since then, six decades have passed. There has been ceasefire with the various Naga political groups since the last nearly two and a half decades and this has improved law and order in the state.
Negotiations between the Naga political groups and the government of India have been going on in a cordial atmosphere to find a solution. There is good understanding of each other's positions and concerns," he said.
The chief minister highlighted how the state's MLAs came together to form an Opposition-less government to convey to the negotiating parties to "give us" an honourable, inclusive and acceptable solution. "We will continue to facilitate for, and be hopeful of, an early solution," he said.